This is the first piece from a series of posts that will be analyzing successful online business, and the tactics they are employing. I will try to keep them short, but informational enough.
The idea came from a client who runs a successful online store and thought it would be cool if someone just wrote in-depth about the online marketing tactics of others, so you could take some of them and apply them in your own online business.
While all of this data is publicly available, I would encourage you to not just "steal" someone's niche or the exact process, and instead apply ideas that come up in different ways and in different areas – success in online business usually comes from putting two or more different things together, rather than doing the exact same thing someone else is doing.
In the case of the online store I'll be analyzing, the two things they are putting together are bass drum heads and print-on-demand.
About the Business
CustomBassDrumHead is an online store currently listed on Flippa, and has a monthly revenue of $3258, 33% of which is profit, or $1082.
The listing is publicly available at https://flippa.com/11044757-drop-ship-e-commerce-business-selling-custom-printed-bass-drum-heads-for-bands-artists-and-schools
This is a rather simple ecom store that sells bass drum heads, drop shipped from a 3rd party vendor – meaning, no inventory and no shipping to be bothered with.
They take an order, and then forward it to the vendor – whether that's via a backend API or a VA manually sending it through. The vendor then takes care of fulfillment.
Some customer support and order updates will of course be required, though I assume there isn't a ton of that going on, considering they had 345 orders between July 1st 2021 and June 30th of 2022, roughly averaging one order per day.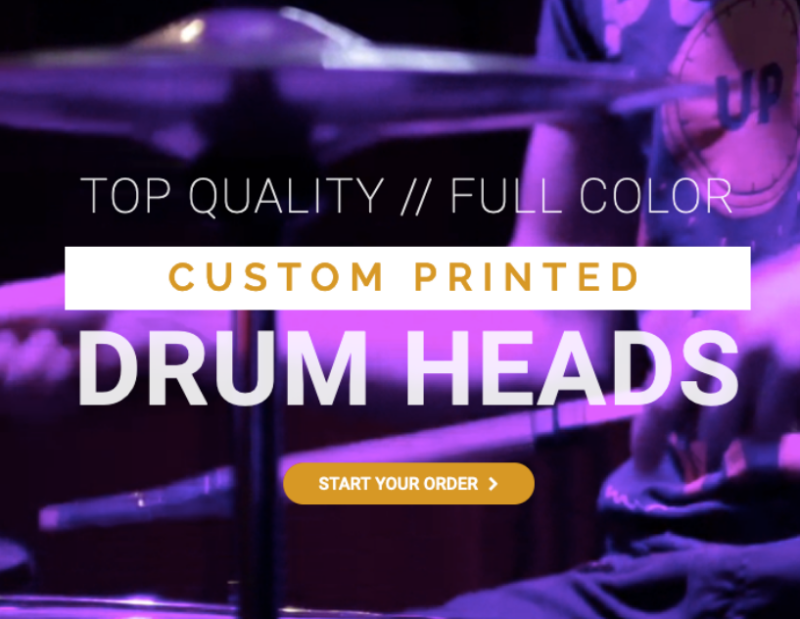 Marketing Strategy
The website relies on SEO traffic for the most part, with 60% of their traffic coming from organic search.
Their "direct traffic" accounts for 28% of all visits, but considering that any traffic where the session can't be attributed to another source is considered "direct" by Google Analytics, other than long-term customers familiar with the site (who account for about 10% of yearly sales), this probably also includes some email campaigns, as well as referral traffic from various forums and websites.
3.5% is attributed to PPC campaigns, meaning they probably run ads for their main keywords and brand terms.
Social media isn't something they seem to be doing much of.
Content Strategy
Surprisingly, while I would have expected that their info articles are what mostly funnels traffic to the order page, or at least serves to capture a potential future customer's email, that's not the case here.
In fact, their blog isn't bringing in much traffic at all – which for me, a content agency owner, is borderline offensive 😆
SEO Strategy
Instead of a large website, they've solely focused on ranking their homepage and order page for their most important buyer keywords.
Still, organic search is a key traffic source for this business, and the one that it's built off of, so let's take a dive into what they've actually done to get to where they are.
Our Related Services
Sign up for our newsletter to receive SEO tips, discounts and freebies.
The Keywords
The main keywords that are bringing them traffic are more or less variations of the same few keywords, and the total combined volume doesn't go over a couple thousand US monthly searches.
Their highest traffic keywords are as follows:
custom bass drum head(s)
custom drum head(s)
custom kick drum head(s)
bass drum head(s) art
bass drum logo(s)
bass drum head design
bass head logo
drumhead art
bass drum art
drum head logos
custom bass drum resonant head
custom resonant bass drum head
custom drum head printing
custom drum skins
custom printed drum heads
bass drum skin custom
custom bass drum skins
bass drum graphics
drum skin graphics
personalized drum head
kick drum cover
These keywords are relatively low competition, and most of their ranks for them are between positions #2 and #7.
While their numbers are not the biggest, had it not been for the Flippa listing, I'm fairly sure that most of us wouldn't have believed their earnings considering the overall volume of the keywords they're targeting.
I also think they could be ranking much better, had they taken the time to optimize their pages a bit more.
Even though "Custom printed drum heads" appears prominent on their homepage, the actual H1 heading isn't "Custom bass drum heads" (their biggest keyword), or any other relevant keyword, but it is "Make your live performances worth it…" – this is kind of a waste to be honest, and fixing that up with a little more content/sales copy on their homepage would go a long way in my opinion, considering they're already well-established in this micro niche, in Google's eyes.
The Backlinks
While there's a chance that they built some of their backlinks on purpose, whether through guest posts or link insertions as we would do for our clients, their backlink profile appears to be natural.
There are only a handful of niche-relevant backlinks pointing to the site, which seem to be doing most of the work in terms of helping them rank for their money keywords, such as:
https://www.electronicdrumadvisor.com/custom-bass-drumheads-decal-vinyl-print-logo/
https://www.onlinelogomaker.com/blog/make-band-logo-fans-recognize/
https://capmusic.com/product/roland-bass-drum-pads-2/
https://www.pearldrummersforum.com/showthread.php?226248-Bass-Drum-Reso
https://drummingfanatics.com/acoustic-drums/save-money-make-music-five-awesome-cheap-budget-drum-sets-for-2022/
Again, I'm not sure whether these are intentional or came about naturally, but it certainly wouldn't be hard to get these links built either way.
The remainder of the 65 Referring Domains are the usual spammy links any long standing website would get, from various auto-generated directories and such, none of which can possibly contribute much.
Possible Improvements
• Content Strategy
Targeting a few more informational keywords on their blog would be a good way to build additional topical authority, and to funnel a few more potential clients to the order page every month.
Additionally, the currently published articles definitely need CTAs, and some minimum effort guest posts to get some of them to actually rank somewhere would help their overall traffic numbers.
I don't think they're running remarketing ads to website visitors also, which is another thing they could do to get more conversions.
• Onpage SEO
Like I already mentioned, some additional onpage optimization would be an easy way to get additional rank improvements and thus traffic from Google.
• Profit Margins
I think that a 10% to 20% price increase could make the business a little more profitable, considering their rather slim margins at 33%.
A 10% price increase, while negligible for most consumers (cough cough inflation), would bring the profit margin from 33% to 39%, or 18% more money in.
Additionally, this is pretty much the pricing their main competitor called DrumArt has.
Even if they lose 5% of customers by increasing prices, the total money the business makes would increase by about 12%.
Also – no abandoned cart setup that I could find, which would also slightly help improve revenue.
Key Takeaways
Don't be lazy and just do AliExpress or something else that's a super low level of entry and that everyone does. Go the extra mile with a custom setup instead if you want long term results.
The riches are in the niches – from going after a small profitable market, to their niche relevant links, they've niched down and therefore managed to build a profitable small business that pays the bills.
The keywords they are targeting confirm what I've been saying for a while: keywords matter, but niches matter more.
If your niche is not something you can make profitable, targeting low competition keywords won't matter much.
Not everything is about profit margins – yes, I think they could do better, but the fact they're at 33% profit doesn't mean they're doing bad by any means, and regardless of my opinion, may actually make them more competitive.
Sign up for our newsletter to receive SEO tips, discounts and freebies.
Related Services