With more online store stores being affected by Facebook's tightening grip on advertising, combined with Apple's attempts to kneecap Facebook advertising on iOS devices with their latest update, store owners are hurting – especially the ones without a diversified marketing strategy.
Let's explore how two of our clients used a different approach to growing their online store revenue.
Related Services
Sign up for our newsletter to receive SEO tips, discounts and freebies.
Info Keywords to the Rescue
This approach basically means using the potential customer's own interest in a niche to bring the customer to you in the first place, as opposed to "reaching out" to them via ads or other means.
The premise here is simple:
Your core buyer audience is concerned with a certain topic, and they will often research that topic in detail before making a purchase.
A lot of the information they search for in that topic will be at least somewhat underserved. This opens up a need that needs to be filled. Your goal as the seller is to find, and fill that need.
As opposed to actively spending money on ads trying to reach your target audience, which could be cut off anytime for any reason, you'd need to actually establish yourself as an authority in your niche, and help the customer make an informed decision.
Case Study #1
Our first case study covers a UK-based online store in the home improvement niche.
The client approached us a year ago looking to expand their Ebay-based business.
What Was Done
They wanted to rank on Google for the main keywords in their niche, i.e. "best home wood chipper" (not the actual keyword nor niche).
While not the hardest keyword to rank for by any means, their website was brand new and likely wouldn't rank well for a keyword in this difficulty range.
We recommended a different approach: targeting informational keywords only, with some buyer potential, so they first establish themselves as an authority in Google's eyes, while still making sales along the way.
The client agreed and we built a content plan centered around keywords like "what can you put in a wood chipper" instead, which still had satisfactory monthly volume, but were low competition enough that they had a much better chance of ranking well for them with quality content.
We did 20,000 words of content this way, spread evenly between 16 articles.
The articles focused on satisfying search intent, first and foremost, and recommending the client's own in-store products in the second half of the article.
Results
While not enough to fully move away from Ebay, the results were excellent. The client had some supplier issues since, and hasn't done more content, but they reported that about a third of their sales were now coming from organic Google traffic.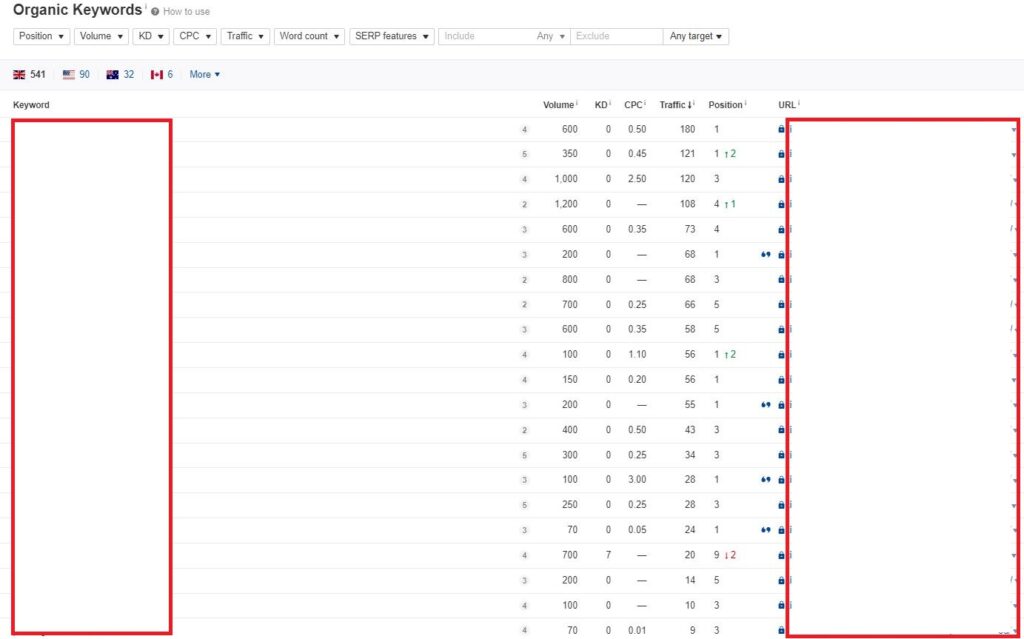 Case Study #2
Our second case study covers an online store in the women's apparel niche, though niched down more specifically.
What Was Done
This was an old client we previously built a website for, and they approached us in the summer of 2020, looking to build a blog for their Shopify store, previously only focusing on organic social media traffic.
Having already done a little bit of link building, the site was already ranking on page 3 on Google for one of their main targeted search terms.
We decided that the best approach here would be to target similar keywords, but go long tail, and thus lower difficulty, where the website had a fighting chance.
Each article would have an FAQ section, targeting 5 to 10 relevant informational keywords.
We built a content plan for a total of 50,000 words of content, focused on lower volume, lower difficulty "best" type buyer keywords (i.e. "best gloves for women over 50"), each promoting the client's own in-store products.
Results
Once we had the content posted on their site, covering each topic inside out, keywords started showing up on Google, albeit slowly.
We then did some internal linking between articles, and within five months keywords were already popping up on page 1 of Google for their relevant search terms.
The client website currently gets an average of 80 organic visitors per day. Their conversion rate is 2.5%, or an average of two additional sales per day. There is some Google dance here and there, but their ranks have mostly been consistent over the last six months.
This niche is relatively small and there isn't much else in terms of long tail keywords worth targeting, but there are bigger volume keywords that they're interested in targeting next.
Hope these two case studies help consider some of the possibilities out there, and help you realize that you don't have to depend on ads for traffic for your online store – organic traffic can be a lot more consistent, and arguably a lot more profitable.
Related Services
Sign up for our newsletter to receive SEO tips, discounts and freebies.