If you are passionate about pets and fancy making some extra cash, signing up for a few pet affiliate programs is an excellent choice. That said, pet affiliate programs are existent arrangements between pet-niched companies and marketers to increase product sales. Affiliates advertise a company's products to their digital audiences and earn a percentage of the sales they drive.
Pet affiliate programs cover animal-related niches from furniture, insurance, medical, and nutrition. Therefore, joining one of the best pet affiliate programs would be wise if you are looking for ways to monetize your pet blog. Also, you are not left out if you do not own a website or have a substantial online following. Some platforms may allow promotions through other mediums such as social networks, podcasts, youtube videos, etc.
Today, there are many pet affiliate programs, thanks to the internet. However, spotting the pet affiliate programs that pay big commissions and have reasonable terms may be a hassle. Therefore, this article presents you with a pet affiliate program list with programs with guaranteed terms. The criteria for drafting this list include legal operation, brand reputation, customer feedback, marketable products, a fair commission structure, and cookie lifespan.
Our Related Services
Sign up for our newsletter to receive SEO tips, discounts and freebies.
Best Pet Affiliate Programs List
Best Pet Food Affiliate Programs
1. Chewy
Chewy was founded in 2011 in Florida and has since spread to 24 other states in the US. The customer-centric brand aims to assist pet owners or parents by making animal care convenient. The pet store caters to virtually all domestic animals, including birds, fishes, horses, rabbits, and even reptiles. Chewy houses over 100,000 pet products from about 2,000+ brands and delivers orders within three days on orders over $49. Affiliates rarely run out of in-store items to review and promote.
Products: Food, medication, and other pet-related supplies, including carriers, feeders, toys, etc., for virtually all domestic animals.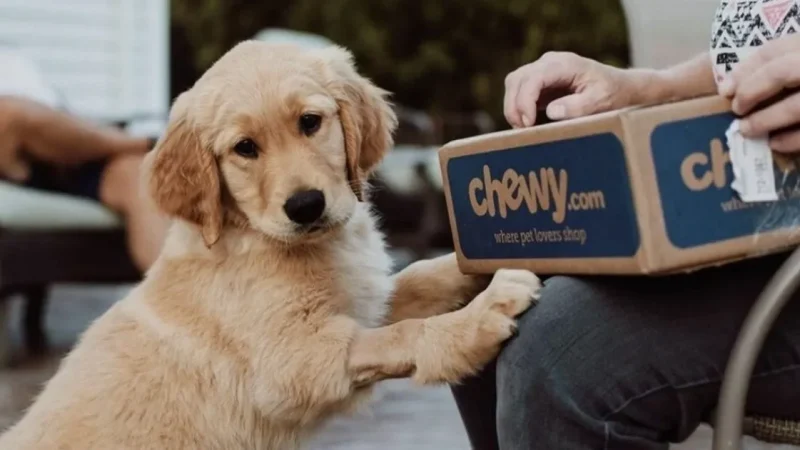 How to Join Chewy Affiliate Program
As a company big on partnerships, Chewy partners with two partnership management organizations, namely CJ Affiliate and Partnerize. Therefore, as a prospective affiliate marketer, you are not limited to one option as you can opt for either platform. However, avoid registering on both. The first step is to visit the website affiliate page and click on "Apply to Partnerize" or "Apply to CJ Affiliate." 
Joining Through CJ Affiliates
Tapping the "Apply to CJ Affiliates" button takes you to a sign-up page where you will have to create an account. Subsequently, choose your preferred language, input your name and email address, and create a password.
Next, you need to verify your email address by following the instructions in your email. Upon verification, log in to your account. Navigate to "Advertisers" and use the search icon to find "Chewy." Click on the "Apply to Program" button by the top right of your screen and put forward your application.
Joining Through Partnerize
Click "Apply to Partnerize" on the Chewy affiliate web page; the link directs you to sign up on the Partnerize website. The process involves three phases: Contact, Address, and Extras & Terms. The required details include name, email address, home address, phone number, and zip code. Once this is complete, the subsequent page is your dashboard. Hover your mouse to "Campaigns" and submit your request. Now, you wait for the company to get back to you.
Pros
Responsive customer support
Wide range of products and deals to promote
Positive customer feedback
Cons
Commission: 15$ on each new customer
Cookie window: 15 days
Affiliate program: Chewy
2. TruDog
Beloved Great Dant, Truman was diagnosed with an undisclosed terminal disease and died shortly after. Following the sad death of Truman, his owner, Lori Taylor, discovered that the bulk of her dead dog's diet was from overly processed food. This short story birthed TruDog as a company a few years later. Consequently, it is little wonder that the company specializes in providing organic food items for dogs.
One standout feature of this platform is its cookie life. Generally, cookie life lasts about 30 days, but that of TruDog lasts three times that figure – 90 days. Therefore you have an extended time frame to qualify for commissions when leads convert.
Products: Dental care, food, supplement, toppers, and dog treats.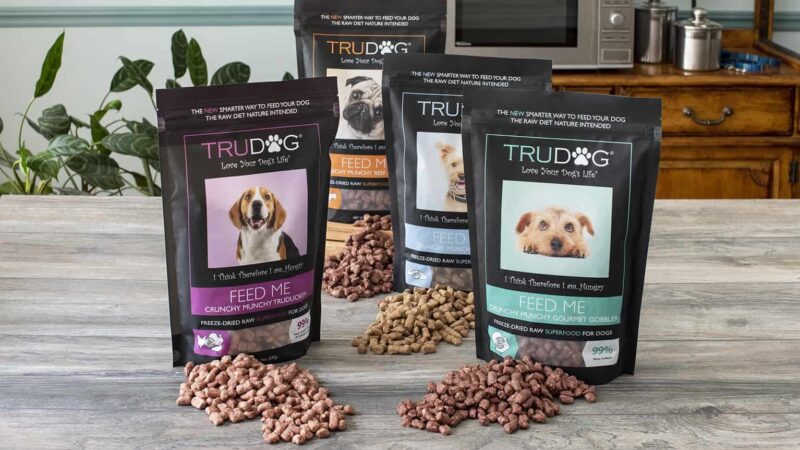 How to Join TruDog Affiliate Program
The TruDog Affiliate Program is managed via an affiliate marketing company – ShareASale, a subsidiary of the Awin Group. Firstly, go to the TruDog affiliates page and move your mouse over "Become an Affiliate" beneath the navigation bar to begin. Secondly, submit your information on the ShareASale website to sign up for an account. Lastly, verify your email and follow the next steps to complete the sign-up process, and that is basically it. The whole process takes roughly seven minutes. Once your application is approved, you get your unique link and other tools to help track your performance.
Pros
Longer cookie activity window
Fair compensation
Excellent customer support
Cons
Commission: 10% on each verified sale
Cookie window: 90 days
Affiliate program: TruDog
3. PetPlate
PetPlate came onto the scene in 2015. One year later, the New York-based business was featured on the popular business TV show, Shark Tank. Renaldo's mission is to reduce the rising statistics of overweight, diabetic pups by providing freshly-cooked meals instead of processed ones.
PetPlate specializes in the production of top-quality, human-grade foods for dogs. The website states, "…we don't make dog food. We make food for dogs." The company prepares food humans can eat naturally, with the same ingredients but for dogs. All products are made in United States Department of Agriculture (USDA) approved facilities.
 Additionally, the meal formulas are developed by veterinary nutritionists with multiple years of experience. What's more, the ingredient lineup of each meal follows the AAFCO profile. Ingredients include barley, beef, carrot, potato, pumpkin, green beans, etc. Since its inception, the business has sold 15 million meals across the US.
Products: Dog food, treats, and supplements.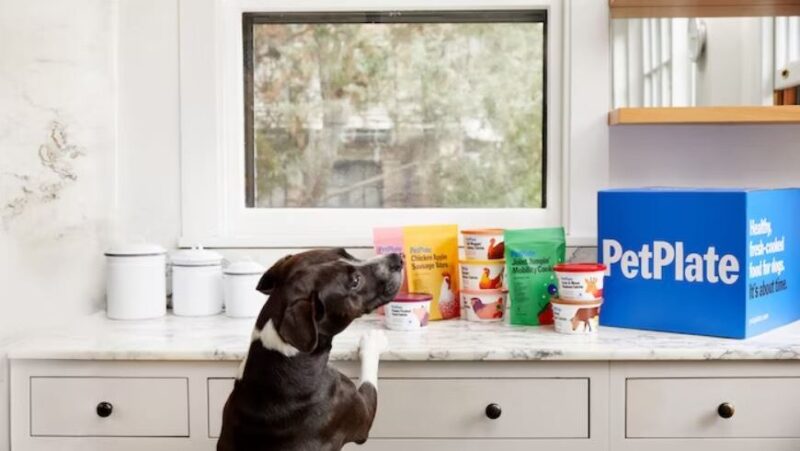 How to Join PetPlate Affiliate Program
PetPlate Affiliate Program is open to social media influencers, vloggers, bloggers, and other categories of pet-loving content creators. To join the affiliate program, visit PetPlate's partner's page and click "Join Now." Create an account with ShareASale and follow the following steps. For further clarification, do not hesitate to get in touch with the customer service team. 
Pros
Well-known company
Straightforward application process
Provides all necessary details about meal ingredient
Positive customer feedback
Cons
Commission: $25 flat rate
Cookie window: 30 days
Affiliate program: PetPlate
4. Ollie
Ollie, another excellent option, is a subscription-based service leveraging fresh, human-quality food for dogs. The good thing about cooked meals is that it improves digestion and overall dog health. Therefore, a canine lives longer. According to the American Veterinary Medical Association research, one in four dogs die of cancer, primarily due to the consumption of processed food. It is safe to say that Ollie's mission is to keep dogs healthy by providing organic food.
Ollie continues to amass traction across the United States because of its specialty. Other standout characteristics include same-day delivery and 60% discounts on first orders. The starter pack includes a free feeding guide, scoop, and bowl. Moreso, Ollie's affiliate program pays about the heftiest commissions to marketers, making it one of the most attractive in the industry.
Products: Dog food (fresh, baked, or mixed beef, chicken, and turkey)
How to Join Ollie Affiliate Program
Start here to join Ollie's network of affiliates. Click on "Sign Up," and you will be redirected to impact.com, the partnering affiliate marketing solution provider. Create an account or log in directly using your social network accounts: Facebook, Google, LinkedIn, or Twitter. However, we recommend the latter because it is the most convenient. 
Pros
Regular newsletters to inform affiliates of product updates, discounts, etc.
Easy to navigate website
Pays one of the highest commissions
Cons
Commission: $60 flat rate
Cookie window: 30 days
Affiliate program: Ollie
Best Pet Care Affiliate Programs
5. Paw.com
Paw.com is a luxury designer pet brand specializing in producing dog and cat beds and bedding. Though details on the website emphasize the former, the latter is not exempted.
All products are carefully curated following years of dedicated studies into pet needs. Undoubtedly, Paw.com customers get value for their money as it is almost "impossible to say no." Today, the business has sold over half a million products in the US and Canada. In short, that is a signal that the market is enormous.
Products: Bed, blankets, carriers, odor eliminator, PupProtector series, supplements, etc., for dogs and cats.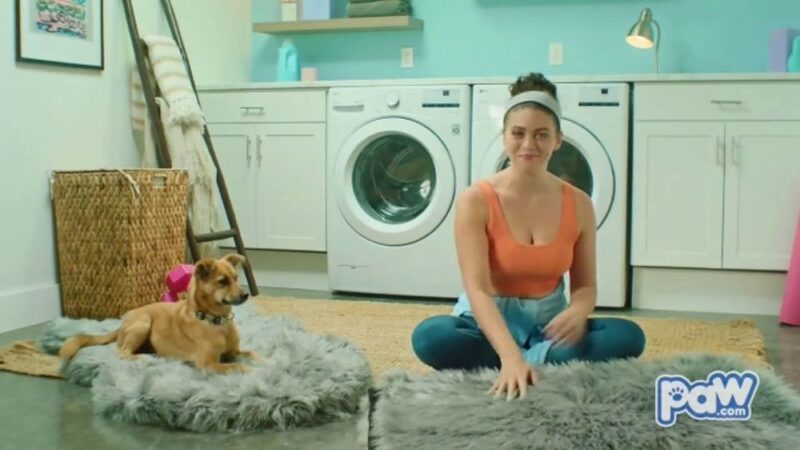 How to Join the Paw.com Affiliate Program
Visit the official website Paw.com, navigate to the "Community" cross-section downwards, and select "Become An Affiliate." On the next page, you will have to either login or create an account on impact.com. If you already have an account, you can just log in directly, then follow the instructions on subsequent pages. The platform offers you solutions to track your traffic, performance, and earnings.
Pros
Production of quality products that match customers' home or car decor
Available in Canada
Provides a vast library of products to promote
Cons
Products are slightly on the high side
Commission: 10% on each successful sale
Cookie window: 30 days
Affiliate program: Paw.com
6. Hepper
Hepper is another luxury brand that provides solutions for cat furniture, arriving on the scene relatively recently. Its products are of high quality and have classic designs not common in the market. The company's focal point is the feline folk; however, they cater to canines too.
Hepper enlists top veterinary doctors on its team, so you don't need to second guess the guarantees of each product. What's more, the average order sum at checkout is $60. That is to say, as an affiliate, you have a high earning potential.
Products: Beds, food trays, pods, toys, scratchers, and other utilities like carriers, cat collars, hair trimmer, nail clippers, etc., for cats and dogs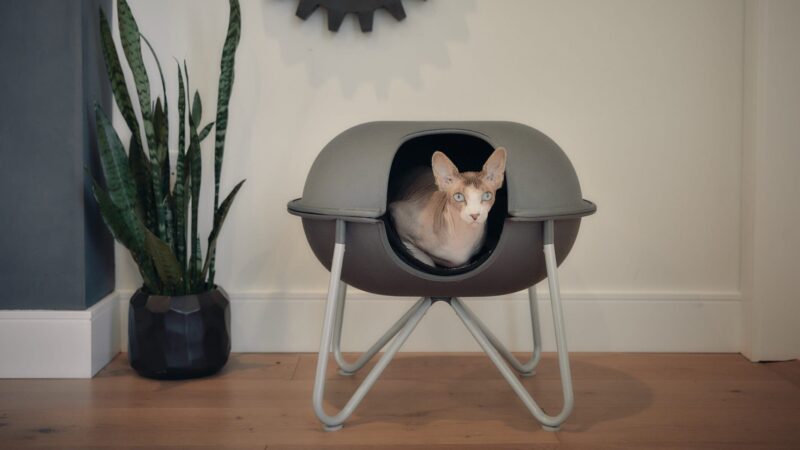 How to Join Hepper Affiliate Program
Unlike several others, Hepper handles its affiliate program in-house, making it one of the most straightforward. Start here and navigate to "Enroll Today as a Hepper Affiliate." After that, fill out the form in the "Affiliate Area." The required details include name, payment email address, and website or social media URL. Subsequently, you will have to explain what you bring to the table in the "How will you promote us" box. Mind you, do not submit a long, tiring draft. A few concise paragraphs will suffice. The company will get in touch within two business days.
Pros
Room for commission percentage increase
Minimal requirements and swift application process
Widely available even outside the US
Cons
Commission: 12% for starters
Cookie window: 30 days
Affiliate program: Hepper
Best Pet Tech Affiliate Programs
7. Furbo
Furbo is an intuitive pet-sitter that allows owners to monitor and communicate with their dogs while away. The device comes with an in-built wifi camera, 2-way audio, and treat-tossing features. Celebrities such as the host of the popular The Ellen Degeneres TV show, Ellen DeGeneres, and musical artist Luke Bryan endorse the product.
Beyond keeping an eye on pets, Furbo can serve as a security device. For example, when a pooch barks continuously, the pet-sitting tool sends a barking alert to the parent. Non-stop barking could mean someone is in the home or something is wrong. Therefore, Furbo alerts parents, and they can immediately launch the app to understand the situation.
Furbo is currently in the United States, Singapore, Canada, Australia, and other countries. Therefore, affiliates can promote the product to their audiences outside of America. With Furbo, people do not have to worry about leaving their pets home alone.
Products: Pet camera and treat tosser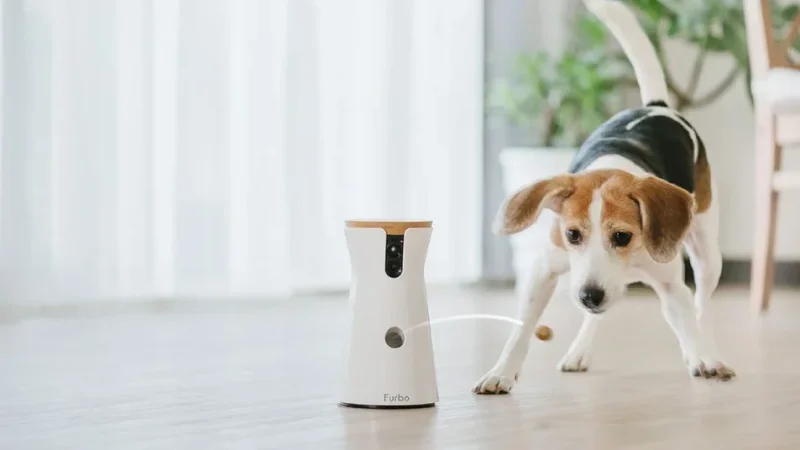 How to Join Furbo Affiliate Program
You can join through ShareASale. It follows the same procedure as TruDog and PetPlate – pretty straightforward. The whole process is in five short stages. Simply input your details and wait till you get feedback from Furbo. 
Pros
One year warranty on the product
Widely available within and outside the US
Availability of a smartphone app
Cons
You have to market a single product
Commission: 5% on each sale
Cookie window: 30 days
Affiliate program: Furbo
8. Petcube
Petcube was launched a decade ago with a mission to provide smart interaction tools between pets and humans. The company is similar to Furbo, but the latter has a broader range of dedicated tech devices in its catalog. For example, if customers need only a cam device with no treat-tossing feature, there is a product that matches that description.
Petcube is one of the best pet tech services right now as it checks all the boxes of a modern pet tech company. Furthermore, Petcube offers more dedicated solutions, while Furbo, on the other hand, can be marketed to audiences outside the US.
Products: Pet camera, insurance, treat dispenser, toy, and 24/7 vet help.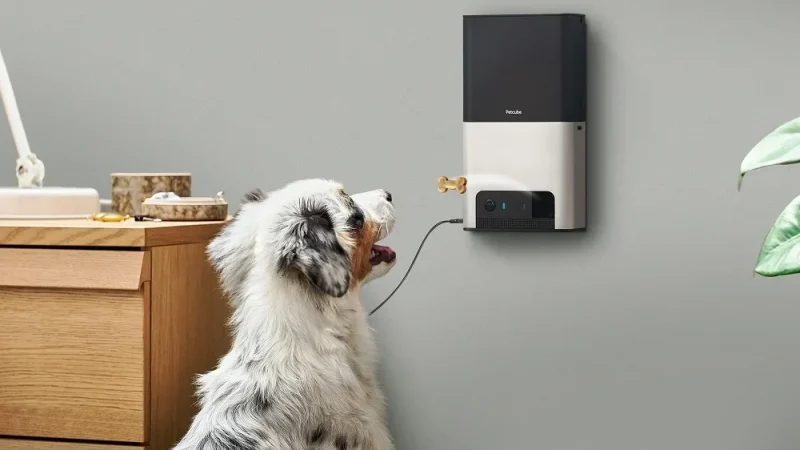 How to Join Petcube Affiliate Program
Go to the Petcube official website, scroll to the end of the homepage and tap "Affiliates" under the "Resources" row. Afterward, scroll down to the bottom of the subsequent page and click "Join Now." 
Unlike others, you would not be signing up on any affiliate partner's page. Here, the application is through email. Clicking "Join Now" opens an email draft page in your google or yahoo account. Provide all the necessary information, including your address, zip code, phone number, website or social media page URL, etc. Proceed to submit your application, and you should get a response in two days.
Pros
Long cookie life
Offers emergency funding up to $3,000
Exhaustive library of educative pet care materials
Cons
The affiliate program is available only in the US
Commission: 10% on verified sales
Cookie window: 60 days
Affiliate program: Petcube
Tip to Maximize Earnings Via Pet Affiliate Programs
Identify Your Niche and Audience
Identifying your niche is the first step to success as an affiliate marketer. Ensure it is one you are passionate about and have considerable knowledge of. Secondly, if you are a beginner, try as much as possible to avoid niches with a lot of competition. Too much competition, especially from the most prominent players, may knock you out even if you do everything right. Therefore, we recommend choosing a niche with great monetizing potential but minimal competition. This way, you can grow faster, and over time, you can delve into other pet niches.
Publish Content Regularly  
Publishing content regularly boosts your website's ranking on search engines. Furthermore, it commands loyalty from your audience of pet lovers as fresh content keeps your viewers coming back for more. However, do not publish content just because you want to; instead, publish materials that are valuable to your readers.
You earn no money if your upload does not compel them to click your affiliate links and make a purchase. Therefore, spend time researching rich topics, creating beautiful content, and ensuring that it is original and not copy-pasted from another source. Also, avoid including misleading facts and unfounded claims in your posts. In fact, misinformation is reason enough for any company to revoke one's affiliate membership. Honest product reviews build you a loyal audience and vice versa.
Invest in Search Engine Optimization
Search engine optimization involves processes that increase the numbers and quality of website traffic and results. More than publishing regular content, taking time to learn SEO best practices is crucial. What good is a website or social media page without visitors or viewers?
Therefore, spend time getting your SEO game together. Build a strategy that helps your site rank higher on search engines. For instance, when people Google specific keywords, a list of web pages related to the search appears before others. This is because the content on such web pages is optimized around such keywords. It's not magic; it's just logic. Here's a list of keyword research tools to help you analyze the most-searched keywords. 
Track Your Performance
Tracking your promotions is an excellent way to optimize your future content for a higher conversion rate. Consequently, your income grows.
To start, study your past promotions. Secondly, spot the ones with the most impressions and engagement and those that generate the most leads. Thirdly, identify what's common among these posts. Also, routinely browse through competing websites with large audiences to observe the administrator's content strategies. Incorporate the good ones into yours to make it better. Note that all the brands in this roundup provide simple tools to monitor your performance.
Promote Discounts When Available
A straightforward way to compel readers to buy is to show them discounts. Truthfully, people tend to buy more when there is a discount, making them come back later. Interestingly, you will find multiple deals on all the pet product websites in this roundup. More importantly, pay attention to seasonal discounts and create content around such ideas. For example, Paw.com is currently running a spring sale program offering a 50% discount on all items on its website. That is an excellent opportunity to attract customers and increase sales.
Email Marketing
This is another strategy you can adopt to keep your viewers close by periodically getting in touch via email. A recent report by Statista shows that more than half the world's population uses emails daily. Therefore, building an email list is an excellent means of customer retention. 
How can you create an email list? A straightforward way is to utilize CTAs. CTA (Call-To-Action) is a marketing tool that spurs viewers to immediate action. Examples of such include short prompt messages with conspicuous "Buy Now," "Sign Up," and "Subscribe" buttons. In this case, you want to ask people to subscribe to your newsletter. Find the best email marketing tools here. Mind you, do not add affiliate links in emails.
Our Related Services
Sign up for our newsletter to receive SEO tips, discounts and freebies.
Final Thoughts
If you are a pet lover and would like to monetize your passion, signing up for one of the best pet affiliate programs is one way to go. Overall, the best pet affiliate programs have marketable products and a fair compensation structure. As an affiliate, your job is to curate compelling content optimized for search engines to understand and recognize. In a few months, you should have tremendous results while helping pets and pet parents/owners across the US and beyond.