There is no harm in getting lost. However, it is important to stop receiving bad information and losing money in crypto. That brings us to the question: what are the best crypto websites of 2022?
For cryptocurrency enthusiasts, the problem remains where to get accurate, timely information. It is even more challenging for newcomers, who have to deal with the complex nature of these digital currencies. Inadvertently, they make terrible financial mistakes that cause them to lose money. Whereas, it could have been different if only they had access to spot-on information. Therefore, staying in the loop of recent events in the crypto market can not be overemphasized. It ensures you stay up-to-date on the latest developments while making intelligent investment decisions. This, however, can only be a direct function of prompt access to news from a legit source.
During cryptocurrency's early years, access to timely and accurate information was relatively scarce. This scarcity was due to the limited number of crypto websites at the time. However, since the explosion of Bitcoin in the subsequent years, millions of people have embraced the trend. This chain of events led to the emergence of several platforms today. The astronomical rise of cryptocurrencies equally aided the increase in digital news resources. While this is commendable, it is now easier to get inaccurate information than authentic cryptocurrency news and updates.
Thus, this article presents a list of cryptocurrency news platforms that stand at the forefront of ethical journalism. These platforms are popular for their outstanding qualities and dissemination of unbiased news. Also, they are notable for providing comprehensive tools to monitor the crypto market trends daily. We will discuss the numerous benefits of these websites subsequently. But first, below is a list of trustworthy Crypto websites to follow.
Our Related Services
Sign up for our newsletter to receive SEO tips, discounts and freebies.
Best Crypto Websites List
8 Best Crypto Websites of 2022
1. AMBCrypto
Dropping out of college after a year of study, Himanshu Kumar arrived at a crossroads. During a freelancing stint, he met Jeevan Thomas, a renowned journalist who shared similar interests in cryptocurrency. Together they founded AMBCrypto as a team of enthusiasts with the zeal to explore the ever-expanding blockchain sector. The goal is to fill a void in crypto news coverage.
The news site reports the latest news on everything crypto, from price updates to trends and insightful opinions on cryptocurrency. Through the years, AMBCrypto has become a digital news source for crypto enthusiasts and entrepreneurs. Whether you are a trader or an investor, AMBCrypto guarantees to help you make smart decisions in the thriving fintech industry. Delivering essential journalism following strict reporting standards, the independent media company attracts more than a million monthly readers.
AMBCrypto was launched in 2018 in Bangalore, India. Today, it has offices in New York and India. Its newsletter, Unhashed, boasts about 100,000 subscribers globally. The media firm partners with more than 20 cryptocurrency services, and about 60 percent of its readers come from this source. The partnering news sites include TradingView and CoinMarketCap.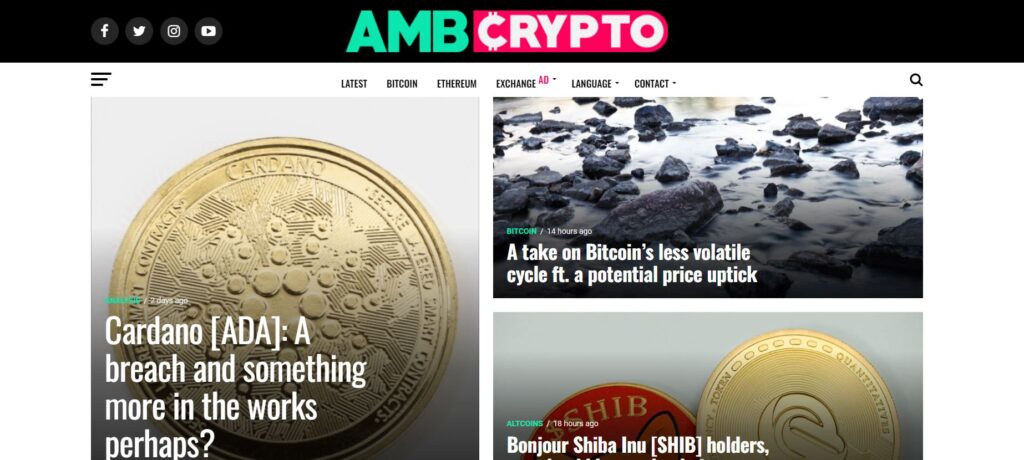 What We Like About AMBCrypto
Availability of Real-time Price Feed: In its bid to report news about underrepresented altcoins, AMBCrypto provides a live feed to track prices. This price index, which features near the bottom of the homepage, integrates coin prices from Crypto.com. It provides dedicated real-time live prices of select cryptocurrencies and their daily performances. This helps users keep track of their favorite coins seamlessly. The platform dedicates a whole page to serve this purpose. Through this integration, users can access the prices of a wide range of cryptocurrencies directly in one place. Needless to say, AMBCrypto ensures that you do not miss out on market volatility while reading the news.
Accuracy and Transparency: AMBCrypto stands out as a crypto news website that emphasizes accuracy. Stemming from a core journalistic background, the media company shows commitment to serving the truth. Its news stories differ significantly from the popular clickbaity sort. Apparently, this characteristic has earned the trust of its broad circle of readers. Another example of the company's transparency is its privacy policy. The company privacy terms are so explicit that users understand how the platform handles user data. AMBCrypto continues to maintain its standing as one of the most trusted sites for unbiased news coverage. Summarily, AMBCrypto provides high transparency while keeping its news fluent and reader-friendly.
Digital Newspaper: AMBCrypto boasts of the world's first cryptocurrency digital newspaper. In an exclusively digital industry, the e-paper bridges the gap between print and digital forms of news consumption. The e-paper features more data-driven analyses written simply and concisely that anyone can understand. In fact, the e-paper enjoys readership from many international airlines, like Turkish and Air Canada Airlines. Would you like unbiased crypto news but can't deal with tons of digital news on the internet? AMBCrypto's e-Paper is a veritable medium to catch up on all the latest developments in the industry.
2. Crypto.news
Crypto.news is a leading publication media resource committed to keeping people informed about happenings in the fast-evolving cryptocurrency space. The site delivers round-the-clock news on emerging innovations in the cryptocurrency space. Little wonder lots of international news outlets reference her in their media reports.
The crypto news outlet has a reputation for simplicity and holds journalistic integrity in the highest regard. As such, the news media is committed to fair and accurate reportage. Its simplified website and content articles make it a favorite news resource among crypto newbies. The team at crypto.news comprises seasoned journalists who are enthusiastic about blockchain and fintech. The company shares a global perspective; therefore, its team members are culled from diverse cultures.
Crypto.news provides a simplified means of accessing technical cryptocurrency research, making it an instant favorite for young and inexperienced readers. The website receives an average of 750,000 monthly visitors across continents.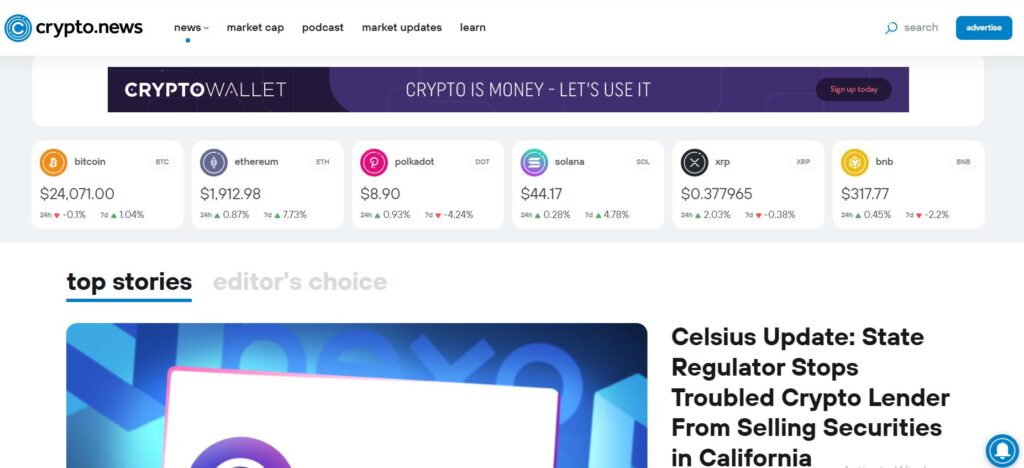 What We Like About Crypto.news
Bitcoin Faucet: Bitcoin faucets are an interesting way to earn cryptocurrencies without cash requirements or technical knowledge. Here, one sure incentive you get to enjoy is free Bitcoin. Although the news media does not directly issue Bitcoins, it collates a list of legit Bitcoin faucets that dispense free satoshis to users. In exchange for small tasks, such as solving puzzles or watching ads, Bitcoin faucets reward users. If you are a newbie in the cryptocurrency market, you accumulate free coins through this method while exploring for more benefits. This is a big step to building your crypto portfolio without investing real money.
Access to Exchanges: It is easy to fall prey to fraudsters in the cryptocurrency industry and lose your funds without sufficient research. Therefore, to avoid this mishap, Crypto.news provides a list of reputable crypto exchanges you can entrust with your funds. The news media picks these exchanges based on their trustworthiness and resilience track record. As well as their star ratings, you will find links to these exchanges for easy access. In any case, this saves you the stress of searching for legit crypto exchange funds while still ensuring a hitch-free experience.
Informative Podcast: If you have a busy schedule or are more suited to listening, Crypto.news has something for you too. The site also invests its resources in providing podcasts ideal for almost any audience. Twice each week, the platform releases new content in this regard featuring interviews with notable industry experts. Jefferson Nunn, the show anchor, does a fine job keeping the conversations informative yet entertaining. The guest speakers share various perspectives on mainstream topics and emerging trends in cryptocurrency. While they offer no financial advice, Crypto.news podcasts distill useful insights that guide your investment decisions. What a convenient way to keep up with the market! Users can listen on the go and even replay missed episodes at their earliest convenience.
3. Coinmarketcap
CoinMarketCap is the world's premier source for information about the cryptocurrency market. Since its launch in 2013, the data collector has become the most trusted authority on coin market analysis. In fact, the US government uses data from CoinMarketCap for its research and reports. As a digital media company, Coinmarketcap is inspired by the drive to democratize access to crypto. It achieves this by empowering enthusiasts around the world with reliable information.
CoinMarketCap is a free-to-use cryptocurrency site with a wealth of information on Defi, ICOs, and coin listings. The site is a one-stop shop for reliable fundamental analysis, including price charts, token supply, and historical price data. With more than 19000 coins in its ecosystem, the data aggregator also provides the exchanges where you can purchase or trade each token. Not all coins are universally available across all exchanges; hence, CoinMarketCap seeks to solve that problem. As a matter of fact, you will find the contract addresses of each token to create custom wallets. In a nutshell, CoinMarketCap aims to provide you with all the necessary tools and information to aid your crypto journey.
Brandon Chez founded Coinmarketcap; however, the company is now a subsidiary of Binance Capital Management, the blockchain firm behind the world's largest crypto exchange. Coinmarketcap has its headquarters in Delaware, US.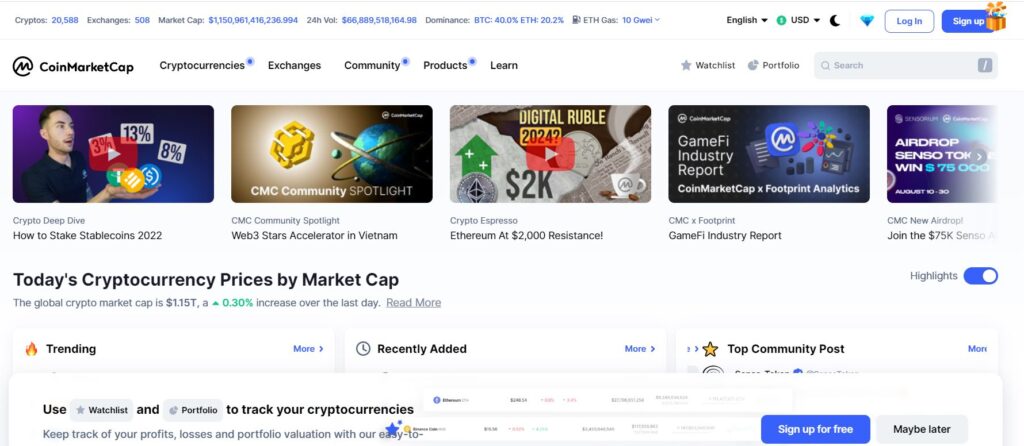 What We Like About CoinMarketCap
Crypto Calendar and Quizzes: CoinMarketCap is a go-to site if you want to stay up-to-date. One of its unique ways of sharing all of the hottest trends in the industry is its crypto calendar. If ever you need to keep up with current and upcoming events in the industry, the crypto calendar is an ideal place to begin. The calendar includes information about exchange listings plus major soon-to-launch projects. CoinMarketCap offers a calendar for upcoming airdrops too. Also worthy of mention are its exciting quizzes, which come with reward tokens. The process of winning, in fact, is quite simple. Watch videos about certain projects, test your new knowledge, and, in return, get rewarded with the token you have researched.
Interactive Live Chats: Coinmarketcap also enables interactive learning for its users through its live chat function. The live chat system, which is modeled after Twitter, is available under each coin. It offers an interactive medium for users to ask questions and share perspectives with other crypto enthusiasts. While it can be prone to spam messages, the forum is an excellent source of nuggets about a token's potential. However, to join these live conversations, you need to sign up on Coinmarketcap if you do not already have an account. In any event, the live chat feature connects you with other crypto enthusiasts and offers a more engaging CoinMarketCap experience. The forum is accessible on the website and the app.
Customizable Home Screen: Coinmarketcap's homepage takes away the boredom from reading tons of cryptocurrency articles. The vast interface features a playful home screen that lets you pick and mix what you need the most. Instead of sticking with the custom-built data fields, you can add more sections that catch your fancy. Additionally, CoinMarketCap lets you create watchlists. A watchlist is a field where you can monitor a group of hand-picked coins for whatever reason. You add tokens and remove them at will. This helps you track your favorite cryptocurrencies and their price movement. More importantly, it gives your home screen an individualized feel, tailored to your needs and fancy. Simply navigate to your profile which is the last of the five buttons at the bottom of the home screen. Tap on "Launch Screen" and choose your favorite option. You can switch your home screen to the default design whenever you desire.
In-depth Charts: If you are interested in conducting an extensive technical analysis of the various Cryptocurrencies, CoinMarketCap has all the tools you need. The "trading view" feature above your standard line charts allows you to make the proper trading decisions. You have access to a variety of indicators such as the Fibonacci numbers, Support and Resitance Lines, RSI, and much more. You also have the option of comparing different coins on the same page for better analysis. With adequate time and seemingly limitless options, you can take full advantage of CoinMarketCaps features.
4. CoinTelegraph
CoinTelegraph is a leading independent digital news site covering a broad range of news stories within the fintech industry. This cryptocurrency news service stands at the forefront of digital news media promoting blockchain technology. The media firm is poised to serve up-to-date news reports around the clock to inform readers. The establishment takes pride in documenting the burgeoning rise of cryptocurrencies and the evolution of a decentralized financial system.
Furthermore, the news media shares insightful opinions on emerging trends from professionals within the financial space. Also, utilizing comic art illustrations, CoinTelegraph aims to enlighten readers about the fast-paced world of digital currencies. You can count on her team of writers to report about the intricacies of this digital revolution with an exclusive focus on truth-telling. In reporting, the news media maintains a worldwide perspective, leaving no room for unbalanced biases.
Toni Lane Casserly founded CoinTelegraph in October 2013. The company has its headquarters in New York.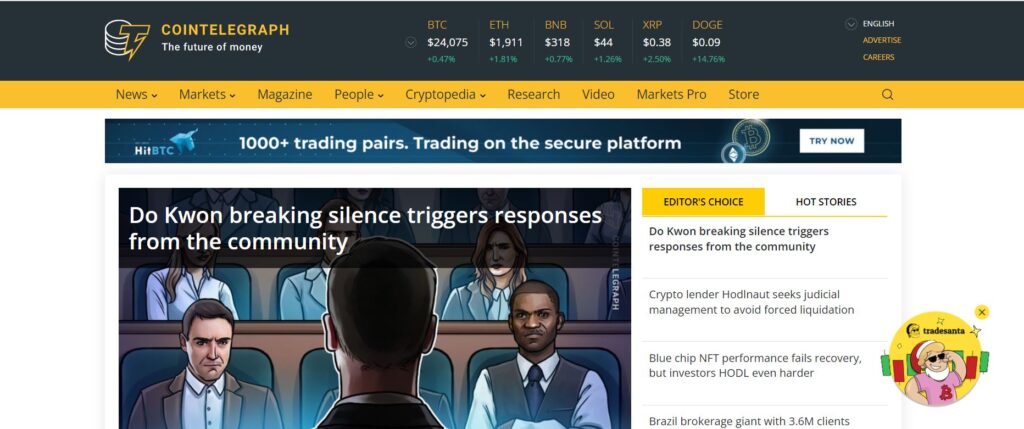 What We Like About CoinTelegraph
Characteristic Art illustrations: Perhaps, a fascinating feature of CoinTelegraph is the comic strip art graphics that feature predominantly on its homepage. The digital media site adds a dash of colorful visual materials as an integral part of its news articles. A colorful comic banner accompanies every article on the website to summarize the news. This visually appealing artwork has a way of stealing the attention of readers. Hence, they are more likely to digest information better than on other platforms. Most importantly, the illustrations provide an interesting way to follow up on the news without being turned off by long, boring articles.
Cutting-edge analysis: While several other digital media stop at just news, CoinTelegraph supports its news with in-depth, thoughtful analyses on top cryptocurrencies. Given that they contain transaction data, CoinTelegraph's price analysis can give you an overview of the general sentiment in the market. This platform provides an on-chain breakdown of current crypto realities and draws inferences from past events to determine future outcomes. These analyses also supply information on recent large-scale transactions on the blockchain and the market implications. In any case, these diggings make for a calculated road map to making the most of the market.
Exclusive Crypto Store: Beyond serving you with up-to-date news, CoinTelegraph sets you for an immersive digital experience with its unique online store. The store features crypto-inspired designs across a variety of merch that suits your taste and matches your style. With an expansive catalog of apparel and accessories ranging from hoodies to decorative mugs, the CoinTelegraph store is poised to indulge your crypto passion. Interestingly, the store accepts crypto and fiat payments and delivers items to about 180 countries worldwide. Additionally, you can enjoy free delivery when you purchase any collection over $100. This store is a one-stop shop for every passionate crypto fan.
5. Decrypt
As its name suggests, Decrypt was established with the singular mission of simplifying blockchain and the decentralized internet. The site takes pride in helping newbies navigate the rather complicated space of cryptocurrency. Decrypt aims to show you how crypto is changing the world and why the decentralized web is the future of the internet.
Using engaging storytelling, it delivers original content of leading stories in the industry. Consequently, Decrypt has earned its spot as a top crypto news platform for its brilliant journalism. For Decrypt, there's no better way of showing originality than to practice what it preaches. Hence, the news media incorporates Web 3 technologies into its content creation, uncovering the rich potential of blockchain in an unprecedented way. Little wonder, the company boasts of over 4 million readers each month and appeals to much of the young American population.
Overall, Decrypt is a sure gateway for anyone exploring the brave new world of cryptocurrency. It was founded in 2018, and it's funded by ConsenSys, a New-York based blockchain studio. Decrypt also partners with many top brands, including Solana and Bitrefill.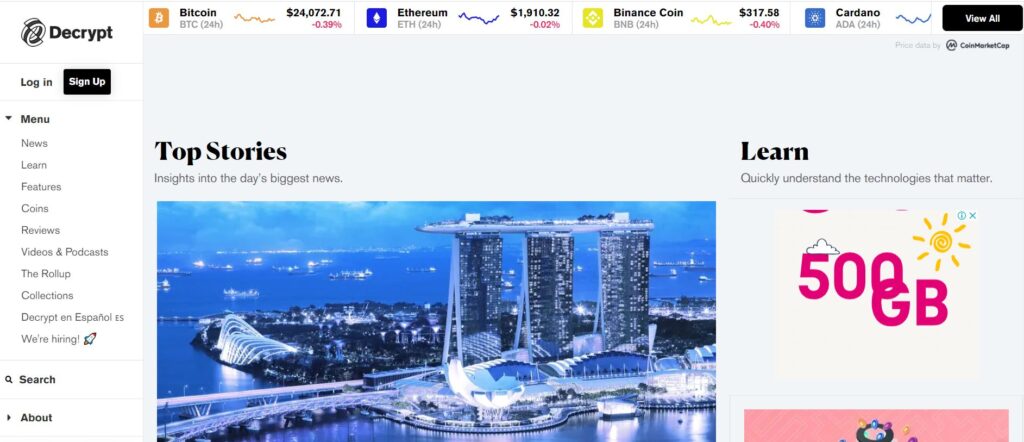 What We Love About Decrypt
Educational Resources Stock: One of Decrypt's attractions is its "Learn" segment. This segment features articles on topics ranging from understanding Ethereum to investing in Web 3. We do not doubt that crypto newbies will find Decrypt's "Learn" segment interesting, as the articles are concise and easy to understand. In fact, most of the articles include an 'In brief' heading to give you a rundown of the report's main points. In addition, Decrypt provides a "Reviews" section that samples the best editorial content on crypto-related products, from hardware wallets to crypto games. The news media provides a veritable toolkit for its readers to get a solid grasp of cryptocurrency.
Uncluttered Web Layout: Decrypt's attempt at demystifying the decentralized web comes first with a user-friendly website. It welcomes you into the vast technical space of cryptocurrency with a friendly interface that is easy to navigate. The website maintains a clean and minimal outline such that visitors, especially newcomers, are not overwhelmed by the complexity of crypto. When you visit the website, you will be greeted with a line-up of "Top Stories" at the center of the homepage and "Learn" to the far right. To the left lies a drop-down menu of all Decrypt offers. Just beneath this is an intuitive search button that helps you locate articles relating to the keywords you type. No sweat! Overall, the polished web interface reflects Decrypt's ultimate mission of helping you confront the complex world of cryptocurrency.
Reader Tokens: Beyond simplifying crypto, Decrypt also rewards you for your loyal readership. Users read free articles and earn reader tokens when they share and react to them. Straightaway, the more you engage, the more you earn. The whole idea is to ensure that readers remain passionate about learning about cryptocurrency, the market, and the future of DeFi. Also, users can connect with millions of other readers globally while engaging in meaningful interactions. Readers can swap their tokens for limited editions of NFTs on the Decrypt Reward Store. The rewards are occasionally withdrawable and can only be collected through the app.
6. Coingecko
With its mission to make crypto data readily available to empower users with fundamental insights, CoinGecko was launched in 2014. It is a helpful web resource available to everyone seeking more in-depth knowledge of cryptocurrency. CoinGecko provides up-to-date information about 13000+ crypto assets across hundreds of exchanges. Using real-time data feeds, the platform provides price information, trading volume, and price fluctuations per time.
With over eight years in operation providing reliable materials, the company is one of the biggest in the industry today. Today, CoinGecko partners with reputable institutions like Western University in Canada for research into cryptocurrencies. Furthermore, the media site is recognized by other major publication platforms, including Forbes, Wall Street Journal, and CNBC. This further strengthens its position as one of the best crypto websites today.
CoinGecko is a go-to site for keeping up with the latest tokens and hottest trends in the industry. TM Lee and Bobby Ong founded the Singapore-based company.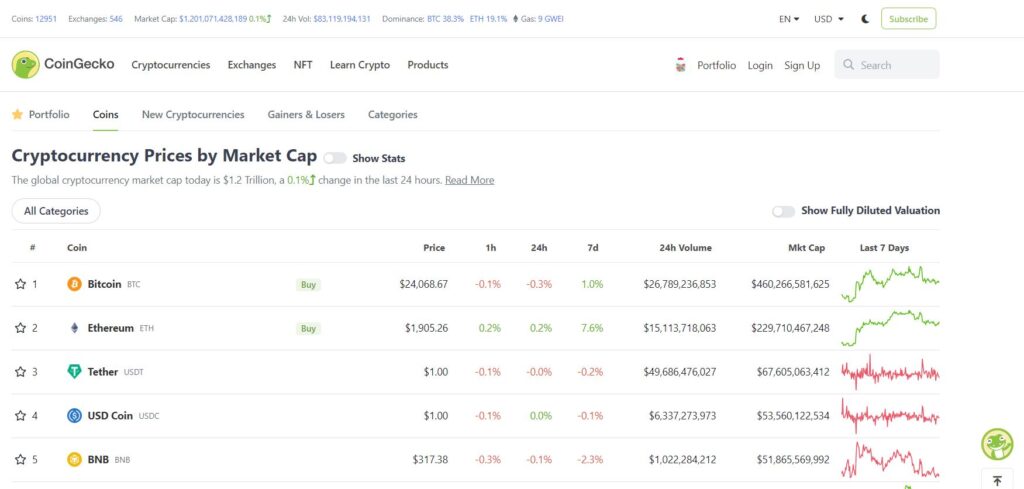 What We Like About CoinGecko
Portfolio Management Tool: Beyond tracking price and market capitalization, CoinGecko offers portfolio management resources to traders and investors. Using portfolio-tracking software integrations, you can manually input the figures of all your assets across multiple wallets and monitor them from one page. For instance, if you have some Bitcoin in different wallets, inputting the exact figures of these assets into CoinGecko's management tool allows for effective monitoring. First, you do not have to open each wallet just to check your balances anymore, as you can now track them from CoinGecko. Secondly, the tool helps calculate your profit and losses per and over time. Lastly, you get to save time and energy and spend more keeping up with crypto trends. In addition, "CoinGecko Earn" helps you determine the most profitable staking platforms to stake your assets. This also helps you determine the value you would accrue over time from staking your coins on these platforms.
Attractive Reward Points: CoinGecko offers great reward points to its millions of users. These points, which come in candies, can be collected with just a single tap every day. In other words, you need to log in to your account daily to enjoy this benefit. Users can exchange accumulated candies for several rewards in the "Swag Store," either on its site or app. The store features redeemable items like vouchers, gift cards, and e-books, among other things. Also, users enjoy awesome discounts on some CoinGecko products, like its limited-edition NFTs and conference tickets. Although these candies are not crypto tokens, they are rather giveaway points to earn discounts on most CoinGecko products. Besides, they add to the fun of your CoinGecko experience.
User-friendly Interface: Another great feature of CoinGecko is its well-designed interface that poses no hassle during navigation. With a broad collection of articles, cryptocurrencies, and tools on the platform, it can be strenuous and time-consuming to sift through each project. Precisely, CoinGecko features data on 13,436 coins across 527 exchanges, thousands of articles, and a host of other features. Be that as it may, CoinGecko offers suitable tools to refine your search and let you access the data that you need easily. For instance, you can see the top-gaining coins of the day with just a click. Also, the interface displays a clean outline that differentiates tokens into respective categories in terms of the project they belong to. Lastly, whether on the website or via the app, you can filter your searches to arrive at exactly what you need to know.
7. AirdropAlert
In 2017, at the height of the cryptocurrency market boom, Morten Christensen noticed a disturbing trend. Many phishing projects had also launched, tricking multitudes of newcomers with fake giveaway campaigns. Morten's displeasure at this was the drive that brought AirdropAlert to life in 2017. The world's first marketplace for cryptocurrency airdrops has its head office in Rotherham in the Netherlands.
AirdropAlert is a free-to-access online resource for legit airdrops and giveaway campaigns in the cryptocurrency industry. Its activities over the years position it as a middleman between new crypto projects and millions of enthusiasts. A few of its notable partners include Changelly, Mazee, and Coincodex. As a launching pad for new digital tokens, the platform is a one-stop site for crypto enthusiasts looking for risk-free methods to earn cryptocurrency. The company is today the largest airdrop marketplace, drawing crypto lovers from 200 countries worldwide.
AirdropAlert runs a weekly newsletter with a reach of over 400,000 subscribers. Committed to protecting its users from scams, AirdropAlert has a due diligence team to verify each cryptocurrency project before listing it on its website. Evidently, this has made the website a leading authority for reliable cryptocurrency giveaways. In fact, the airdrop aggregator has been cited in scores of media publications, including Bloomberg, Bitcoin.com, and CoinBureau.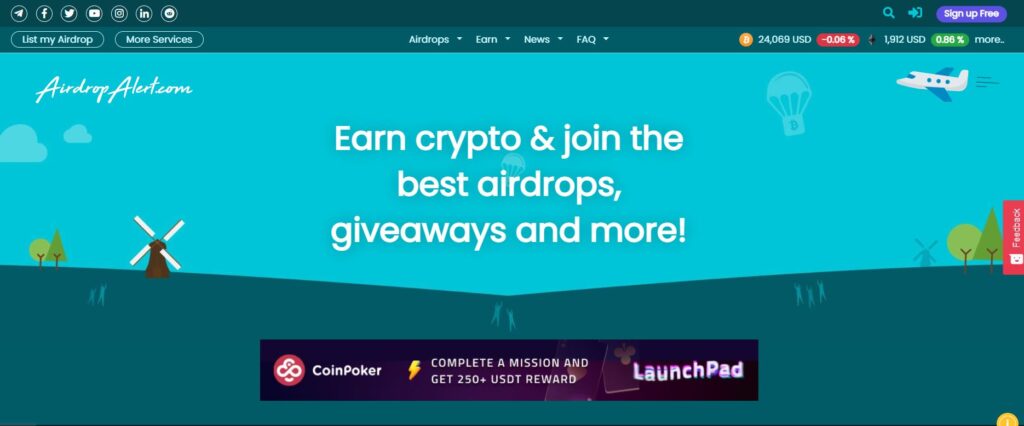 What We Like About AirdropAlert
Amazing Referral Programme: As well as announcing free coins, AirdropAlert allows you to earn Ethereum with its exclusive referral service. For instance, when you share your referral link with friends, you receive an instant reward of €2 worth of ETH for each qualifying sign-up. The website ensures that users can diversify their portfolios with top-tier cryptocurrencies. On the other hand, it also ensures that you can accrue small doses of ETH without the burden of financial costs. This, however, depends on the number of your successful referrals.
Affiliate Program: AirdropAlert is a wonderful online resource for the many avenues it provides to create passive income. If you run a crypto-niched website and fancy earning some Bitcoin and Ethereum, sign up for the AirdropAlert Affiliate Program. Your job is to create content around the airdrops listed on AirdropAlert.com and convince your viewers to participate. You can earn a 5% commission on every referral coming through your affiliate links. Upon approval into the affiliate scheme, you can access all promo materials, including banners and copy texts, to aid your promotions. This is a wonderful opportunity to earn in cryptocurrency. If you work in a marketing agency or want to monetize your blog, AirdropAlert is an attractive option.
Reliable Customer Service: AirdropAlert has its core mission to help millions of cryptocurrency enthusiasts earn crypto through legit airdrops. Logically, readers would have several questions on how to earn, spot scams, etc. For this reason, AirdropAlert has a dedicated and robust customer service ever-ready to answer questions. It is commendable that they provide timely responses to inquiries and suggestions. Although it doesn't provide a live chat button, AirdropAlert offers multiple support channels to manage your requests in less time. Whether making a request or asking a question, the website meets your needs promptly. This makes for a rewarding online experience.
8. CoinDesk
Based in New York, Coindesk is the most influential media platform with news coverage in digital currencies, including the rising blockchain economy. Founded by Shakil Khan in May 2013, the news publication is a subsidiary of Digital Currency Group, a leader in the blockchain industry. CoinDesk specializes in news and analyses showing how trends shape the cryptocurrency industry. The digital media platform supplies millions of users interested in cryptocurrency and blockchain technology with news and insights, podcasts, and research reports.
CoinDesk is on a mission to develop the most-trusted information platform that documents the staggering evolution of the financial system. To this end, it gathers stakeholders and thought leaders in the blockchain community for insightful workshops and conferences, most notably the Consensus Summit. With over 100 full-time journalists, the independent news media boasts of the world's largest group of crypto journalists. It equally prides itself in its price indices, which regularly feature in frontline media outlets and attract an average of 13 million monthly viewers. Summarily, CoinDesk utilizes the insightful qualities of media, data, and indices to discuss the ever-changing concept of money. Consequently, those new to cryptocurrency will find CoinDesk an excellent web resource.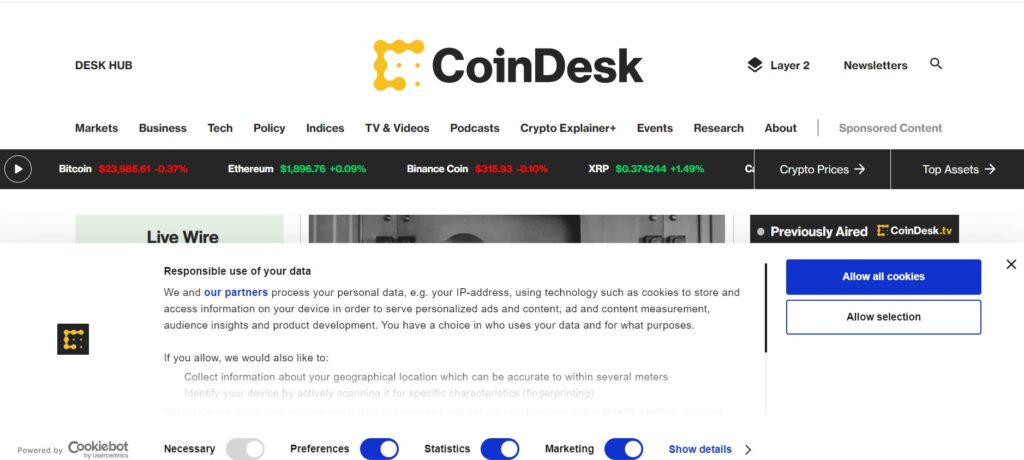 What We Like About CoinDesk
CoinDesk Indices: Starting with the foremost Bitcoin price index in 2014, CoinDesk is the leading provider of digital assets indices. Today, it serves as a standard benchmark rate for cryptocurrency assets. In fact, It is a source of reference for most media publications.
On this segment of the website, you will find a long list of digital asset classes with Bitcoin and Ethereum topping the lineup. Due to the ever-increasing number of cryptocurrencies, the list follows the Digital Assets Classification Standard framework for easy navigation. (DACS is the arrangement of coins according to its digital asset industry).
Summarily, the news website offers a real-time track record of prices based on hourly or daily intervals. As products of deep research, these price indices help you to track cryptocurrency assets accurately. Consequently, they give you an edge over other investors because they are a doorway to identifying investment opportunities within an "industry."
Interactive Symposiums: With an exclusive focus on raising a global digital community, CoinDesk plays host to major blockchain events and summits. These events make for mind-blowing experiences that open your mind to the brilliance of notable industry leaders. One of the major conferences hosted by CoinDesk is the Consensus Summit, held annually in Texas.
Consensus Summits serve as a center point, bringing together like-minded individuals committed to global decentralization. It is arguably one of the most all-embracing events that extensively explores the blockchain. The convention which is held at the Austin Convention Center covers a wide range of topics, including DeFi, NFTs, the Metaverse, and Web 3. 
Besides the experience these events bring, they are great opportunities to connect with several other crypto enthusiasts. Note that this event attracts attendees from all over the world. Above all, CoinDesk creates a chance for you to learn from and interact with stakeholders in the cryptocurrency industry.
Multiple Newsletters: Compared to its competitors, Coindesk puts out eight different newsletters to its users.  Each newsletter aggregates different types of information, and you can choose which to subscribe to. They feature an array of concise articles that explore cryptocurrency from varying angles. From technical market analysis to the fundamental impacts of government regulations, CoinDesk's newsletter keeps you abreast of every new development. 
Interestingly, you can subscribe according to your preference, deselect, switch between newsletters, or subscribe to all eight. Our favorite newsletters are "State of Crypto," "Money Reimagined," "Market Wrap," and "Crypto Long and Short." "State of Crypto," for one, examines the impact of government regulations on the market and the overall intersection between both. "Money Reimagined" explores the current realities and future of money. "Market Wrap" reports daily (Mondays to Fridays only) highlights and explains the reasons and implications for each highlight.
+
Our Related Services
Sign up for our newsletter to receive SEO tips, discounts and freebies.
Conclusion
Since the launch of Bitcoin in 2009, thousands of digital assets have emerged to challenge the traditional financial system. Everyone now seems to be caught in the hype of the digital trend. Therefore, due to the vastness of the cryptocurrency space today, signing up on the best crypto websites is essential. In other words, getting a trusted news source will help you get the hang of the fast-evolving industry.
There is a lot to understand in this new monetary system; without sufficient guidance, one could get lost in the fray. Hence, the need for these news media platforms. While they may seem to offer similar services, each differs from the other in its approach and content patterns. If you have had some experience under your belt, you may opt for options like CoinTelegraph and CoinMarketCap. They provide more in-depth insights into the cryptocurrency market. However, if you are a new kid on the block, consider the news sites with more educational resources to feed your quest. Thus, your options may vary between Decrypt and Crypto.news, whichever catches your fancy. Generally, it's advisable to consider the websites that enhance your knowledge with a rich stock of educational content.