Some say there is no friend like a book. However, knowing where to look in search of these companions may clog your wheels. If you are reading this, we guess you have that same challenge. Be that as it may, the good news is that this article proffers a lasting solution to that problem. Here, we will be discussing eight of the best book websites currently running in 2022.
Gone are the days when access to books was a luxury. Today, only a smartphone and internet connectivity grant you entrance to libraries with millions of books. And not just that. Thanks to the internet, you can now get books without necessarily spending a dime.
If you are an avid reader, we have no doubts that the best book websites will save you a lot of money. While not all books are free, you can download or save books for offline reading. Asides from access to chargeless services, some of these websites have forums for active conversations about books. Users join in to discuss, review and share thoughts about specific topics for scholarly and non-scholarly reasons.
The criteria adopted in drawing up this list include niche, book collection, usability, years in operation, and track record. Find our top picks below.
Our Related Services
Sign up for our newsletter to receive SEO tips, discounts and freebies.
Best Book Website List
9 Best Book Websites of 2022
1. ManyBooks
As the name suggests, you will encounter many books at ManyBooks. Out of the sheer need to make free e-books available, ManyBooks came to life in 2004. At the time, several of its books were from Project Gutenberg, one of the pioneer e-book platforms starting as far back as 1971. Today, there are over 50,000 books on ManyBooks.net, and users can download them in different formats. However, downloading materials requires signing up for an account. Alternatively, visitors can opt for online reading without signing up or following any specific procedure.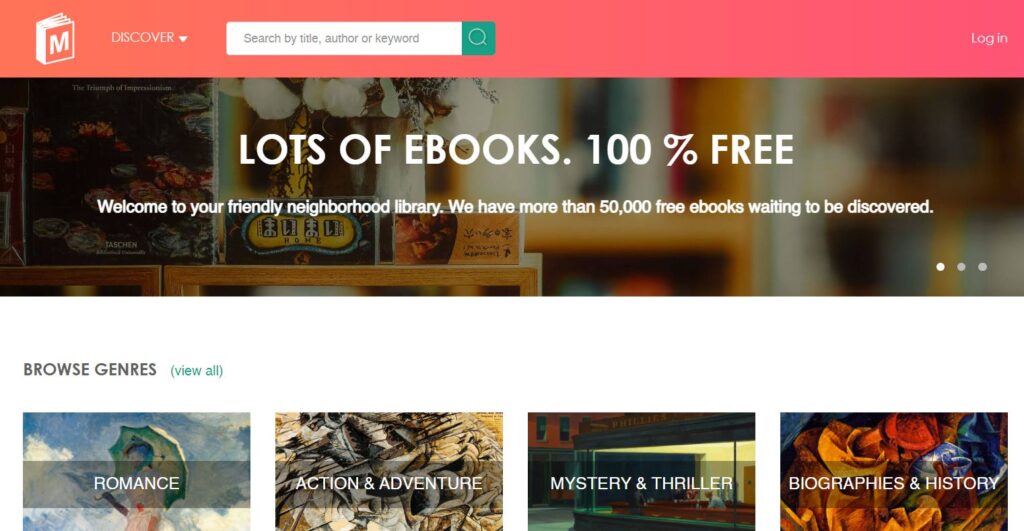 Features
When you visit the website, you will be greeted with a line-up of 12 genres of books. These genres include fantasy, history, romance, sci-fi, thriller, etc. This arrangement makes it easy for users to navigate the site seamlessly, even if they have no particular book in mind. Additionally, just beneath this list is a display of trending books, editors' choices, deals of the day, etc.
ManyBooks also provides a guide that takes visitors on tour through the most popular books across the most popular genres. The "Young Reader's Books," for example, contains interesting classical books like "The Wonderful Wizard of Oz," "Oliver Twist," "Beauty and the Beast," and many more.
Even after almost two decades in operation, ManyBooks remains dedicated to providing free books. Besides providing free e-books to as many as possible, the website resources are also widely accessible across the globe. Today, the platform houses a library of over 50,000 free e-books and continually expands.
In 2014, ManyBooks announced it would henceforth cater to self-publishing authors. Therefore, the platform periodically adds new books to its catalog and notifies readers through its weekly newsletters. Interestingly, their selection isn't restricted to only English texts. There are books in over 40 other languages, including Afrikaans, French, Latin, Swahili, etc.
ManyBooks partners with accessiBe to aid and guarantee easy and safe browsing among readers with specific disabilities. ARIA stands for Accessible Rich Internet Application. It comprises a setup of interactive elements incorporated into a program so that users can make the most of an app.
Blind individuals accessing the ManyBooks website using screen readers can surf seamlessly. They can read and understand what is on the screen without extra assistance. Also, epileptic persons can use the site safely without risking having seizures because of animation or color combination. These are possible because an AI application running in the background adjusts the platform's accessibility per time.
Beyond books and book recommendations, ManyBooks makes for a platform where readers can get reviews on literature. Reviews are awesome in that they offer a glimpse into the details of a book. With this, readers determine whether or not they would like to read a specific book.
To find book reviews on ManyBooks, you need to scroll down to the bottom of the homepage. Locate "Articles" under the "Community" and click. On the next page, you will find critiques on popular works like "Equal Fate" by Jeska Layne and "The Maverick" by Jennifer Valenti. Additionally, the section features roundups of must-read books, "best of" by genre, newly added works in the public domain, etc. Present also are studies into authors' personal lives, dead and alive. Hover your mouse to "Author Interviews" to find firsthand accounts of authors' inspirations and other factors that influence their writing style.
2. LibriVox
LibriVox began in 2005 by Hugh McGuire with the objective of distributing free audio versions of books in the public domain. From the words "library" and "vox," the term LibriVox is self-explanatory. Therefore, if you are looking for the best audiobooks, you should look at LibriVox. The platform is a free service powered by volunteers globally who engage in narrating and audio formatting books in the public domain. As of today, there are over 16,000 free audiobooks on the site.
We recommend this platform for individuals with tight daily schedules and who are highly mobile. Also, this is your go-to option if you believe in hypnopedia (learning while asleep).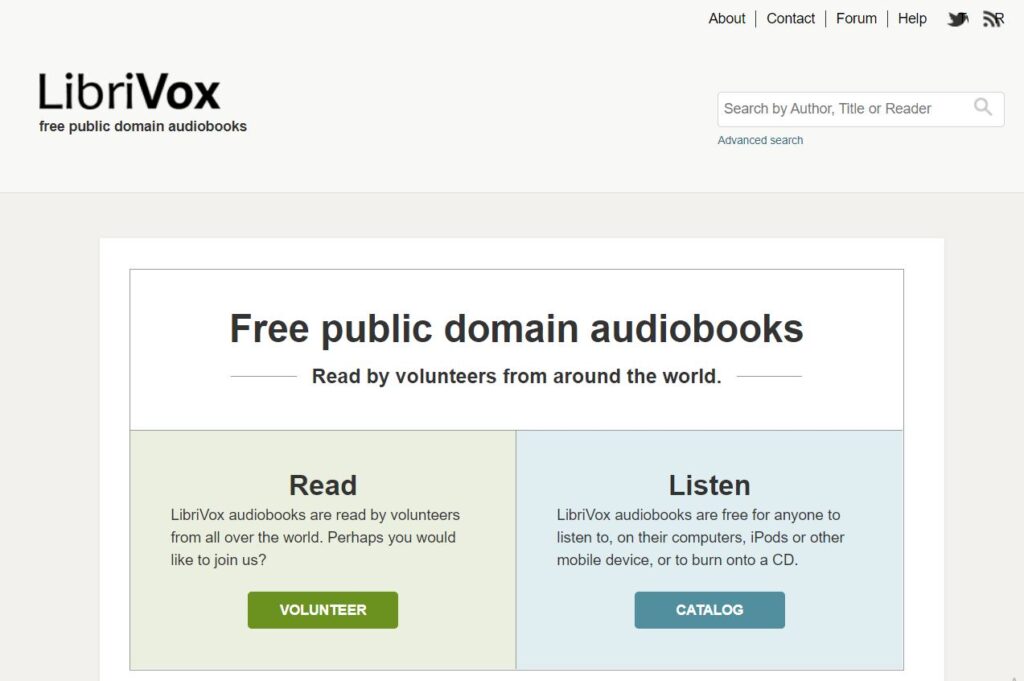 Features
Features Only Texts in the Public Domain:
The public domain is the household of all creative content not protected by copyright. This is the justification for the reproduction and distribution of the books on LibriVox. You will be right to see this as a limitation to the vastness of the library. However, if you are a fan of classical texts, you are in for a swell time. You will find thousands of books by renowned authors like Aeschylus, Aesop, Claudius Aelianus, John Quincy Adams, Mark Twain, Pierre Abelard, Samuel Hopkins, Willis Abbot, and many more.
Also, the free resources are not genre-specific; therefore, there is something for everyone at LibriVox. Though a more significant chunk of the platform's entire audio content is in English, there are audiobooks available in 31 other languages. Chinese, French and German follow closely as the languages with the most content.
For easier access to audiobooks, Librivox provides a free mobile app to users compatible with iOS and Android devices. The app's availability for instant download on AppStore and Google PlayStore is proof of its safety.
LibriVox app offers a wide range of features that make it one of the most sought-after among readers. First off, the user interface makes it easy to navigate the library effortlessly as readers can search for texts by title, author, or genre. Users can also download materials and save them for offline reading or stream them online directly.
Interestingly, the app helps readers continue listening from their last position even after a phone reboot. Also, Librivox provides in-house voice adjustment and normalization features that let listeners adjust the sound while listening. These provisions put you, the listener, in charge of how you consume books.
3. Google Play Books
Google Play Books, previously known as Google e-Books, arrived on the scene in 2010. It goes without saying that this online service is run by Google, which has become a household name globally over the years. It is little wonder that Google Play Books attracted a lot of users after its launch over a decade ago.
The digital book platform is home to over six million books, many of which are free. Similarly, users can buy, download or rent e-books and audiobooks. This site is best for readers who want to enjoy the thrill of good books at low prices. You can access books straight away, read them online, or download them directly to your Google Drive for offline use.

Features
Perhaps, this is what we love most about Google Play Books. You can't help but love the user interface. Opening the app, you will be greeted with a line-up of books to whet your appetite. A "My Library" page also stores a record of all the books you purchase, preview, and upload. The platform also offers a wide range of features that puts the reader in control of their reading experience.
Speaking of reading experience, Google Play Books makes for an excellent one. In fact, it provides a wide range of tools for customization such that users can change fonts, light intensity, font sizes, and virtually everything while reading. You will also find a text-to-speech functionality that reads to your hearing the words on the screen. This feature comes in handy when you need to multitask.
Helpful Integrated Tools:
Google services power Google Play Books. It incorporates virtually everything Google offers and more. For example, users can access Wikipedia, Google Translate, Google Maps, etc. Also, it comes with an in-house dictionary, so all readers have to do is highlight a difficult word and find answers. More interesting is the fact that it syncs with your Google account. Therefore, readers do not have to fear losing data when accessing their accounts through different devices. Since you already have a Google account, simply log in and continue from your last position.
It is no news that Google Play Books provides a comprehensive inventory of books. While not all books are complimentary, the platform offers a free preview of a small part of a copyrighted work. The authors decide on this "free for sampling" part of books. It could be the beginning, middle, or even the ending of the book. Also, it could be specific chapters (or other structuring models) or eye-catching extracts.
Note that not all the listed books are available for preview. You can immediately tell whether or not a listing can be previewed; all you need to do is locate the book. If it is, simply click the "Free Sample" or "Preview" button to gain limited access.
4. Goodreads
Since its establishment in January 2007, Goodreads has been the platform to read and share books with friends. Being a pioneer book-based social network, Goodreads was an instant success. In fact, it was itemized as a top ten website by Time Magazine in that same year. By 2013, the company had come under the control of Amazon.
Unlike other book websites, Goodreads adopts a more social approach to bringing together book lovers from all over the world. Users can create profiles, add friends, and even chat like on Facebook and other social networks. It is easy to connect with like minds on this platform and engage in intelligent conversations. As of now, Goodreads boasts of a database of more than 100 million monthly active users. This large user base makes it arguably the largest ever for an online bookstore.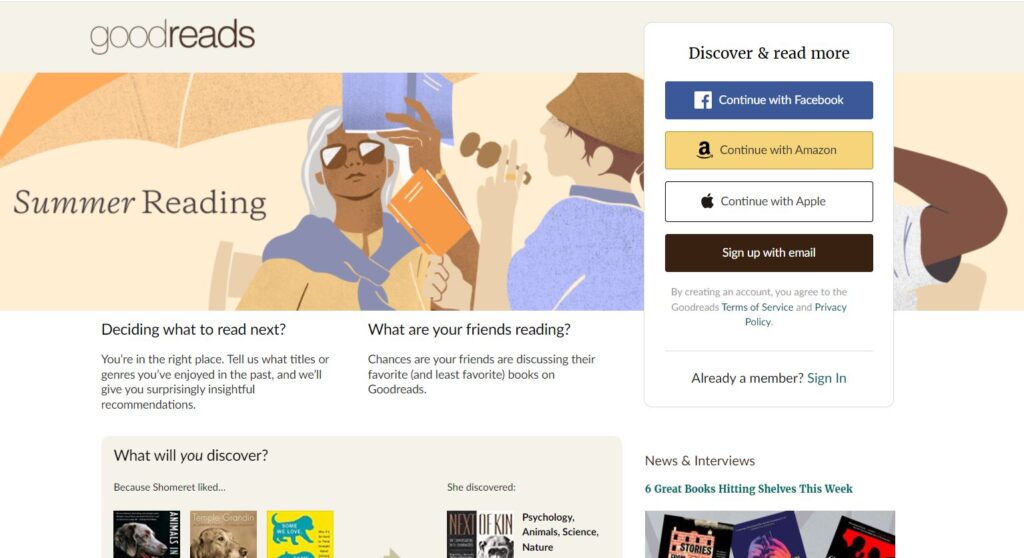 Features
A Perfect Balance of a Book Website and Social Network:
In straightforward terms, Goodreads is just as much an online bookstore as it is a social network. Users get to create profiles that are publicly visible to other members except when set as private. It goes without saying that you can do just as much with other social networks with Goodreads and even more. At the same time, users get access to tens of millions of books. You can also buy and read books online like every other e-book platform. It is safe to say that Goodread offers the best of both worlds.
According to a recent study, the online portal is an authentic amalgam of a bookstore and a forum for human interaction. The research samples 50,000 members of Goodreads as to how they use the platform. The results show that users actually explore both aspects of the site, sometimes one at the expense of the other. However, for most, it is simply a book-centric social media network.
It is no news that Goodreads is one of the most popular sites among its peers. Over the years, it has done a fine job attracting people worldwide. As far back as 2013, before the Amazon acquisition, Goodreads had 60 million users already. Today, the figure is more than double what it was then. Users come together to form groups and host intellectual discussions surrounding particular topics, books, genres, and what have you. This fosters online companionship amongst like-minded persons, that is, readers who share similar tastes in books. Some of the most popular forums include Horror Aficionados, Historical Fictionistas, Cozy Mysteries, and Arabic Books.
Goodreads is hands down one of the best destinations for organic book reviews. At once, you will find millions of detailed assessments and ratings of pieces of literature by real people. This is mostly an accurate pointer to what new readers will find while reading specific books. "Mostly" because many sentiments are at play here; hence, it may sometimes be inaccurate. However, a million humans from different locations globally can not tell the same lie.
Also, it is commendable that Goodreads monitors reviews and ratings closely to keep the space sane. For example, irrelevant and off-topic comments are removed immediately without notice. Also, Goodreads does not tolerate rating a book or posting the same review multiple times. It is spam and will therefore be deleted.
5. CrimeReads
CrimeReads is a subsidiary of Literary Hub, aka LitHub, a renowned center point for contemporary literary culture. The platform is a unique book website that has carved for itself a niche within the ambiance of thriller, mystery, and crime. It's the best destination for reviews on crime-related literary works. If you are a fan of the genres mentioned above, look nowhere else. You will find articles discussing books, TV shows, podcasts, movies, movie awards, and more.
CrimeReads features contributions from over 150 partners – individuals and institutions. These editorial partners include Baker Street Irregulars, Henry Holt & Co., Hard Case Crime, Kensington Books, Skyhorse Publishing, and Titan Books.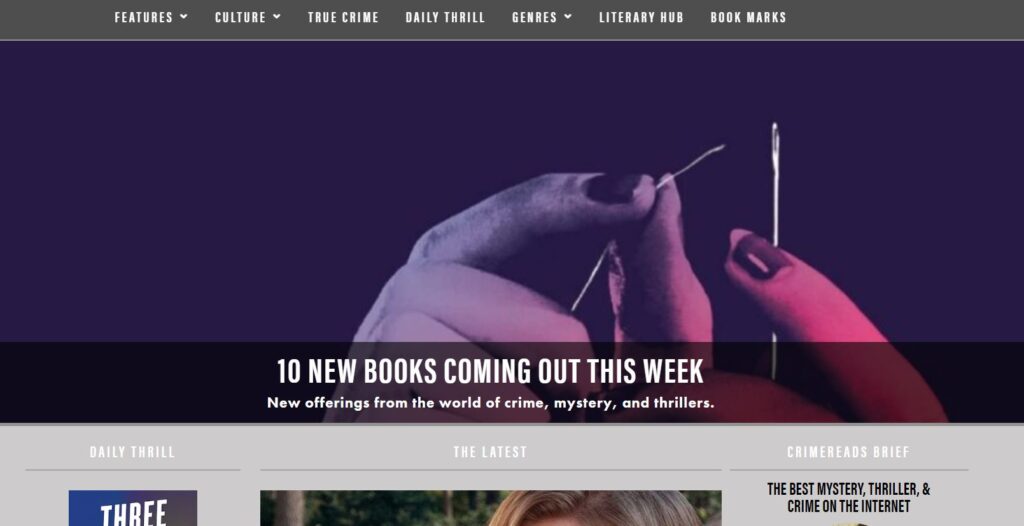 Features
Bookstore Powered by Bookshop.org:
Beyond quality reviews, CrimeReads also runs an extensive bookstore powered by Bookshop.org, one of the best book platforms for independent bookstores. In case you would want to get a hard copy of the reviewed books, you are just one click away from having it. The online store is awash with numerous discounts, and books are available in print (hardcover and paperback) and CDs. That is to say, buyers can access cheaper alternatives when on a budget. Also, books ship within the shortest time possible.
Interestingly, the bookstore incorporates other genres aside from crime thrillers. You will find comic, history, horror, romance, and a host of other works within different niches. In fact, there is a whole cross-section dedicated to books in Spanish.
"Daily Thrills" is a separate program on CrimeReads which gives readers a glimpse into books. Put differently, the series features excerpts from new and best-selling literary works. Therefore, before purchasing any book, readers can have a sneak peek of its details. Some of the most popular include "The Woman in the Window" (A.J Finn), "Back Up" (Paul Colize), and "Warning Lights" (David Riccardi).
Quality Reviews on Everything Crime:
CrimeReads lives up to its name as a center for quality writing in the world of crime. Besides books, CrimeReads also feature reviews on real-life crimes. You will find writings outlining the facts about true murder cases, criminal justice systems, the everyday habits of notorious criminals, and more. As a matter of fact, there are beautiful reads about the CIA's operations outside the US and how criminals are captured.
Additionally, CrimeReads features resources from its sister website, Book Marks, a platform for objective literary criticisms. Overall, the platform is a strong fount of information as it houses a repository of entertaining and intelligent writing. CrimeReads also collects essays from independent crime writers and, even better, conducts interviews, digging into their personal lives. We love that CrimeReads retains all of these articles dating as far back as 2017. Therefore, visitors almost never run out of content to hold their interest.
6. BookBub
BookBub was founded in 2012 by Josh Schanker, an entrepreneur, and Nicholas Ciarelli, founder of Think Secret. The purpose of this company is to showcase the works of less recognized authors through the platform to a wider audience. BookBub achieves this by marketing handpicked books to its customer base through newsletters containing reviews. Also, subscribers have access to mouth-watering discounts and the best prices. Lastly, BookBub provides a social forum where authors and their readers can interact and engage in intellectual discourses. Like other social networks, you can follow your favorite author(s) and get their updates firsthand.
BookBub has its headquarters in Cambridge, Massachusetts, in the US. Following a decade in operation, the company boasts an audience of 15 million.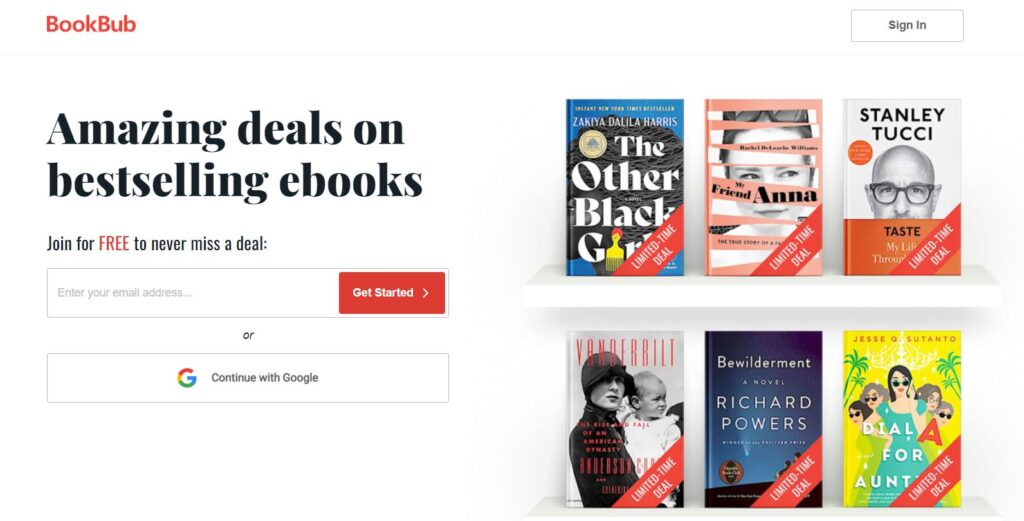 Features
Perhaps BookBub's most stand-out feature is its daily newsletter. Now, you are probably thinking of this as spam. We assure you, it is far from that. First off, BookBub sends only one email per day. Secondly, the emails contain helpful resources that link to books, reviews, and discounts carefully curated by the website's team of editors. Thirdly, while signing up, you get to choose the categories of books and authors you would like to get updates for. Thus, you only receive emails relating to your picks. Lastly, you can unsubscribe from the newsletters at will and search for updates through the BookBub Blog.
The success of BookBub spilled into creating a new company that focuses strictly on audiobooks. In 2019, BookBub launched Chirp, following a growing request for audiobook services. It goes without saying that the same team runs both companies. By implication, you enjoy a similar ambiance and quality service.
Unlike several competitors, Chirp does not charge monthly or other fees. However, the platform solely sells audiobooks; therefore, you will have to pay for each you want to listen to. The good news is that they do not come at high out-of-pocket costs as they are all discounted. More importantly, the audiobooks are of high quality, and you can listen to the audio files on the Chirp app. Find it on Google PlayStore and the AppStore.
7. Amazon Kindle
What's a book website list without Amazon Kindle? In the early 2000s, Amazon set out to ease access to books by creating a product to revolutionize reading. By 2007, Amazon launched the first Kindle e-reader with over 90,000 books available. In the next year, Amazon acquired Audible to add over 80,000 audiobooks to the collection.
Today, you can simply head to Google PlayStore or AppStore on your smartphone or get the PC software on the Amazon retail store. The mobile phone apps have a beautiful interface and functionalities for smooth navigation.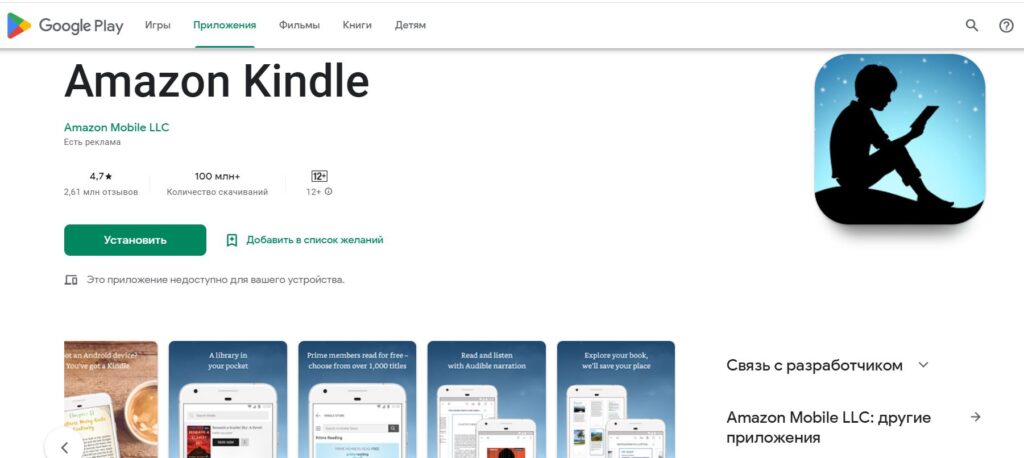 Features
From the beginning, the significance of the Kindle project was to offer a solution: a product with which people could read books. This spilled into creating smartphone apps universally compatible with devices other than the Kindle e-reader. As it stands, the Kindle store houses an inventory of millions of e-books and audiobooks, many of which are free. The homepage presents you with a list of categories of books, including the best sellers and editors' picks. For more specific searches, the Kindle Store is only one click away from the homepage. We love that Amazon offers a free sampling of books before users make a purchase. Also, readers get notifications about new releases from their favorite authors.
If you are a fan of features, the Kindle app will spoil you with all of that. Amazon Kindle allows for easy and automatic synchronization. That is, users can access a single account across multiple devices and resume their progress from any of the devices. Amazon ensures this through its Whispersync technology introduced in 2009 together with the mobile apps. The Whispersync technology helps users save their progress. Summarily, users can shut down one device and continue on another without having to start all over or lose data. Whispersync saves notes, highlights, bookmarks, etc.
The Kindle app has many other features, including built-in tools to facilitate a smooth experience. The app also comes with a dictionary and integration with Wikipedia and Google. When you come across a difficult or unfamiliar term, name, concept, etc., all you have to do is press down on it. Immediately, a list of reader control tools will appear, among which are links to Wikipedia and Google.
Prime Reading is an exclusive offer for members who are subscribed to Prime. The subscription-based service allows subscribers to freely access or at a cheaper rate than what others pay a premium. Therefore, if you already hold an Amazon Prime membership, you get to enjoy additional benefits.
Firstly, Prime offers access to an additional collection of more than a thousand best-rated magazines, e-books, and audiobooks. The available magazines include Entrepreneur Magazine, House Beautiful, Rachel Ray Every Day, and Super Chevy. Secondly, members are eligible to get one free pre-release e-book every month. Lastly, you can enjoy the above benefits using any device, not necessarily the Kindle e-reader device.
8. Europeana
Europeana started in 2008 and is financed by the European Union and Culture Ministries across 19 European countries. It was born out of the need to create a virtual library for the European continent, promoting its cultural heritage. Simply put, the establishment seeks to provide adequate knowledge of ancient and contemporary cultures in Europe. It is arguably the largest European virtual library, housing over 50 million written, audio, and materials about the continent.
The library operates a network of about 4000 institutions – archives, galleries, libraries, and museums sharing a similar vision – to provide these objects. The partnering institutions include the Archives Portal Europe, Jewish Heritage Network, National Library of Serbia, and Swedish Open Cultural Heritage. Therefore, if you are a cultural enthusiast, researcher, student, or teacher interested in European history, we suggest you look here.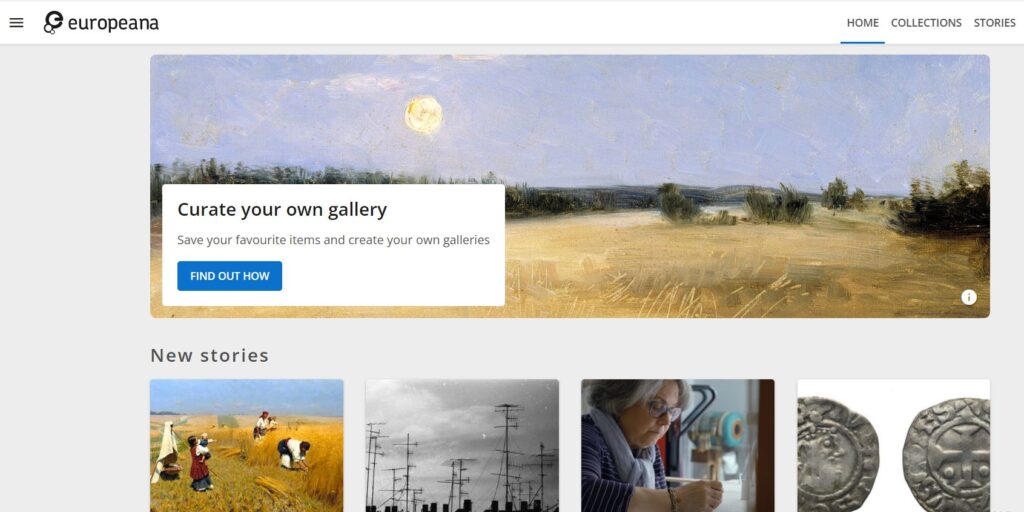 Features
Lots of Culture-Related Content:
Europeana is not only a book website but an internet multimedia resource portal for materials primarily relating to Europe. By implication, you will find much more than only books. As it stands there are 29,000,000 images, 22,000,000 text files, 750,000 audio files, 330,000 videos, and about 9,000 3D documents. Indeed, it is the home of primary sources.
While it is true that navigating through 50 million files is exhausting, the website layout makes it pretty easy to surf. Besides an intuitive search button, all files are distributed across four main categories: theme, topic, institution, and century. These categories are helpful, especially when carrying out more dedicated searches into specific subjects. "Topics" features about a thousand items, including Byzantine arts, Christianity, Iron Age, LGBTQ, and Middle Age, to easily locate related materials. The theme section features 13 subsections, including archaeology, art, fashion, geography, manuscripts, newspapers, industrial heritage, and World War I. Also, users can search for materials by contributing institutions. Finally, Europeana features resources from all centuries – 1st to 21st.
Features All European Languages:
Europeana truly lives up to its name as it touches on every country on the continent. It is no coincidence that Europeana is fully localized in the 24 European Union languages. In other words, users can access the entirety of the website in their local languages. While this is a great feature, a significant limitation is that there is no cross-language search functionality. This means that searching for a term like "Spanish war" will only provide English results if at all "guerra espanola" appears. By implication, you will have to search the exact words you are researching if you must get the best resources. Also, there are no non-European languages available.
Europeana is committed to creating avenues to drive user engagement while getting familiarized with culture. The platform achieves this by creating forums whereby people can express themselves. Currently, there are four mediums: blogging, the Digital Storytelling Festival, email courses, and story sharing. Europeana is open to blog ideas and welcomes submissions here. Upon review, you would be invited to be a guest editor if the team approves your request.
The Digital Storytelling Festival is a forum for culture enthusiasts and professionals to create quality content for consumers. Also, the email courses are a series of materials that help foster cultural studies through periodic emails on specific subjects. You can sign up if you want to learn more about European sporting heritage, black history, and women's history. Lastly, users can reconstruct their history for future reference purposes through storytelling. You can tell your migration, work, and sports stories here.
9. Open Library
Open Library is a not-for-profit initiative of the Internet Archive established in 2006. The project was started by a group of five, including Aaron Swartz, Brewster Kahle, and Rebecca Malamud. This online book portal seeks to make every book published on earth available on OpenLibrary.org.
While this sounds unrealistic, the Open Library is steadily working towards that goal. Little wonder the platform, through the Internet Archive, has digitized over 20,000,000 million books since its launch. As a matter of fact, the mother organization adds about 3,000 new books daily. The Open Library has an established partnership with about 150 reputable institutions and independent publishers to make this possible. The California State Library is a significant contributor to the online portal.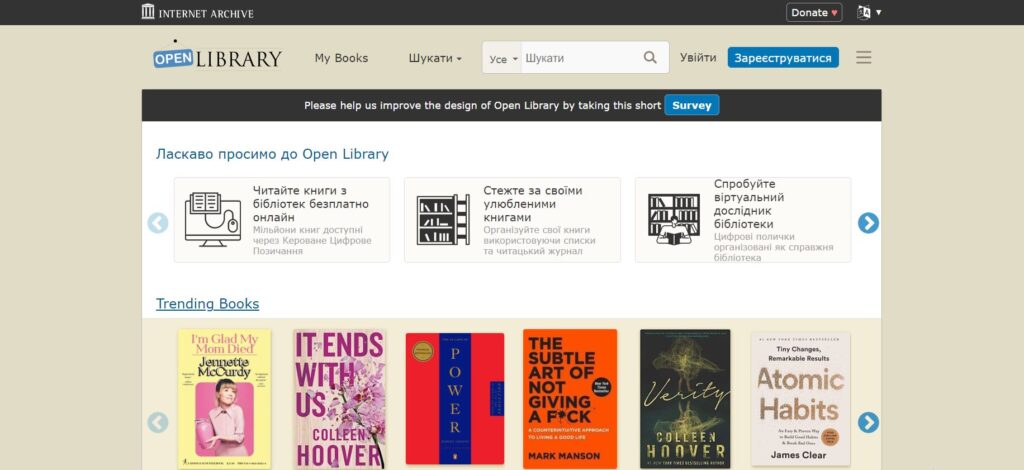 Features
Translation in Every Language:
To become a true open library, Open Library seeks to provide its services in all languages. From the start, the platform employed Google Translate and volunteers to interpret books in multiple languages. After a decade in operation, a more significant chunk of the site's monthly visitors were predominantly English speakers. Even so, to be an open library indeed, it is necessary to extend its reach to non-English speakers. Therefore, to attract a wider international audience, Open Library now commits to providing original books from across the globe. "Original books" as in books written in other local languages; not translated versions. As it stands, the platform is home to books written in over 400 languages.
Also, Open Library is on a mission to have the length and breadth of its website available in all languages. While this is a long-term goal, the platform right now is fully localized in eight languages, including Spanish, French, English, and Croatian. Furthermore, the website now offers cross-language translation search results. In other words, users can now get more accurate search results regardless of language.
Read Online, Borrow or Listen:
As earlier stated, all books in Open Library are free and readily accessible anytime. The website provides an intuitive search button with the auto-complete feature to get suggestions even before you finish typing. Therefore, you are only one click away from any book or material you are looking for. All records carry either or all three labels: read, borrow or listen (with a headset representation). Those that carry any clickable label have been digitized and are obtainable for online use or download. Mind you, your access to borrowable books lapse after 14 days.
Open Library covers all genres of writing; fiction, romance, thrillers, etc. It features classic best sellers, including "Oliver Twist" by Charles Dickens and "Lord of the Flies" by William Golding. Also, you will find a lot of historical works helpful to students, professionals, and enthusiasts.
While we are not exactly keen on the website's interface in terms of beauty, we can not but love the ease of access. Despite the vastness of the Open Library, we guarantee that you will find what you are looking for, provided it is on the website.
Just beside the general search button to the left is a "Browse" dropdown key that provides a list of other assistive options. Out of eight, we are most enthusiastic about three: Subjects, Library Explorer, and Advanced Search. Open Library adopts the Library of Congress Subject Headings model, which utilizes subject headings to spot bibliographic data. Simply put, you can search for books by topic, including art, business, history, places, and even language. Keep streamlining the following options till you arrive at the text you have in mind. The same applies to "Library Explorer;" filter the search by subject and arrive at the book.
Lastly, the "Advanced Search" is by far one of the most up-to-the-minute we have seen. What do you do when you cannot remember the author or title of a book? What if you still do not find it using the two methods above? Luckily, with the advanced search feature, you can search for a book with anything you remember about it. More specifically, if you can recollect an address, character's name, ISBN, chapter title, etc., then you are in luck. You are only one click away from what you are looking for. Alternatively, you can use the "Search Inside" if you have an extract or quote from the book.
Our Related Services
Sign up for our newsletter to receive SEO tips, discounts and freebies.
Wrapping Up
If you enjoy online reading, then it is critical that you sign up on any of the best book websites. Speaking of "best," you may want to scroll back up to find our list.
Due to the far-reaching possibilities of the internet, there are thousands of online bookstores today. Consequently, you will likely get confused choosing one, as the numbers are overwhelming. This roundup, however, consists of establishments with several years in operation. Also, in terms of usability, their websites and apps are easy to navigate and quite user-friendly. Furthermore, they have some of the broadest online libraries, so you can find books at the press of a button.