Today in 2022, affiliate marketing is a billion-dollar industry. If we go by the statistics, there are predictions that the industry will be worth more than twelve billion this year.
Given those numbers, it is not surprising that we are seeing a surge in the number of people entering the affiliate marketing industry. Most people choose to read up on affiliate marketing guides online and immediately start marketing. Unfortunately, they all just outline the basic procedure. With all the new competition, you can't afford to be basic.
You need to read up on books on marketing strategies and affiliate marketing books highlighting the more nuanced parts of marketing. But bearing this advice in mind, you may stumble upon a new problem.
There are thousands of books claiming they offer the best advice to help you build an affiliate marketing empire. However, in this case, all knowledge is not equal. You need books with substance that can help you reduce the time you spend learning the ropes. We're here to help you with that. We have made a list of the best affiliate marketing books you need to buy and read before you embark on your affiliate marketing journey.
Our Related Services
Sign up for our newsletter to receive SEO tips, discounts and freebies.
12 Must-Read Books for Beginner Affiliate Marketers
During our research, we managed to find twelve of the best books on affiliate marketing for beginners. These books cover the basics of affiliate marketing and give tips on how to succeed in the industry.
1. Affiliate Marketing for Dummies – Ted Sudol and Paul Mladjenovic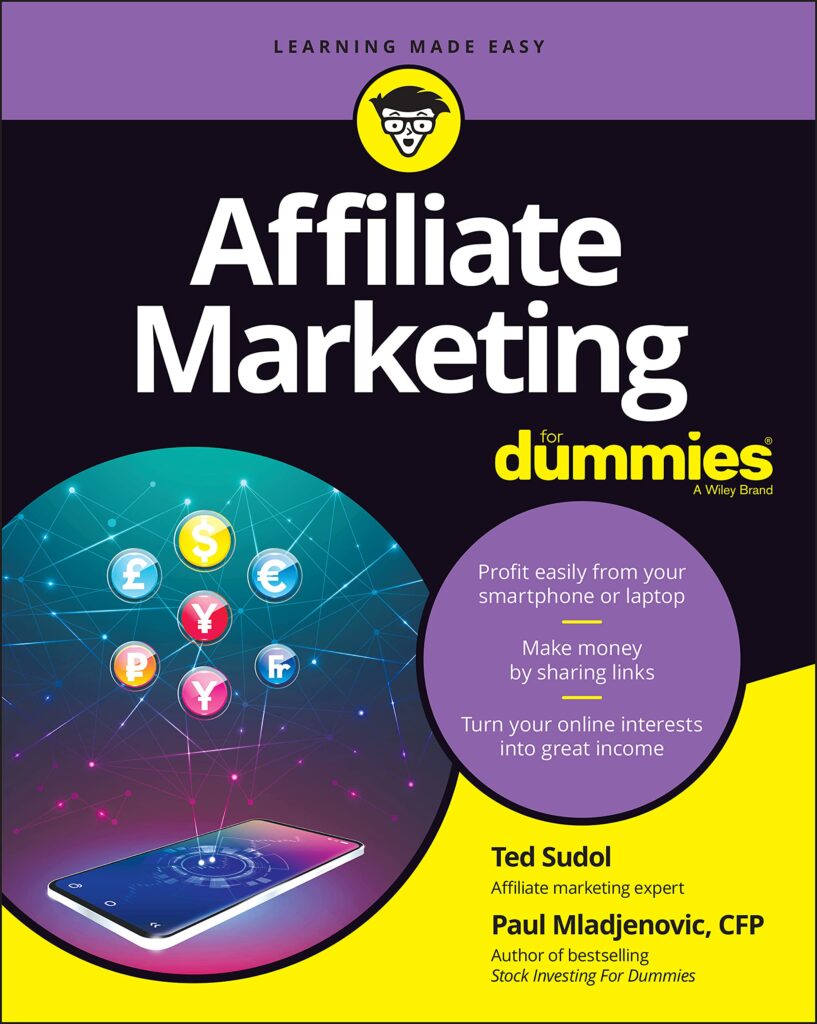 The For Dummies series started in 1991. Since then, Wiley Publications has been bringing together experts in various fields to write these handbooks. The idea behind the books is simple. Write instructional handbooks to tell people about things they know nothing about in a way that's easy to follow.
For this particular book, they brought in Ted Sudol and Paul Mladjenovic. Ted Sudol is a successful affiliate marketer who has sold plenty of his niche websites. On the other hand, Paul Mladjenovic is a home business specialist and national speaker. He adds his own expertise to this book.
The book, with its three-hundred-plus pages, explains how bloggers can monetize their blogs. It talks about affiliate marketing, what it is, and how to find a program that works for you. It also talks about marketing strategies and using different techniques like SEO to make your content sell. Plus, you get tips on aspects many online guides don't touch, like managing your financing and tax strategies.
2. Affiliate Marketing: How to Make Money and Create an Income in Online Marketing & Internet Marketing – Andy Anderson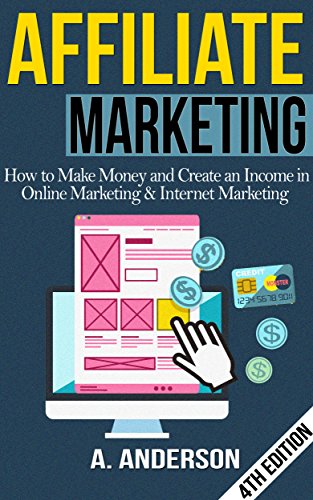 Andy Anderson has quite the experience in online marketing and businesses. He has written quite a few books on social media management, affiliate marketing, and running your own online business. His new book on affiliate marketing is an effort to share his knowledge with folks looking to enter the affiliate marketing industry.
The book is for folks who want to earn passive income by foraying into the affiliate marketing world. It'll teach you how to create and monetize your content on the web. It covers essential strategies like backlinking, article marketing, and listings.
The book also teaches readers how to generate traffic for their content to generate as much commission as possible.
Long story short, the book covers everything you need to monetize your blog or website. The book has a conversational tone, so the points are easier to understand.
So, if you have a basic idea of affiliate marketing but wish to advance your skills, this book is for you.
3. Evergreen Affiliate Marketing: Master the Mindset, Learn the Strategies, and Apply the Systems Used by the World's Wealthiest Affiliate Marketers – Nate McCallister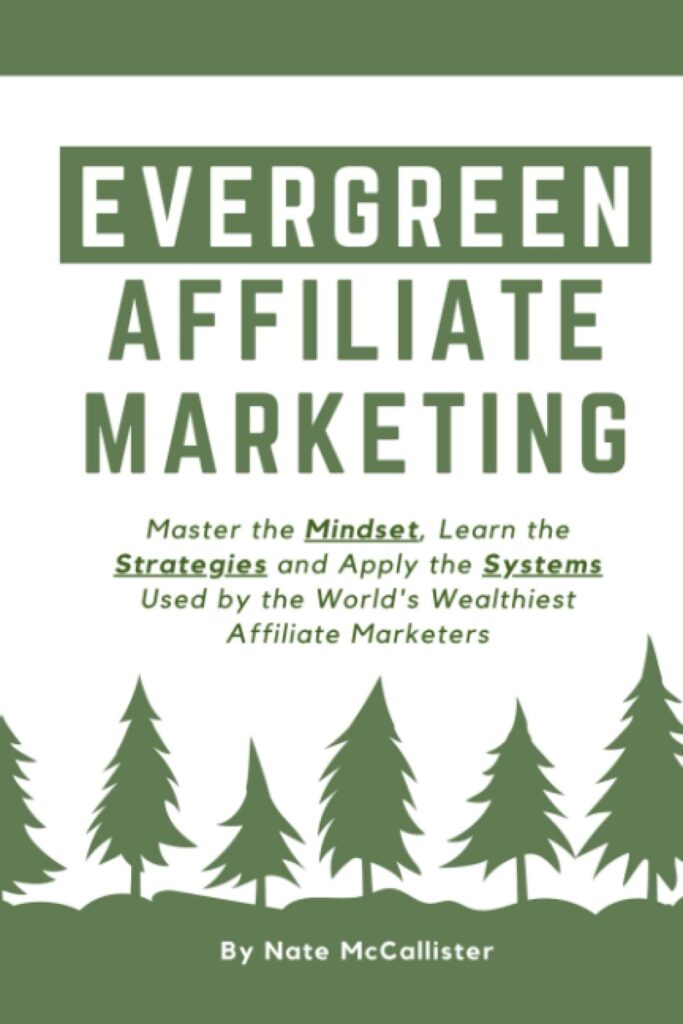 Published last year, Evergreen Affiliate Marketing is the ultimate guide for increasing your income through affiliate programs and online marketing. This book is exceptionally detailed and dissects the most popular strategies for increasing traffic and promoting products and services.
Nate McCallister has divided the book into six neat sections. Each section highlights a different aspect of affiliate marketing. The first section is basically an explanation of affiliate marketing as a field. It discusses finding your niche, different affiliate marketing approaches, and much more. The second section covers the core concepts of affiliate marketing. It expands on email marketing and getting an effective audience, among other things.
The third section of the book talks about content creation, what type of content you should be creating, and the reasons for content creation. Moreover, it gives direction on how to use social media for content creation, show up on search engines, and more. Even more advanced marketers will find the fourth section useful. That's because it focuses on marketing tactics like giveaways, leveraging seasonality, etc.
The fifth part focuses on copywriting and how to use it effectively. The last section covers more tips from the writer that wouldn't fit into any other sections. The sheer amount of information in the book makes it a valuable read, regardless of your level. It's not every day you get to learn from the best, but you can with this book.
4. From Nothing: Everything You Need to Profit from Affiliate Marketing, Internet Marketing, Blogging, Online Business, e-Commerce, and More. Starting With <$100 - Ian Pribyl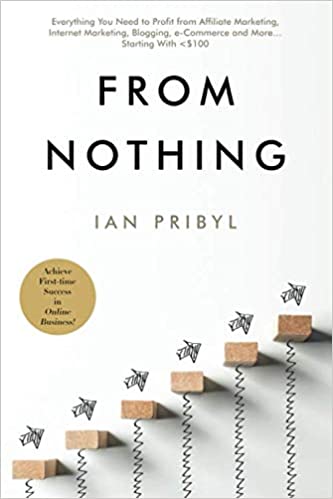 Ian Pribyl is a ginger millennial; his words not ours. The man got into online businesses when he was sixteen, and today, he has been in the industry for more than fifteen years. During this time, multiple companies have named him as their super affiliate. He has been imparting his knowledge to other people to help them take steps to improve their finances. This book is just another effort toward that mission.
The book covers setting up your site and driving traffic towards it. It also covers how to turn that traffic into money which is what affiliate marketing is.
This book is for you if you are a newbie hoping to set up your site and monetize it. This book will teach you how to build your site via WordPress. You will also learn the latest marketing strategies to promote your content and products better.
The book also comes with free online video resources. These resources will help you better understand Ian's points in the book. We were genuinely impressed by the lack of filler content in this book. Almost every word is impactful and can directly affect how you run your site and business. This is what makes it one of the best books on affiliate marketing.
5. Affiliate Marketing: Secrets – How to Start a Profitable Affiliate Marketing Business and Generate Passive Income Online, Even as a Complete Beginner – Chandler Wright
Born in California, Chandler Wright has been in online business and marketing for more than ten years. He failed at all his businesses for six of those years.
However, all his failures taught him lessons. He then used these lessons to boost his income and get to where he is now.
This book teaches readers the affiliate marketing secrets he learned during his journey.
The book covers the channels you can use for affiliate marketing and which is the best for you.
It also includes a basic guide on starting affiliate marketing and provides information about different programs and which programs are the best.
There are also strategies to get your sites to rank high and draw more traffic.
6. Affiliate Marketing: The Beginner's Step By Step Guide to Making Money Online With Affiliate Marketing – Kevin Ulaner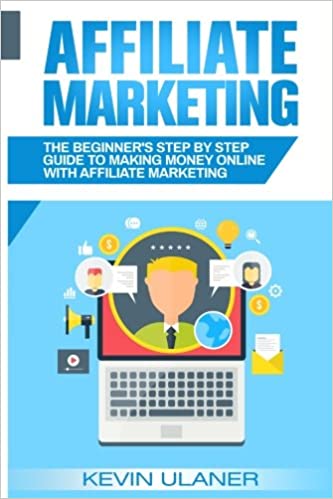 Kevin Ulaner was still serving in the Air Force when he started looking into online earning. He started with Amazon in 2015, and since then, he has released three books covering affiliate marketing and passive income. He wishes to share his knowledge with others so others will not repeat his mistakes.
When we say this book is for beginners, we genuinely mean that. Kevin covers all you need to know about affiliate marketing in the most straightforward language. He explains all that you stand to gain from entering the world of affiliate marketing.
The book also covers what you need to do to get a solid footing in the industry. This book will teach you the basic mistakes you need to avoid while starting as an affiliate marketer.
Even though the book was released in 2017, it is still relevant today. We recommend giving this book a go if you have just stepped into this industry. Or, if you are a veteran affiliate returning from a long break, you can use this book to learn how things have changed.
7. Expert Secrets: The Underground Playbook for Finding Your Message, Building a Tribe, and Changing the World – Russell Brunson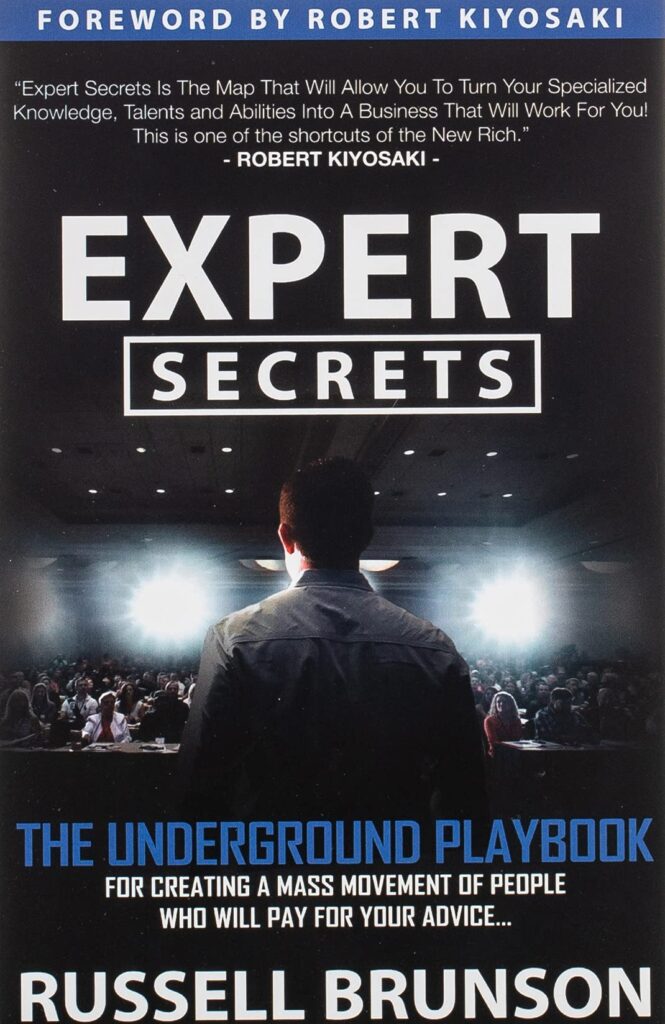 Russell Brunson is an entrepreneur who has been starting one online business after another since his student days. FYI, his student days have been over for ten years.
Till now, he has sold millions of products and scaled multiple businesses. Meanwhile, he also started a book series to share his online marketing and audience-building strategies.
We won't lie. The book includes marketing for his own products, which may annoy you. However, it is also filled with advice on creating and retaining an audience, expanding your brand, etc.
The book also covers becoming a leader that can influence people's opinions. This ability is particularly useful in the affiliate marketing field and even in daily life.
This book will teach you how to build a rapport with your followers so they take your word as fact. Expert Secrets is currently one of the best books about affiliate marketing. No matter how long you have been an affiliate marketer, it promises to be a solid read.
8. They Ask, You Answer – Marcus Sheridan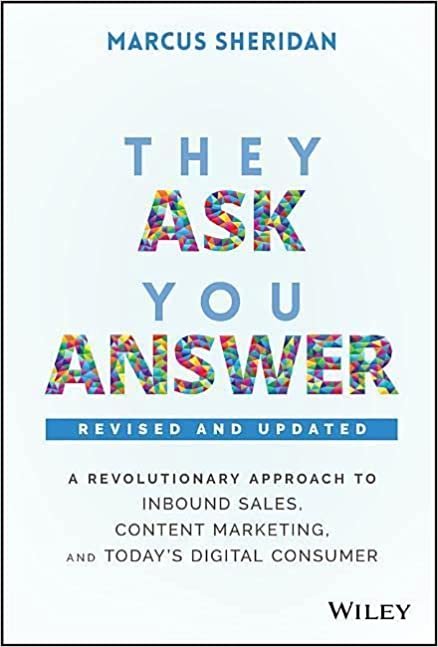 Marcus Sheridan is a forty-four-year-old orator who is practically a genius in online marketing and sales. His efforts in 2008 to save his failing pool business made him a sought-after speaker in marketing. A testament to his talent is that Forbes included him in the "Speakers You Don't Want to Miss" list. The New York Times went as far as to call him a "Web Marketing Guru."
In "They Ask, You Answer," the writer discusses a new marketing approach. Instead of traditional advertising, he focuses on anticipating and addressing customer concerns. Customers have many questions that they enter into Google hoping to find answers. You have to anticipate those questions and answer them.
Furthermore, you must use optimization techniques to ensure your audience sees those answers.
The book also covers other aspects, such as gaining your audience's trust. It also uses case studies to see the real-world applications of new marketing strategies. They Ask, You Answer is currently one of the best books regarding affiliate marketing.
9. Affiliate Marketing for Beginners – Ray Hamilton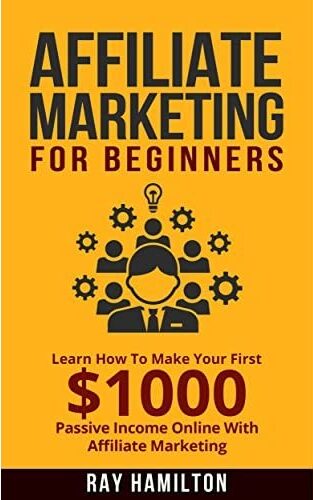 Ray Hamilton didn't just get up one day and decide to write a book. The man has a solid five years of experience in this industry. Using his experiences from those years, he created this simple guide to affiliate marketing for beginners.
This book doesn't have any complicated jargon. It explains affiliate marketing so that you understand where to start. Now, there is something that you should know before buying the book, and that's the fact that it is short. That means it really does contain only the basics. This is not the book for you if you are an advanced affiliate marketer.
The book has step-by-step instructions and pictures to help people understand the ins and outs of affiliate marketing.
However, the thing is that the book doesn't just cover affiliate marketing. It also contains tips for starting blogs, Youtube channels, eBay stores, and other business ideas.
In addition to all that, the book comes with a free report. The report is titled "3 Fool-Proof Ways To Use Social Media To Boost Your Internet Marketing Efforts" and has some more tips on how to conquer the marketing world.
10. Affiliate Marketing: Proven Step By Step Guide To Make Passive Income With Affiliate Marketing – Mark Smith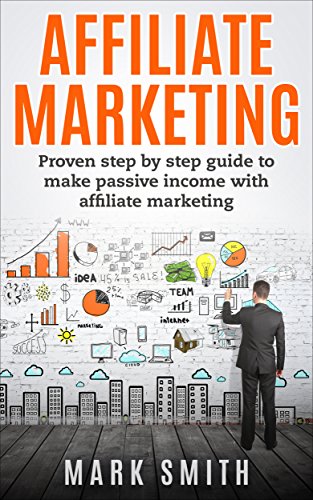 Mark Smith has been in the marketing world for quite some time now.
He felt the need to share what he knew, so he decided to establish himself as a self-published author. He has written over twenty-four books covering various aspects of marketing strategy.
Mark Smith's book on affiliate marketing is a comprehensive guide for newcomers in the industry. He explains the basics of affiliate marketing and what jargon is used in the industry.
It builds on that by instructing people how to create and run their blogs.
Furthermore, people can use the book to learn about the best affiliate networks and which ones work for them.
Mark talks about succeeding on affiliate marketing networks.
The book covers how to drive sales by using social media. It also covers common newbie mistakes and the art of avoiding them.
11. Affiliate Marketing: 2021 Edition – Earn High Commissions by Selling Products and Services You Do Not Have – Robert Kasey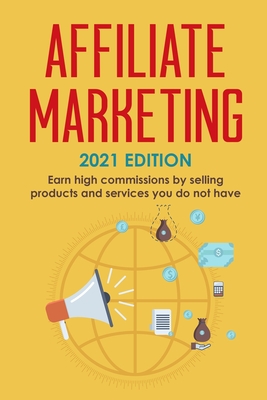 If you are an old affiliate marketer who went on a hiatus, you should read Robert Kaseyl's book on affiliate marketing.
This book, released in 2021, is among the best new affiliate marketing books to read.
Even if you are a beginner, this book will guide you into the affiliate marketing world with the latest tips.
The 2021 edition of Affiliate Marketing will teach you everything you should know about the industry to run your business efficiently.
The book covers the basic concept of affiliate marketing and how things work and walk you through the whole process of starting and maximizing profits.
It also shows how you can level up your business later as you learn more about the industry.
12. Affiliate Program Management: An Hour a Day – Evgenii Prussakov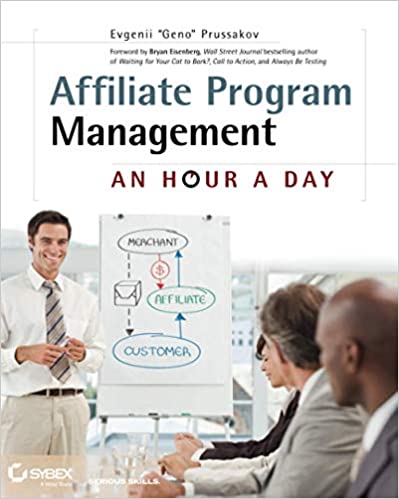 Evgenii Prussakov is an affiliate manager who has contributed to the success of some huge brand names. These brands include Forbes, Nokia, Skype, Forex Club, and more.
Furthermore, he happens to be the founder and the current CEO of AM Navigator. Given all those qualifications, this book is one of the few must-read books for beginner affiliate marketers.
Evgenii originally wrote this book for business owners and affiliate program managers. However, affiliate marketers can use them to gain an insight into the process.
The book covers launching affiliate programs and sales tracking, and it covers the qualities you should be looking for in recruits. The book discusses all the pitfalls associated with affiliate marketing programs and how to avoid them.
Our Related Services
Sign up for our newsletter to receive SEO tips, discounts and freebies.
Conclusion
Affiliate marketing is a lucrative field. However, you need to know the ins and outs of the industry if you want to earn enough to continue this as your full-time business. These books on affiliate marketing can help you understand all there is to know about the realm of affiliate marketing. They will also teach you how to start as an affiliate marketer.
The basic principles for affiliate marketing remain the same. However, you must continuously update yourself on the latest techniques. Reading books by the top affiliate marketers can help you do that.