Pets can teach you to love unconditionally, they say. Dogs, for one, have become man's best friend over the years. That said, how does one reciprocate this unconditional show of affection? One simple way is to sign up at some of the best pet websites to get informed about how to care for a pet correctly.
Pet websites are convenient online platforms to shop or find answers to questions relating to domestic animals. They cover a wide range of services bordering on pet care, including food, fostering, insurance, supplies, tech, and what have you. In other words, each pet website focuses on a specific niche. Therefore, it is crucial to identify your pet's most pressing need to know where to find answers.
Pet owners often miss out on researching the health and persona of their pets according to breed. Inevitably, parenting problems arise, and they have no clue what to do. Be that as it may, the websites that we have discussed are a haven of valuable materials across numerous pet-related topics. All you need to access that information is a smartphone and internet connectivity.
Now, to the big question, what are the best pet websites of 2022? Find our list below.
Our Related Services
Sign up for our newsletter to receive SEO tips, discounts and freebies.
9 Best Pets Websites of 2022
1. Chewy
Chewy was formed in June 2011 by masterminds Michael Day and Ryan Cohen. Six years later, the company was acquired by PetSmart, another one-stop-shop for pet products. Following the Covid-19 upheavals, Chewy is today one of the world's biggest online pet retail stores. It is your best bet if you ever need to shop for your pet, be it a dog, bird, cat, or even a reptile.
Chewy was inspired by the need to fill the void in specialty and excellent customer service, which was lacking at the time. So, it worked on its support system and offered the best in the market. That's one way to show how much the brand focuses on its customers' satisfaction. Other offerings include the best prices, fast shipping, exceptional variety, and more. Additionally, you get to enjoy multiple deals and discounts on different products.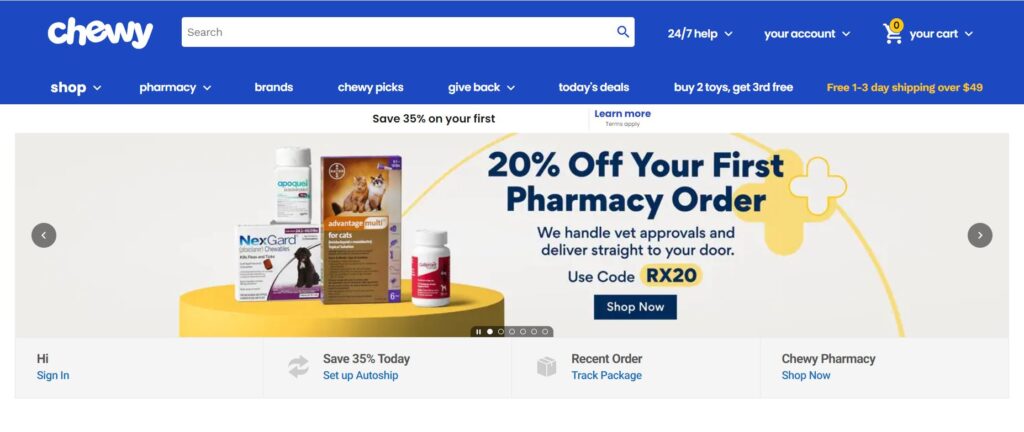 Features We Love on This Website
Easy Shopping and Broad Inventory
With a catalog of over a hundred thousand products from 2000+ partnering companies, Chewy inventory is arguably one of the broadest. The partnering brands include ASPCA, BioCare, NexGard, Purina, and Royal Canin. Despite its vast collection, Chewy makes shopping a walkover by letting customers buy according to brand or pet type. Also, an intuitive search button suggests and auto-completes the search before you finish typing. The collection contains mainly food, medications, and supplies such as beds, toys, cages, treats, and more.
Fast Shipping and Other Side Attractions
Chewy saves shoppers the stress of walking or driving to a pet store to get supplies. The company has one of the most organized logistics systems. More than a vast collection of goods, shoppers enjoy swift shipping. Within 24 to 48 hours after placing an order, your item is already at your doorstep. In fact, customers who subscribe to Autoship do not have to return to place orders for the same thing. As the term suggests, your supplies are processed automatically within a time range on the exact date you choose. Autoship also comes with several discounts available exclusively to subscribers. For instance, they enjoy up to a 35% price slash on the first order and 5% on subsequent purchases.
Chewy Affiliate Program
If you have a pet-niched website or plan to have one and fancy earning some cool cash, we recommend signing up for the Chewy Affiliate Program here. Affiliates earn a flat rate of $15 for every new customer that purchases through their affiliate links. Besides generous commission, you also get one-on-one support from an in-house affiliate team. The experts are always there to answer your questions and help you attain success.
Also, affiliates get regular newsletters, notifying them of new products, deals, and specials. Lastly, the store has over 100,000 products to promote. Therefore, you never run out of content creation ideas.
To join the program, sign up either through Partnerize or CJ Affiliates. Submit your application and wait 48 hours for feedback – approval or rejection. If accepted, you instantly get access to every detail required to get you running right away. You also get performance tracking tools to monitor your traffic, leads, and conversions.
Commission: $15 for every new customer
Cookie window: 15 days
Affiliate program: Chewy
2. Petpedia
One of the core problems associated with owning or parenting a pet is a lack of information. That said, Petpedia seeks to fill that vacuum. If you are looking for timely and accurate pet-related guidance, news, reviews, and statistics, then Petpedia is your go-to website. More specifically, users learn about pet care, health, training, and more.
The platform truly lives up to its acclaim as "The Encyclopedia of Pets." Also, the website aims to create awareness about pet fostering through informational writings. Due to the vast number of stray pets, Petpedia stands against pet abandonment and poor treatment.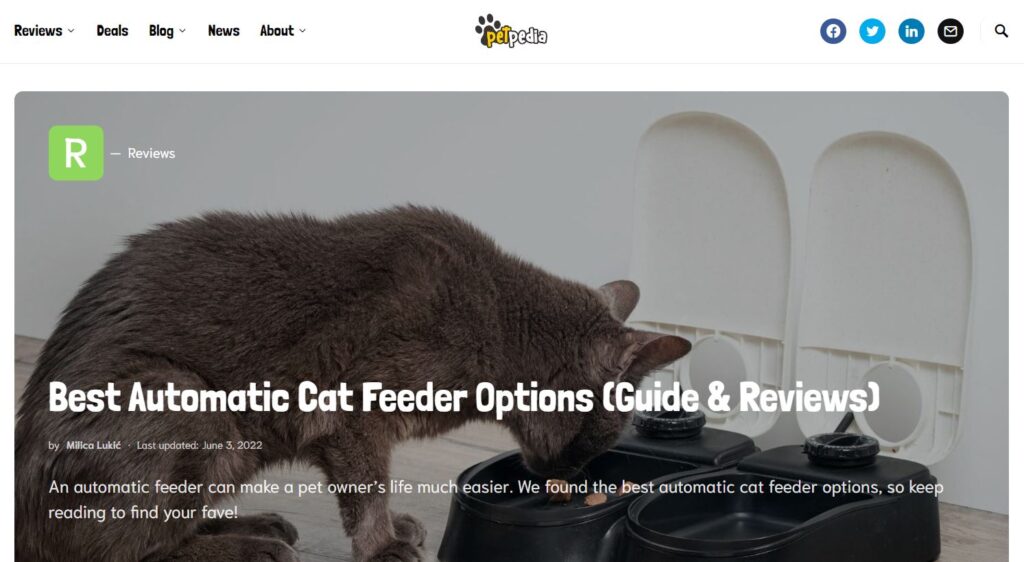 Features We Love on This Website
Pet Infographics, News, and Statistics
As mentioned earlier, Petpedia specializes in providing information on everything about pets. We bet you did not think of news or industry statistics. The news corner touches on subjects such as stocks, market analysis, and consumption patterns. Thus, Petpedia provides in-depth studies about the pet industry and offers perspectives on the implication of specific events. For example, here's an article that analyzes the post-Covid realities and their effect on the price fall of Chewy stocks. With information like this, readers stay up-to-date with recent pet market events.
The "Stats and Facts" sub-category features astonishing data and figures about animals, domestic and wild. Some interesting articles are "15 Fascinating Facts About Tigers" and "35 Animal Abuse Statistics." The "Infographics" section features roundups of animals on specific topics for educational purposes. Our favorite is 50 of the Most Popular Dog Breeds; visit the website to find something that may interest you.
Company and Pet Product Reviews
Beyond news, Petpedia releases periodic write-ups reviewing some of the best pet brands across the industry. Therefore, you cannot but come across articles about pet companies. The aim is to inform readers where to look in search of specific products and services. Reviews are fantastic because they help highlight the essential features of a company or its products. Hence, shoppers can make informed decisions while shopping. At Petpedia, with its team of prolific writers and professionals, you can be sure of getting fact-based reviews. You will find articles on pet insurance, food delivery companies, CBD products, pet DNA test kits, ESA certification services, etc.
Petpedia is an affiliate partner to several legit pet companies. Therefore, accompanying reviews are the platforms to shop for the best prices. Simply put, if you are looking to shop for pet products, Petpedia points shoppers to a list of websites to get discounts and other bonuses. Some partnering online stores are Amazon, Charlotte's Web, Chewy, HempMy Pet, and several others. Undoubtedly, it remains a platform to compare product prices and side attractions. While prices are essentially the same, you may sometimes get coupon codes for discounts on specific pet stores. However, this depends on when you are shopping, as coupons are not always available.
Read Petpedia's Affiliate Disclosure here.
3. Petcube
As a pet owner, you most likely worry about how your pet's doing when you're not around. Petcube aims to provide you with an answer to that question. It's a website selling pet cameras that let you check in on your furry friends anytime and anywhere. It's similar to a nanny cam, the only difference being that it's meant for pets.
Aside from cameras, Petcube also provides additional services. Therefore, a couple of insurance and pet care options are available. As a whole, Petcube is a pet niche website that focuses on a highly specialized market. In fact, that's one of the ways it gets traffic and sales. However, it also has a couple of other tricks up its sleeve.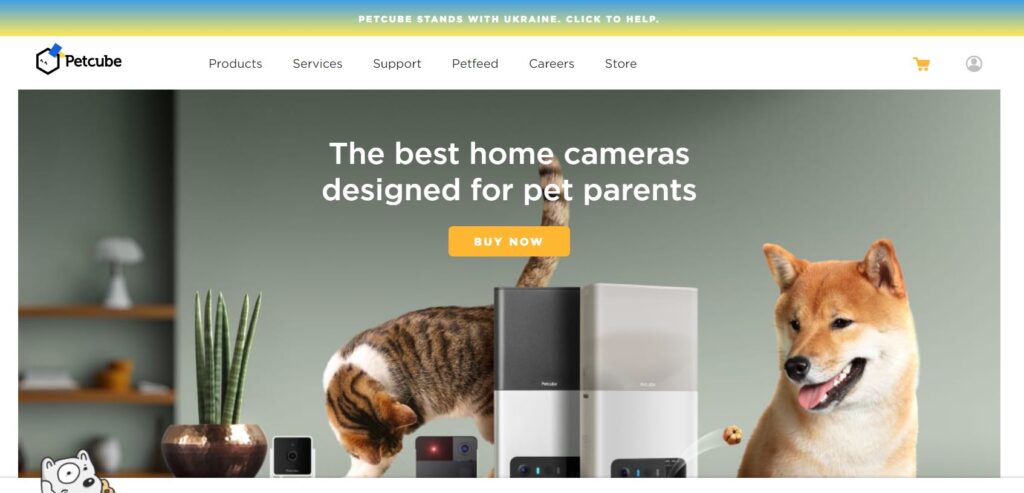 Features We Love on This Website
Innovative Product Lineup
Even though pet cameras are already a very specific niche market, Petcube knows how to make the most out of it. Hence, the brand goes a step further and doesn't just offer video feedback through its cameras but much more. Even the cheapest version provides two-way audio communication between you and your pet. On the other hand, the more expensive ones come with a built-in treat dispenser. With one of those, your pets will feel almost like you're in the room with them.
Naturally, each camera provides superior video feedback, with an extra-wide, 160-degree viewing angle. They also offer crisp nighttime recording, allowing you to keep an eye on your pet at any time of day.
Petcube doesn't just sell pet cameras – it also provides other valuable pet care services. When shopping for a camera, you can choose to buy it outright or choose a subscription plan. If you subscribe, you'll get to review your pet's video history in addition to a 24/7 streaming service. Your camera will also alert you at certain times, like when your dog is barking, or your cat is meowing. That way, you'll know whether there's something you need to worry about.
A subscription is a clever way to optimize conversion rates for any pet niche website. Petcube does an excellent job of it, providing a valuable service that pet owners would gladly pay for.
As an additional perk, a Petcube subscription allows customers to get discounts on many pet-related products and services.
24-hour Vet Service & Emergency Fund
If you're looking to take charge of your pet's health and wellbeing, Petcube provides a convenient solution. Its Online Vet is another subscription-based service, providing certified veterinary services 24/7. Thus, Petcube offers cheaper and quicker vet services that don't put as much stress on their pets.
Finally, Petcube provides the option of an emergency pet fund. It's similar to pet insurance and for a small monthly fee. It covers up to $3000 of vet expenses per year. This subscription also comes with the Online Vet service we already described.
An affiliate program is another strategy Petcube uses to get more traffic and sales. If you join Petcube's program, you'll get a 10% commission on each sale, paid monthly. It's a good way to earn money in this niche. Fortunately, Petcube's website is well-organized and provides unique products and services. Judging by that, promoting it should be a simple job.
Commission: 10%
Affiliate program: Petcube
4. American Kennel Club
American Kennel Club is a website dedicated strictly to dogs and their owners. While this kind of pet niche website is not uncommon, American Kennel Club is unique in several aspects. Visitors can expect advice on choosing a dog breed, raising and training dogs, and a product and service lineup to get them through the process.
American Kennel Club is one of the most-visited dog information websites. Let's discover this website's highlights and why it's such a popular choice.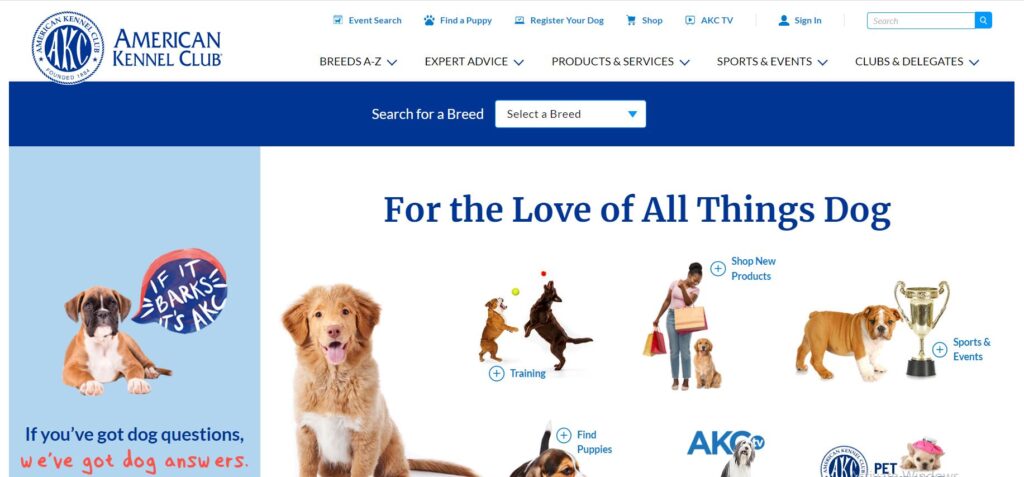 Features We Love on This Website
American Kennel Club provides an extensive list of dog breeds in alphabetical order. Naturally, once you find the breed that interests you, you'll be able to find out all about it. Character, size, diet recommendation, and health issues are all explained in detail. If you are looking for a dog, check out American Kennel Club.
This website's marketplace section provides visitors with access to responsibly bred puppies. That way, you can choose a pet without ever leaving the website. Additionally, American Kennel Club's marketplace provides grooming and training services for your new best friend.
The American Kennel Club offers expert advice on all things canine. First and foremost, it will help prospective owners to choose the dog breed that best suits their lifestyle. It's an easy process – you only need to answer a few questions, not unlike a quiz. Shortly after, you'll get the dog breed of your dreams. The "Find Your Match" quiz is a powerful optimization tool. It answers common questions in a fun and simple way, increasing traffic to American Kennel Club's website.
After it's helped you choose a breed, American Kennel Club will also help you take care of your new pet. You can expect a treasure trove of information on dog training, grooming, diet, etc. The brand's website provides an amazing amount of articles touching on these topics and more. Naturally, the info comes from reputable professionals, such as certified vets, dog trainers, and the like.
Dog sports and events come in wide varieties. If you're interested in them, the American Kennel Club will tell you every little detail. Thankfully, this website provides invaluable info on the various types of dog shows. Visitors can learn all about the rules of dog sports, such as categories, events that are part of certain contests, etc. Should you wish to spectate or participate, American Kennel Club's website even keeps a schedule of upcoming shows.
Dog competitions are a hobby of many dog owners, and they can bring substantial profits. However, even owners who are uninterested in competing can benefit from one-on-one time with their pets. Dog sports can do a lot of good for your dog's body and spirit, as well as your own. American Kennel Club cleverly capitalizes on that, earning significant amounts of traffic.
5. Paw.com
The internet is full of pet shops. They sell various products meant to make your furry friends happier, from food to toys and everything in between. However, the pet market comes with serious competition, and success is not easily achieved. One of the ways to ensure a spot in this niche is to provide unique goods and services. Paw.com does just that.
Paw.com is a pet shop that's not like most out there. It focuses on pet beds, providing some of the best on the market. Let's see what sets it apart from the rest.
Features We Love on This Website
A Wide Selection of Products
Even though Paw.com focuses on a specific pet niche market, it still manages to offer a varied product lineup. As a result, this online shop provides customers with every kind of pet bedding imaginable – orthopedic or memory foam. The beds use the same technology that regular, human-sized beds use. Therefore, nowhere will your pet be as comfortable as on a Paw.com bed.
The brand provides various other products as well. Their waterproof blankets are an interesting offering. They come in several sizes and materials. These blankets are the perfect way to protect your furniture from the occasional leak while making your pet as comfortable as possible. There's even a scratch-resistant blanket that cat owners will especially appreciate.
Paw.com also offers a wide selection of bundles at discounted prices. The website seemingly offers every combination of bed and cover imaginable. While that might be a slight over-exaggeration, it's not far from the truth.
Bundles can be a clever conversion optimization tool. Everyone likes a bundle discount, and Paw.com provides one, no matter your chosen combo of products.
Speaking of discounts, Paw.com provides an ample amount of those as well. The website even has a "today's deals" section, hinting at the fact that discounts are a regular thing here. To illustrate, Paw.com offers a site-wide discount at the time of writing, with some items being marked down as much as 60%.
Affiliate Program
Like many pet niche websites, Paw.com has its own affiliate program. Joining it promises a 20% commission for each referred sale. That's a hefty percentage in any niche, especially pets.
When looking to work as an affiliate in this niche, the type of product you're promoting is very important. Some can offer large commissions but can be tough to sell. Others are easy to market but don't have much to give in terms of profit. Paw.com offers a rare chance to get both – its products are very desirable, yet they offer the chance to earn significant sums.
Commission: 20%
Affiliate program: Paw.com
6. PetFirst
In 2004, PetFirst set out to provide financial aid to pet parents through insurance. Unfortunate occurrences happen every day, and you never can tell what ill falls your pets. Therefore, one of the best things you can do for your feline and canine friends is to purchase a policy that covers them. "Feline and canine" because PetFirst only caters to cats and dogs. As typical of insurance companies, the company comes through during emergencies to alleviate your financial worries. PetFirst insurance policies are comprehensive, covering accidents, exam fees, medication, select surgeries, and more.
PetFirst was acquired by MetLife, one of the largest insurance companies in the United States, in 2020. Both companies are now one and the same, even though the company still operates with PetFirst Healthcare, LLC in some states, pending name change approval. Metropolitan General Insurance Company and Independence American Insurance Company underwrite the policies offered by MetLife.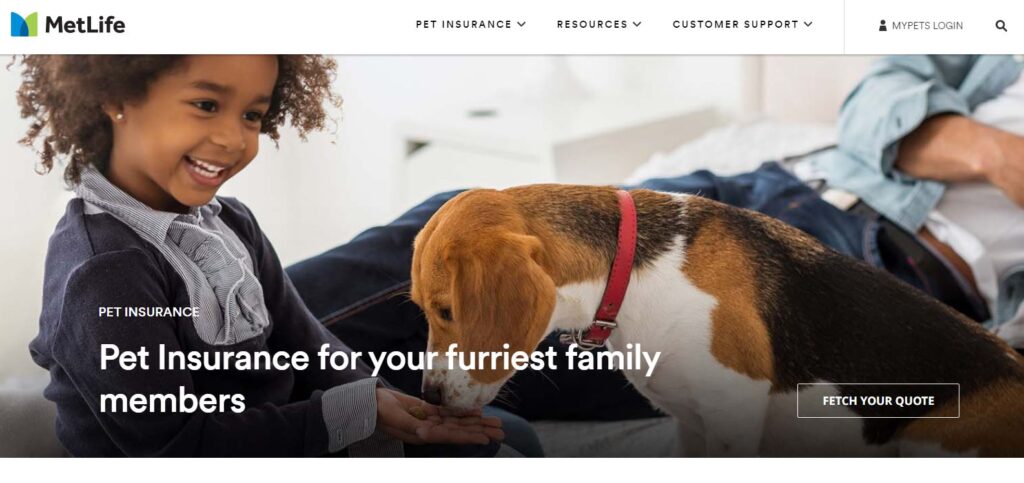 Features We Love on This Website
Affordable Pet Insurance and Comprehensive Coverage
No doubts that PetFirst insurance policies are one of the most affordable and comprehensive in the industry. However, monthly premiums may vary largely according to pet species and breeds. Other determining factors include annual limit, deductible, and reimbursement rate. Note that policy shoppers can create custom plans to match their needs. More importantly, we love PetFirst because it processes claims and approves them within the shortest time – less than ten days.
PetFirst is, in fact, the first pet insurance company to provide co-insurance plans. In other words, policy coverage can be shared among up to three pets below age ten. Mind you, PetFirst insurance policies have limitations as they do not cover every possible risk associated with your animal friend. For example, some outlined coverage exclusions are pre-existing conditions and organ transplants. Also, PetFirst will not cover injuries or illnesses stemming from organized fights, racing, or other expensive activities.
MetLife provides smartphone apps for pet owners to ensure the easier accessibility of its services. Following the acquisition of PetFirst, the app now adds new features to help policyholders. First, customers can get in touch with the company directly through the app and live chat with customer representatives. Instead of sending emails, you only need to open your app, engage a team member, and get an immediate response.
Secondly, the app is an avenue for customers to have all medical records of their pets in one place. This also makes it easy for the company to access pet documents and process claims quickly. Speaking of claims, policyholders can also file and track a claim from the app seamlessly. Thirdly, the app also helps geolocate local pet service providers in case of emergencies or even routine pet examinations. Find the app on AppStore and Play Store.
Resources on Pet Insurance
Besides contacting customer care, the app and website are home to resources across several topics on pet care. More than interested in providing emergency funding for pets, PetFirst is committed to showing you how to care for your animal friends. Interestingly, you will find articles on how to make homemade treats, best shampoos, best dogs for families with kids, and many more.
In fact, there is an article series tagged "Breed Spotlight," which explores the characteristics, health, and trainability of specific breeds of dogs and cats. Above all, you'll find write-ups on everything you need to know about pet insurance and common health problems. Overall, the articles are concise, straight-to-the-point, and make for enjoyable reads.
7. 1800PetMeds
As the name suggests, PetMeds is an online store for pet medication. That said, if you ever need to buy prescription or non-prescription drugs for your pet, this is your go-to website. The company first opened its doors in 1996 at the instance of Marc Puelo, an anesthesiologist. Today, the Florida-based business is one of the sought-after online pet pharmacies. Following 26 years in operation, the company has catered to over 11 million individuals across the US and beyond. As a matter of fact, 1800PetMeds receives an A+ rating from Better Business Bureau.
PetMeds is backed by the National Association of Boards of Pharmacy; this ensures the safety of available drugs. What's more, all medications are approved by the US Food and Drugs Administration and Environmental Protection Agency. Needless to say, the company legally operates in all states in the US.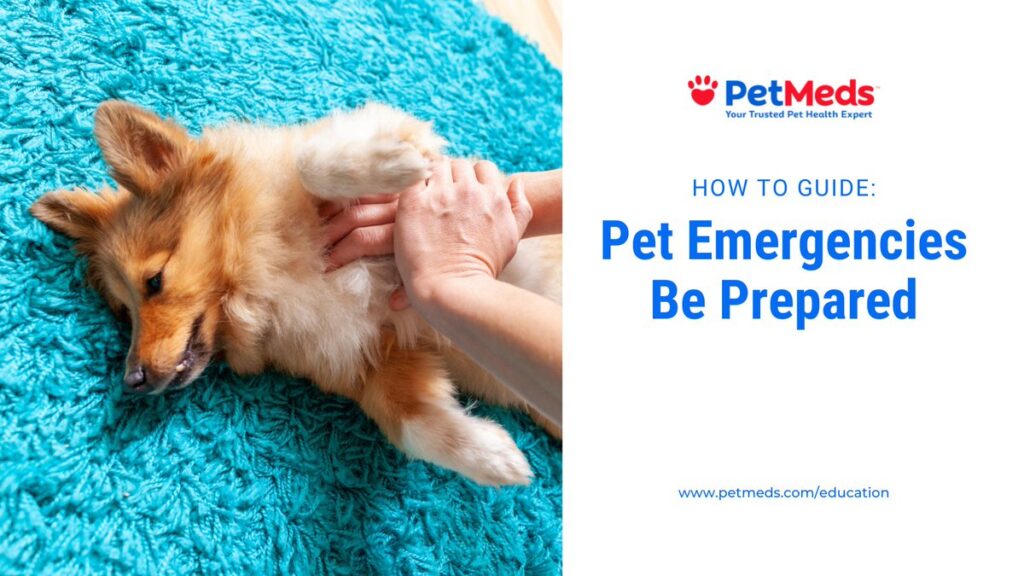 Features We Love on This Website
Shop by Pet, Brand, or Condition
While the user interface is not top-notch, navigating is pretty straightforward. More than that, the website houses an extensive inventory of drugs from some of the most trusted brands across Canada, Europe, and the US. For more tailored searches, products fall under three categories: Brand, Condition, and Pet. Therefore, shoppers can find what they need without stress.
Under "Shop By Pet," it is evident that PetMeds caters exclusively to cats, dogs, and horses. Following this arrangement, you can search for items like allergy relief, antibiotics, beds, food, etc., for each animal. Alternatively, you can "Shop By Brand" if you are looking for universal products. Under this section, all the partnering brands, including Interceptor Plus, NexGard, Sentinel, and Trifexis. Lastly, you can "Shop By Condition" for your furry friend. If you need drugs for anxiety, cancer, fly control, pain, and others, shop under this category.
Multiple Discounts and Rewards Program
Evidently, shoppers at PetMeds are spoiled for discounts, especially when they subscribe to Autoship. In fact, they get to enjoy as much as a 55% price slash on items. When you visit the site, you will be greeted with a lineup of coupons and specials on select products or even generally. (Mind you, it would be helpful if you read the terms and conditions). Additionally, shoppers enjoy free shipping on orders above $49 at checkout and free returns. Furthermore, customers get a free pass to vet doctors and free advice and recommendations for their pets.
On the other hand, the Rewards Program is PetMeds' unique method to compensate loyal customers. For every $1 you spend, you earn one PetMeds point. When you accumulate up to 250 points within the year, you become eligible for a $5 in-house credit as compensation. The $5 reward is redeemable in-store but not withdrawable.
These two make for a convenient way to ask pet-related questions from a veterinary doctor. However, if it is an emergency, it is best to contact your pet's actual doctor, as responses on these platforms are not immediate.
"Find A Vet" is a directory of local vet clinics that customers can phone or visit if the need arises. With this, you are only one call away from help if you notice behavioral changes or have questions. "Ask A Vet," on the other hand, is an in-house forum whereby pet owners can engage in-house veterinarians. It would interest you to know that 1800PetMeds has one of the most extensive lists of vet pharmacists globally. Therefore, there is always a professional available to respond to your questions. All you need to do is tap the corresponding link above and type your question in the appropriate box. Generally, users get responses to questions in one business day.
8. BringFido
Dog owners like to bring their pets everywhere they go. Sadly, not all venues are dog-friendly, making the process difficult. That's where BringFido comes into the picture.
BringFido is a pet niche website that works as a dog-friendly venue locator. There are not many websites like it, which gives it an edge over the rest. Let's see what's best about BringFido.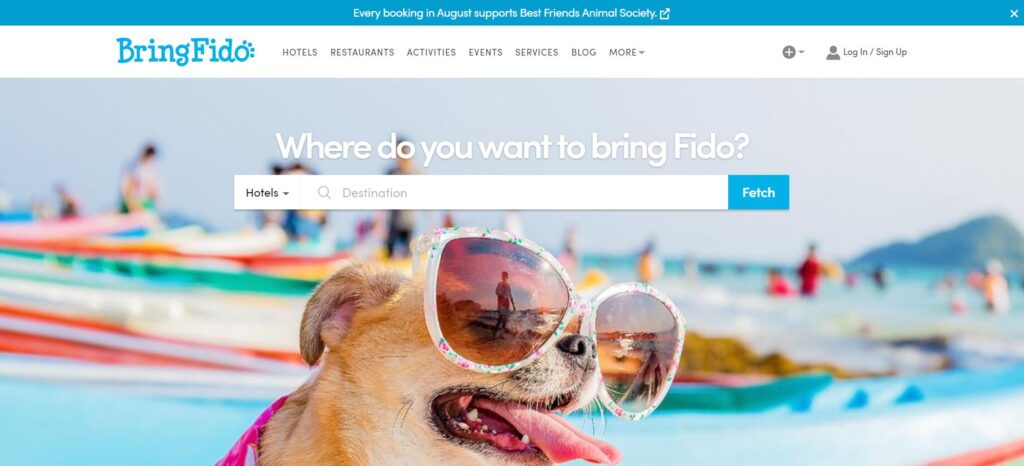 Features We Love on This Website
The locator is the first thing you'll notice on BringFido's website. It's the central part of the website, allowing visitors to look for places where they can take their dogs without receiving dirty looks. As a result, dog owners can choose hotels, restaurants, and events that would gladly welcome their canine friends. Other than that, the only requirement is the desired location – that's it.
Additionally, BringFido will show a list of services meant for dogs. Think daycare centers, training camps, groomers, vets, etc. Using these services, you can carefully plan out a trip your dog will enjoy. On the other hand, if you're going somewhere that's not dog-friendly, you'll easily find a nice resort where your pet can spend a few days relaxing.
BringFido will not only show you places where you can take your dog, but it will also help you make reservations. That's actually how this pet niche website profits – it collects a small fee for every reservation it makes.
Like many other pet niche websites, BringFido raises traffic stats by providing valuable dog advice. This website's blog is fun, informative, and lighthearted. While it provides various information on dog ownership, it focuses on traveling with dogs. It makes sense since that's what the website is all about.
Since BringFido specializes in dog-friendly travel, you can browse its blog by location. Therefore, choosing your desired city will give you a collection of related articles. That way, you'll know what to expect when traveling.
Travel and insurance are closely tied together. After all, you never know what might happen on a trip, and it's best to be prepared for any outcome. That's why BringFido provides informative articles on pet insurance in general and for travel purposes. However, the brand doesn't stop there – it also provides a comprehensive list of the best insurance providers on the market. As a result, BringFido makes insuring your pet a simple process.
Our Related Services
Sign up for our newsletter to receive SEO tips, discounts and freebies.
Wrapping Up
In order to get the best out of your furry friends, access to information and pet services is crucial. A simple way to harness pet services is to sign up and constantly visit the best pet websites. These platforms save you the stress of visiting the pet store every time your pet needs supplies, or you need to ask a veterinarian questions. Revisit the list above to find where to get the best pet services per time.
If you're looking to work as an affiliate marketer, the pet niche offers plenty of options. Though not all of the websites on our list provide an affiliate program, those that do offer excellent conditions. Hence, we can say joining the pet niche as a blogger can be quite profitable.