The CBD industry is worth nearly two billion dollars, and we have every reason to believe that it will keep growing. People are expecting the market to hit twenty-three billion in just three years. People have been turning to CBD as a kind of cure-all which presents an excellent opportunity for folks in the CBD industry.
Competition arises whenever there is a profit-making opportunity. We are talking fierce competition. As such, you will need to carve out your own place in the industry. For that, you need quality products and a solid marketing strategy.
Your website will be the ultimate avenue for increasing sales. Here you will focus on improving your conversion rate and raising profits. Look at the best CBD affiliate and niche websites to see how the pros are doing things.
Our Related Services
Sign up for our newsletter to receive SEO tips, discounts and freebies.
1. Medterra CBD
Medterra is a California-based CBD brand that launched itself in 2017. Since then, the brand has been bringing in annual revenue of about fifty million dollars. This number isn't just a result of their high-quality products. It is also a reflection of the effectiveness of their marketing strategy.
The brand has a clean website layout to cater to its customers. The website had nearly seven hundred thousand visits just last month. It also has a bounce rate of just over fifty-seven percent, which is within the average bounce rate.
Most of their traffic comes from the US and is from direct channels. Medterra utilizes good SEO practices and other techniques to increase its organic traffic. Additionally, they get plenty of their traffic from referrals and ads.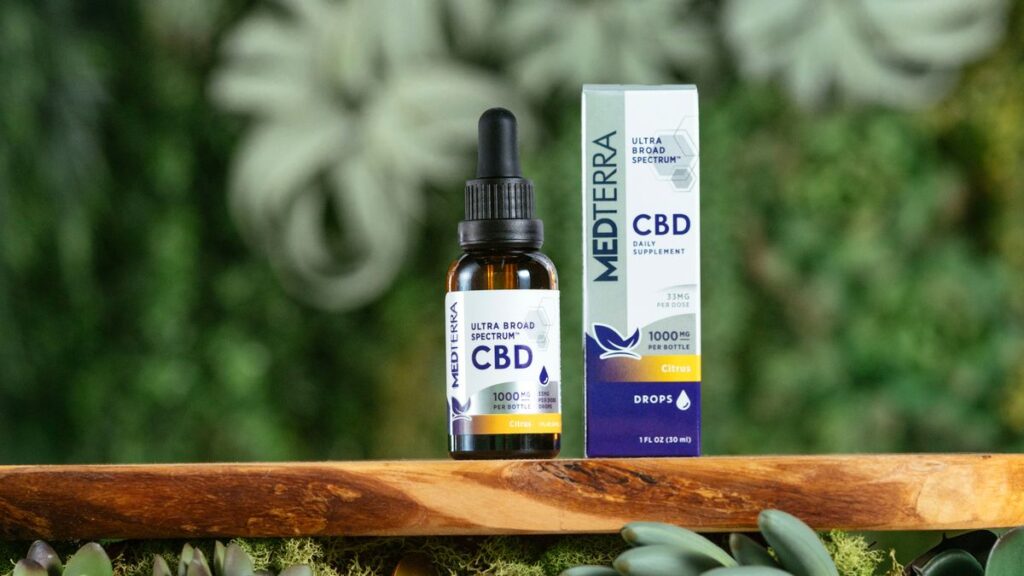 What Do We Like About It?
User-friendliness: The Medterra CBD website is straightforward to use. The top ribbon gives users access to the entire website so they can just hop on to the relevant page without wasting their time. Furthermore, they have a chat option that gives you direct access to a customer support agent. They have also added their best sellers to the homepage so that people can make the purchase directly.
Clear Categorization: The brand has categorized all its products in terms of the type and the problems it addresses. This categorization helps people find products that are just what they need without going through the added hassle of figuring that out.
Sales and Discounts: Discount is the magic word when it comes to marketing. Everyone loves a good deal, and Medterra launches regular sales to attract more traffic.
Newsletter Subscription: Medterra makes good use of email marketing by sending newsletters to its subscribers. It also provides an excellent incentive to folks by offering a twenty percent discount if they subscribe. Afterward, they send the latest news to the client's email, encouraging them to return for more.
Testimonials: The brand displays all the testimonials just beneath the header. This way, new customers can be assured of the brand's credibility as soon as they enter the website. Other credibility builders like endorsements and expert opinions are also sprinkled well throughout the website.
2. Daily CBD
Daily CBD is a CBD niche website resource for folks looking for information regarding CBD. They provide unbiased information regarding CBD. They also review the CBD brands in the market. For folks hoping to become CBD affiliates, this can be the inspiration for their own CBD affiliate website.
Daily CBD saw over two-ninety-one thousand visits in terms of traffic in April. That takes the whole number from March to April to nearly five-fifty-hundred thousand. In addition to that, the website has a sixty-six percent bounce rate. In short, the website seems to be doing well.
The cool thing is that most of that traffic, eighty-five percent, is from organic searches. That means search engines pick up the website to answer people's queries. Additionally, the website gets seventy-six percent of its total traffic from mobile devices. That number just shows how well adapted the website is for mobile browsers.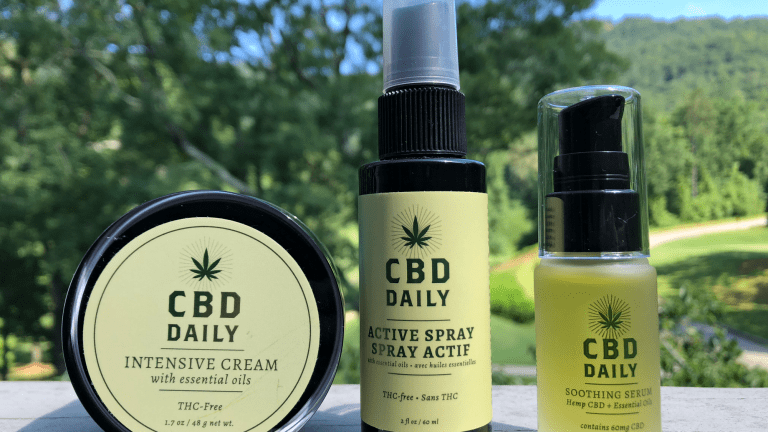 What Do We Like About It?
Search Feature: Daily CBD has a search feature that enables users to get to the required content quickly. Additionally, the button is sticky, so you don't have to keep scrolling back up to get to it.
CTAs: As soon as you get to the homepage, you can see the bold and prominent CTAs. Usually, this would be a bit annoying. However, Daily CBD uses these CTAs to direct you to reviews about CBD products and vendors. They mostly use a bold orange CTA to attract the viewer's eyes.
Informative Content: Daily CBD sincerely strives to provide its users with information that they need. That is why many articles about CBD studies and its beneficial nature exist. They also cover common questions like CBD legality, etc.
Reviews and Discount Codes: The website has a host of registered medical professionals and CBD experts. These people review the products and brands in the market. You will also find that they provide their users with exclusive discount codes. This method is best for increasing conversion rates.
Newsletter: Their homepage asks its users to subscribe to their newsletter at the bottom. All the users have to do is submit their email addresses, and the website promises to deliver the best offers and latest news.
Categorization: The best thing about the Daily CBD website is its sorting system. They have categorized their articles according to topics. Furthermore, they also organize their product reviews according to the benefits the products offer.
3. CBD Living
Based in Oregan, CBD Living is another brand that offers premium CBD products. Since its inception in 2013, the company has been raking in one to five million dollars in sales annually. A big portion of that revenue comes from their efficient website design.
CBD Living happens to be one of the best CBD niche websites. In April, the website recorded more than sixty-eight thousand visits. This number is nearly thirty percent higher than the previous month. Combine the visits with its forty-three percent bounce rate, and the website holds up pretty well.
The website is mobile-friendly which plays in its favor. Nearly sixty percent of the total traffic is from mobile devices. Most of the total traffic is from organic search and direct channels. Furthermore, traffic from the US accounts for nearly eight percent of the total traffic.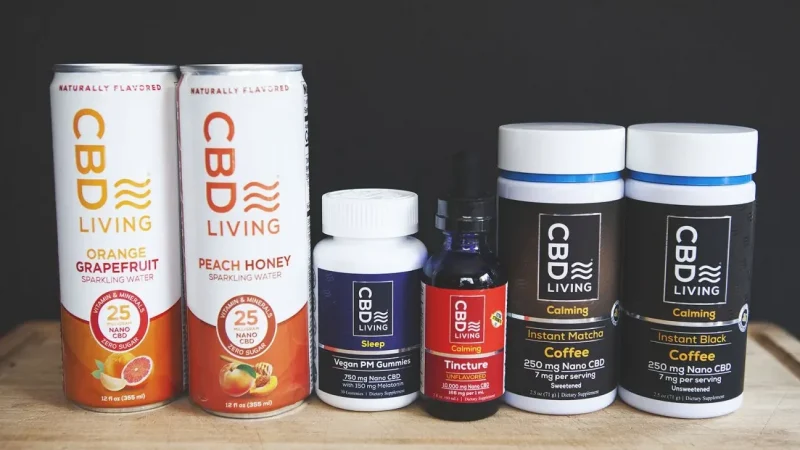 What Do We Like About It?
Bold, Clear Design: The brand uses a bold color scheme to highlight its best products. The block-style layout lets people skim all the content.
Chatbox: You can see a chatbox on the bottom-left corner as soon as you enter the website. You can leave a message for a live agent here. Alternatively, you can check the KnowledgeBase ad-on to check if your query is there. KnowledgeBase has general articles for questions about the return policy and more.
Bountylinks: CBD Living has integrated its website with Bounty Links. Users can sign up by entering their email. Afterward, they can share links from the website and earn a reward every time someone clicks on them. If your website is new, you should use this method to get some exposure. This way, you will be in direct contact with your target audience.
Convenient Product Sorting: Accurate product sorting can make things easier for customers allowing them to navigate the website more easily. CBD Living has sorted everything according to product type and reason for use.
Prominent CTAs: The website has plenty of CTAs, and they are all in a bold color. The darker colors draw the viewer's attention. You can use bold CTAs to attract viewers.
Incentivized Subscription: CBD Living offers a ten percent discount to its subscribers. Thus, users are much more likely to become regular customers.
4. Highline Wellness
When we look at the best CBD websites, Highline Wellness is undoubtedly a force to be reckoned with. The brand launched its website in 2019. The company is dedicated to providing top-notch CBD products at a reasonable price.
In April, more than a hundred and fifty thousand users visited the website. That is a twenty-eight percent increase from February. Most of this traffic was from direct and organic search channels. However, they do get traffic via ads, referrals, social media, and emails.
Highline Wellness has gained alot from its mobile-friendly website. We can see that from the fact that only nineteen percent of the total traffic comes from desktops. The other significant portion of the traffic comes from mobile devices. Despite the heavy traffic, the website boasts only a thirty percent bounce rate, which is phenomenal.
What Do We Like About It?
Discount for the Joining Email List: As soon as you land on the website, users will see a pop-up with an invitation to join the email list. Highline Wellness only requires people to enter their email addresses. They will get a twenty percent discount on their first order for doing so.
Discount Codes: Another tactic to increase conversions is offering discount codes. Highline Wellness offers new customers a discount and free shipping. The deal makes new customers more willing to try out a new product.
Donations: Highline Wellness donates one percent of each sale to charities of the customer's choice. That may not seem like much, but people like supporting causes. Thus, using a portion of the sales to help charities will make them feel better about spending their money.
Clear CTA: Highline Wellness is not excessive with its CTAs. Instead, they have opted to use a few well-placed CTAs that are easy to see.
Popular Products: Users can find the most popular products from the brand on the homepage. This feature is handy for returning customers as it won't take long to place their order.
Endorsements: Building credibility with the people is vital in driving those sales. That's why the brand has placed endorsements from popular media like Forbes on its homepage.
Resource Center: The brand has a resource center on its website to educate people about CBD. That is where SEO comes in because it can use popular keywords to rank high on search engines.
5. cbdMD
cbdMD is another CBD brand based out in North Carolina. The brand came into the market in 2015. Since then, it has been bringing in an annual revenue ranging from twenty-five to fifty million dollars.
We have included them in the list of the best websites because they have utilized multiple techniques to attract traffic. CBD is a super competitive niche so getting customers to trust you can be difficult. cbdMD has found a way around that by showcasing the endorsements they received from big names in the field.
cbdMD had nearly six hundred thousand visits in April alone. Sixty-eight percent of this traffic came through mobile devices. That further cements our point that marketing websites need to be mobile-friendly. More people are using their mobiles for shopping purposes, and adapting to that can give you a serious leg-up.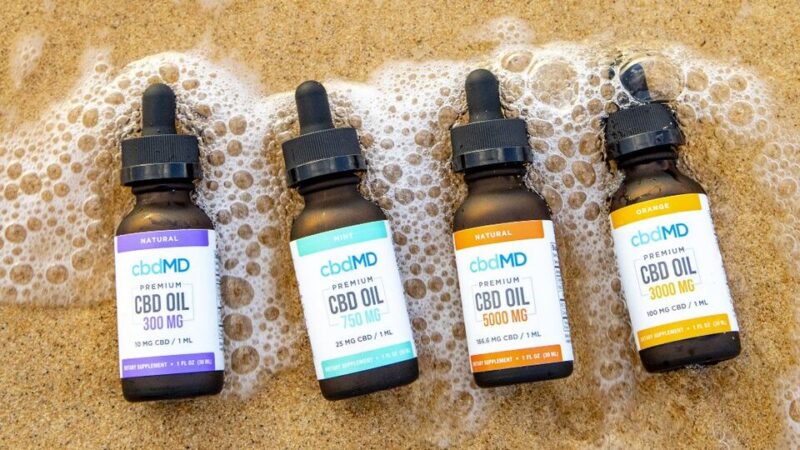 What Do We Like About It?
Efficient Design: As soon as you enter the website, you can see strong graphics. However, the brand continues with a more neutral background to not overwhelm the readers.
Referral Discounts: There is a sticky referral button on the bottom-left corner of the page. The brand offers its customers a thirty percent discount on referrals. The good part is that both the referrer and the recommender get the discount. To get started, users need to enter their names and email. They can also sign up for the email list here.
Live Chat: The website also offers users the live chat option. Thus, you can ask the customer support department if you have a query.
Credibility: Credibility is an essential factor when it comes to selling CBD. That is why cbdMD has built a website that showcases its endorsements from Forbes, Healthline, and more. They also display their GMP certification just below the header.
Product Placement & CTAs: Another way to increase the conversion rate is by placing the most in-demand items in the most obvious place. cbdMD has done just that. It has also gone further by placing bold CTAs below the product selections.
Testimonials: Users will see a slideshow of client testimonies as they scroll down. These testimonies reflect cbdMD's product quality and encourage other users to try them.
6. CBD Oil for Dogs
CBD Oil for Dogs offers advice on how and when to give your dogs some CBD. It also reviews the best CBD products out there. If you are looking for inspiration, CBD Oil for Dogs is the CBD affiliate website for you.
The website got more than seventy-three thousand visits last month. This number may not seem like much, but it is massive for an affiliate website. Pair that with its forty-two percent bounce rate, and we would say the website is doing pretty well.
A significant factor for the website's success is that the creators have gone super-niche. Narrowing the niche helps because your website will have to fight with lesser competitors to rank. Furthermore, dog owners will make the website their go-to site for any query. Another factor is the website's mobile friendliness. People can get information on the go, and that's why nearly ninety percent of the website's traffic is from mobiles.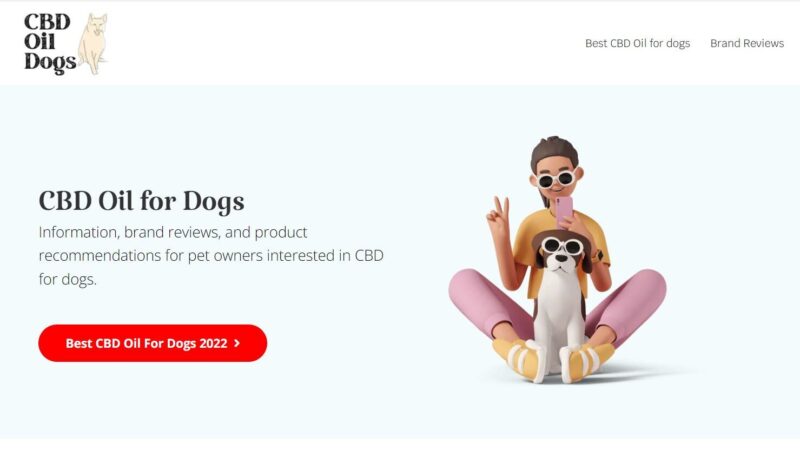 What Do We Like About It?
Minimalistic Design: The creators of this website have opted for a more minimalistic look. The website follows a neutral, muted color scheme that is easy on the eyes. Additionally, the navigation bar is quite simple, with options for blog posts and brand reviews. All this adds to the website's user-friendliness, making it easier to navigate.
Search Option: The navigation ribbon comes with a search feature. Thus, users can enter keywords to get what they want. Searching for every article manually is less efficient than using this method.
Invitation for Email List: The website invites visitors to sign up for their email list. It offers information about the latest discounts and coupons in return, and all people have to do is enter their email.
Brand Reviews: The website doesn't just focus on questions about cbd oil use in dogs. Instead, it also focuses on brand reviews. Users can see the list of the reviewed brands on the homepage. Each review also includes a link to that brand. Additionally, a CTA on the header leads users to the best CBD oil list for dogs in 2022.
Extensive Content: Besides brand reviews, the website focuses on answering any questions a person may have regarding CBD use for their dogs. They have optimized all the articles according to SEO. That is why eight percent of their traffic comes from organic searches.
7. Alphagreen
Alphagreen is a UK-based online marketplace for CBD brands. Established in 2019, the company turns in annual revenue in the fifteen to twenty-five million range. The company doesn't just focus on its store. They offer resources to educate people about CBD and its benefits.
The website saw over three hundred thousand visits in April. That is a fifty-three percent increase from its traffic stats in March. Traffic from mobile devices accounts for eighty-seven percent of that traffic.
When we look at the website's SEO status, they are certainly doing something right. Organic traffic for the website is over seventy percent of all the traffic. In addition to that, the website has a bounce rate of nearly forty-three percent.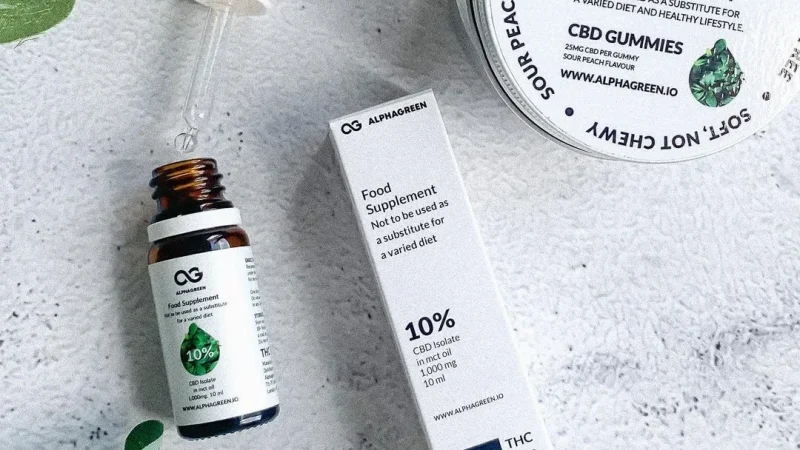 What Do We Like About It?
Drop-down Notification Ribbon: The website comes with a minimizable ribbon. The ribbon highlights the leading offers like free shipping, gifts, and a money-back guarantee. Additionally, the company uses the ribbon to display its Trustpilot rating. All of this is done to build the customer's trust and encourage them to buy the products.
Bestseller Lists: Alphagreen shows its best sellers on the website homepage. That saves its visitors the hassle of going through the entire product catalog to find what they want. To top this off, they also display brand exclusives for Alphagreen on the same page.
Categorization: Proper categorization is the first trick to making your website more streamlined. Sorting the products makes your website look cleaner and helps shoppers quickly find what they want.
Features & Testimonials: Alphagreen didn't stop with the Trustpilot ratings. It wants people to know that its website is legit. Thus, the company has displayed endorsements from big-name publications like Forbes and ELLE. Furthermore, they have reserved a section of their homepage for actual customer reviews.
Newsletter: Alphagreen uses email marketing to redirect traffic to its website. For that effect, the company has a newsletter. Users can subscribe to this newsletter by entering the company's email list. In return, users receive exclusive content and event news.
Paid Keywords: Alphagreen uses paid search ads and keywords to drive traffic to its website. Paid search makes up three percent of the traffic. So isn't that effective, however, if you struggle with traffic despite having good content.
8. CFAH
CFAH is people's go-to site for simple, easy-to-understand explanations for any questions regarding health and wellness. The Washington-based website has been around since 1992.
During this time, the platform has published articles from verified medical professionals and researchers. Despite not explicitly stating it, most of the articles here are about CBD.
In terms of traffic, the website seems to be gaining more traffic every day. Just this April, CFAH had over eight-hundred-and-thirty thousand visitors. That number is an increase of two percent on the previous month's stats.
Most of this traffic is via organic search. That means search engines pick this website when people google common CBD questions. Specifically, traffic through organic search channels makes up eighty-eight percent of the total traffic.
What Do We Like About It?
Clean Interface: The CFAH website has a pretty neat interface. Everything is organized according to the nature of the content. The navigation ribbon is minimalistic, with only the website logo and options for accessing info about CBD and health.
Search Feature: The CFAH website also comes with a search feature. So that people can simply enter their concerns and get to the content they need.
Extensive Content: CFAH does not restrict itself to a single niche. They talk about everything concerning CBD. That includes using CBD products for various ailments or the optimum dosage options. They also talk about the legalities and CBD detection via drug tests.
Brand Reviews and Coupons: CFAH reviews CBD brands and their products. They do that based on the manufacturing methods, quality, and effectiveness. Furthermore, they update these guides each year. CFAH also offers discount codes and coupons that users can use to get discounts on these products. The website has already established itself as an authority for CBD-related queries. So these discounts only serve to increase the conversion rates.
Email: There is no newsletter that users can subscribe to. However, they do ask for an email, name, and website when users want to comment. There is no explicit mention of them sending emails. However, they do get some traffic via email marketing, an insignificant number, but it's still there.
9. Vitality CBD
Vitality CBD is a UK-based brand that specializes in producing quality CBD products. They have a vast CBD collection that includes everything from CBD oils to bath bombs. The brand has been around since 2019. During this time, its website has undoubtedly helped the brand establish itself as a solid player.
Vitality CBD's website saw more than seventy-nine thousand visitors from March to April alone. Those numbers have been rapidly increasing since then. Despite the high number of visits, the bounce rate is only fifty-five percent.
More than sixty-seven percent of that traffic got there through organic searches. That is because the Vitality CBD website comes with a learning center. The articles in that part are very well optimized, so the search engines pick them up easily. Other than that, most of the website traffic comes through the direct search and referral channels.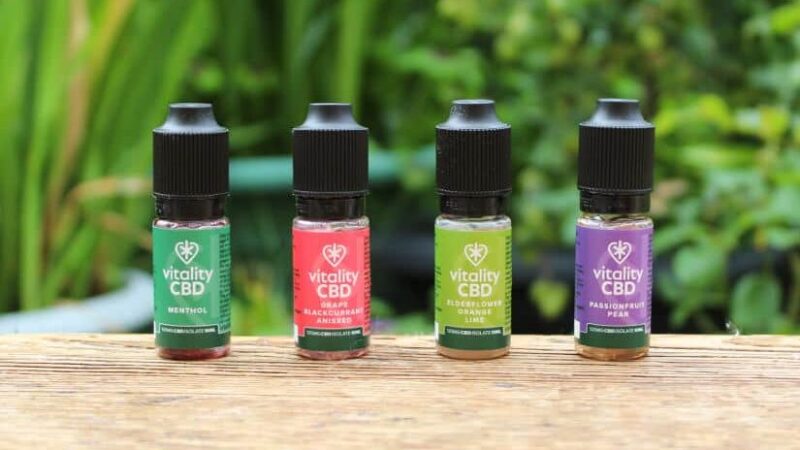 What Do We Like About It?
CTAs: CTAs need to be attractive and well-placed to increase the conversion rate. Vitality CBD uses yellow-colored CTAs to encourage people to buy their products. The choice of color was very deliberate, as yellow catches people's attention.
Popular Product Placement: Vitality CBD has placed its most popular products on the homepage. This placement helps regular customers find the product more easily. It also builds up the hype around these products.
CBD Guides: The brand's learning center is filled with CBD guides. These guides let people know that the brand knows what it is doing. These guides also draw traffic from the internet as users are googling common questions about CBD products.
Email List: Vitality CBD doesn't offer discounts for joining the email list. Instead, it tries to bribe the visitors with the latest news about the brand.
Lab Test Results Placement: Vitality CBD is one of the few brands that place the link to their lab results on the homepage. This move builds the brand's credibility. That's because customers prefer brands that are more transparent about their manufacturing processes.
Efficient Navigation System: The website features a very efficient navigation system. That allows the users to jump through the website more easily. This much backlinking is also useful for the website's SEO as it leaves a lesser chance for orphan pages.
10. CBD School
CBD School is just that, a school dedicated to educating people about CBD. The website has been around since 2015. They also partner with brands and review them. The CBD School is a CBD affiliate website with substantial traffic. The platform has podcasts that Apple users can access to see what is going on in the CBD industry.
When we talk about traffic, CBD School saw more than fifteen thousand visitors in April. About seventy-nine percent of that traffic is from the US. That means the CBD School is getting high converting traffic for their referrals.
The eighty-one percent bounce rate may seem alarming at first. However, considering the niche, it is not that bad. The good news is that more than half of the traffic comes from organic search results. That means the website uses just the right amount of SEO and keywords. Additionally, the website is mobile-friendly. Hence, nearly seventy percent of traffic is through mobile devices.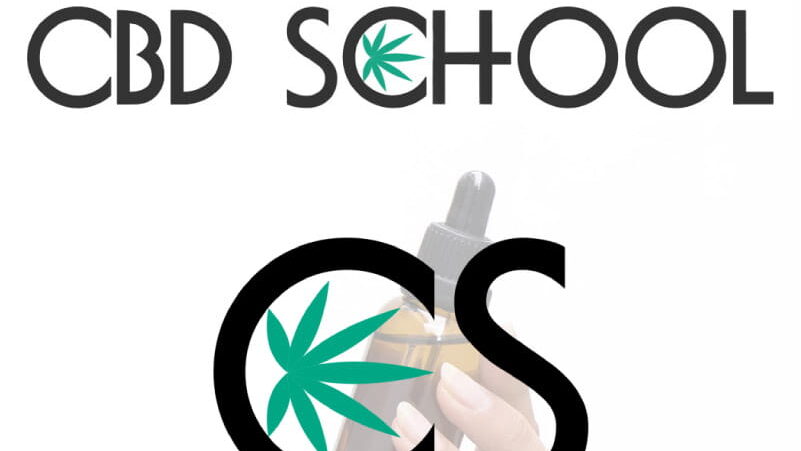 What Do We Like About It?
Navigation Ribbon: The CBD School website features a sticky navigation bar. The navigation bar has options for accessing information about CBD brands, CBD types, uses, and general information. The bar also comes with a search feature. Since the bar is sticky, users can access it without scrolling again and again.
Free eBook for Email List: The CBD School is pretty open about emailing its users. However, they do offer them a free ebook if they sign up for the email list. The ebook is called The Beginner's Guide to CBD.
CBD Education: Since the website is informative, it is full of educational resources regarding CBD. The website covers everything about what CBD is and the laws surrounding it. They have also cataloged articles according to the disorders that CBD can help with. The website also provides a detailed overview of the various types of CBD.
Reviews: The CBD School has divided its reviews into two kinds. One type deals with single brand reviews. They also offer the best CBD guides. These guides review the best products in a single CBD category, like the best CBD oils.
Best Brands: The website has dedicated one section on its homepage to what it calls the best CBD brands. Clicking on these brands leads users to detailed reviews of the brands and the associated coupon codes.
Discounts: If you click on the reviews and discount section on the navigation ribbon, there is a separate section for coupons. Users can simply use these codes without reading through the entire review. Adding discount codes with each brand increases the conversion rates.
11. Resolve CBD
Resolve CBD is a Canadian brand focused on supplying folks with CBD products. Their CBD range consists of oils, capsules, edibles, pet treats, topicals, and skincare. Even though the brand has been around since 2018, it registered its website in 2019. Since then, the brand has been reaping one to five million sales per year.
During April, the Resolve CBD website received more than thirty-seven thousand visitors. The total number of visitors during the March to April period was greater than seventy-three thousand. The bounce rate for the website is sixty-three percent.
Looking at the breakdown of its traffic, we can see that most of the traffic comes from organic and direct search channels. However, the brand does receive a decent 10% traffic through referrals. The website has combined SEO with decent content, so it gets plenty of traffic.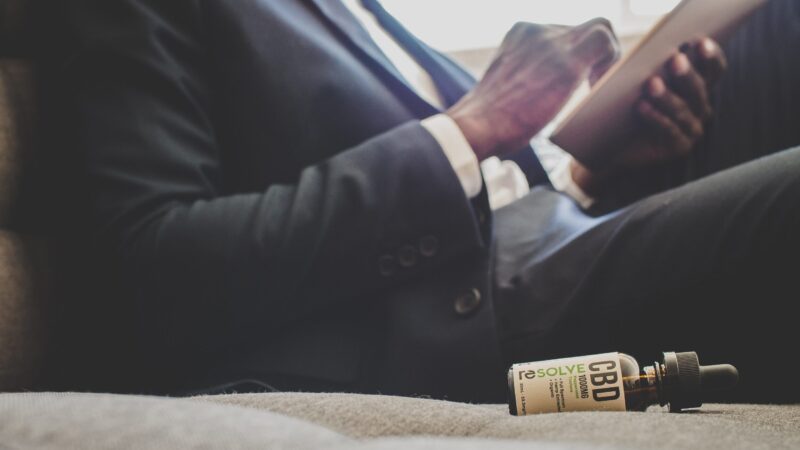 What Do We Like About It?
Discount on Joining Email List: As soon as users enter the website, they see a pop-up notification. This notification invites them to join the brand's email list. In return, the users get a fifteen percent discount on their first purchase.
Additional Discounts: If users like a product, they can sign up for a monthly subscription. The subscription comes with a twenty percent discount. Additionally, it offers other perks like free shipping. The brand also rewards users who leave a review after using the product.
Well-Placed CTAs: The website has plenty of well-placed CTAs. The CTAs encourage people to sign-up for newsletters, buy products, and more.
Testimonials: Testimonials are important in the CBD niche. Thus, the brand has dedicated a portion of the homepage to testimonials. This section contains genuine experiences from verified users.
Informational Resources: The website has many educational resources for CBD users at all levels. It doesn't matter if the user is a beginner or a veteran. There is an answer to all their questions. Additionally, there is a quiz that people can take to determine their CBD dosage.
Live Chat Agents: The website has live chat agents. Users can use the chatting option to ask questions. The usual reply time is ten minutes. The welcome message gives you access to typical queries.
12. CBD Clinicals
CBD Clinicals is dedicated to educating the masses about the medical uses of BCD. The CBD affiliate website has one of the most detailed databases we have seen. The website gets all its information from certified health professionals.
The USA-based website came into existence in 2019. Since then, it has seen pretty decent traffic. The website had nearly seventy-one thousand visitors in just April. If we combine the traffic from March and April, the number becomes more than one-hundred-and-thirty-eight thousand.
The CBD Clinicals website has a bounce rate of around sixty-five percent. Most of that traffic is from the US. Additionally, most of the traffic comes in via organic search. Even more impressive is that the traffic is entirely non-branded. The other major source of traffic is the direct search channel.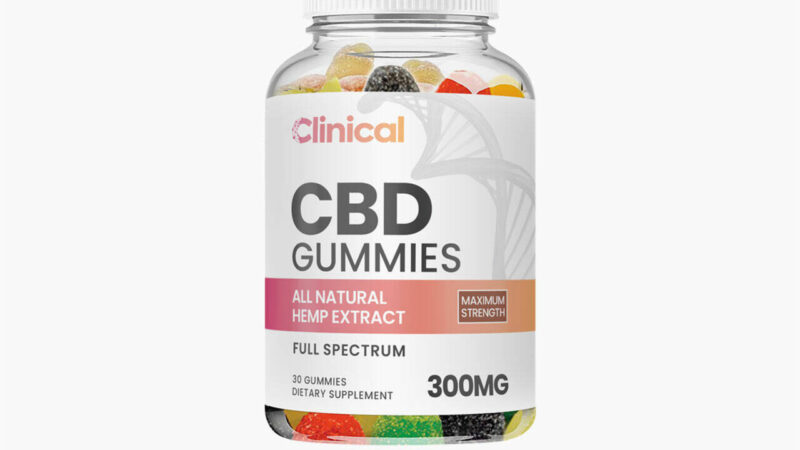 What Do We Like About It?
Navigation Bar: The navigation bar is pretty standard. We were just surprised because this was our first glimpse of the sheer amount of content. The bar has options for various site actions, and each option has a drop-down menu. Additionally, the website has a search feature.
Reviews & Coupons: CBD Clinicals has reviewed a multitude of CBD brands. Their reviews are extensive, covering everything from hemp source to product range. They also give information on available discounts and coupons.
CTAs: The website has plenty of CTAs. However, they are all preceded with headlines that will pique your curiosity. The ones that don't have a headline to build the hype have a yellow color to attract maximum attention.
CBD – Drug Interactions: To be fair, this is the first CBD website we have seen that goes into CBD's drug interactions. They cover interactions with popular drugs like Aspirin, Opioids, Nicotine, and more.
CBD Guides: The website has plenty of guides. We loved that they categorized each guide with respect to the body's system. For example, you can find the CBD for Hypertension article in the Circulatory System category.
Kids and Pets: The website also covers CBD use for kids and pets. That includes dosage tips too. The cool thing is that the pet section includes horses.
Newsletter Subscription: Two sections on the homepage encourage the users to sign up for the newsletter today. They don't offer any freebies to attract people. Instead, they offer them the first look at all the latest information. All people have to do is enter their email addresses.
13. Secret Nature
Secret Nature is a US-based brand that has been around since 2017. However, the team behind the brand has Twenty years of experience in the cannabis industry. Over the years, Secret Nature has released plenty of CBD products for public use.
In terms of website traffic, the brand is pretty good. During the March – April period, they received more than two hundred and thirty thousand visitors. With nearly a hundred-and-ten thousand visitors in April alone. In addition to that, the website has a bounce rate of fifty-five percent.
Nearly forty-six percent of the traffic is from organic searches. After that, direct search and referrals are the most significant website traffic source. The large percentage of organic searches is due to the blog that Secret Nature has integrated with its website.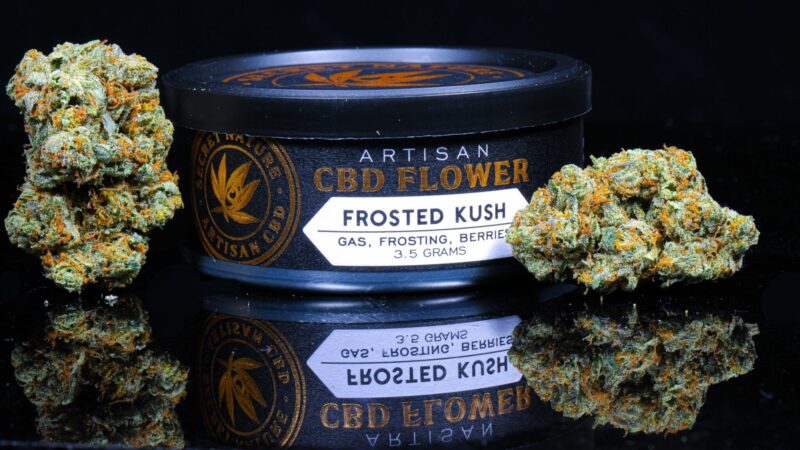 What Do We Like About It?
Website Banner: The website banner features a picture of smokable CBD products, including the pre-rolls, vapes, and flowers. Furthermore, the brand uses the banner to establish its trustworthiness by displaying its rating here. After that, there is a bold CTA asking visitors to shop now.
Reviews: Users can see a slide show of the brand's reviews just below the header. Also, there is a sticky button on the bottom center of the page. The brand has labeled the button as reviews, and that's where it leads users.
CTAs: There are plenty of CTAs on the website. The one thing they all have in common is that they all say 'Shop Now.'
Blog: We believe this section is responsible for a lot of traffic to the website. They have included articles on various topics here. They have the right keywords and the right amount of backlinking to ensure that search engines pick up the website.
Our Related Services
Sign up for our newsletter to receive SEO tips, discounts and freebies.
Conclusion
That concludes our list of the best CBD websites of 2022. There are a few things common in all of them, even though some are affiliates while others are seller websites. These things include quality content and optimal SEO. However, just SEO is not enough.
SEO gets your article picked up, but how you design your website decides whether or not that traffic converts. For a successful website, you need a good website design. You also need effective CTAs. Highlight your CTAs with bold colors to attract the viewer's attention.
Of course, you can't forget the importance of email marketing, as that keeps your visitors returning for more. Get the visitors' email addresses by offering freebies or other incentives. Start applying these techniques today for the best results.