Affiliate marketing went from being a simple way to make money while you sleep to a very competitive field fairly quickly.
To stand out in this crowded space, you need to build an engaged audience, and a basic blog page with text and images won't cut it anymore. Google puts a lot of emphasis on high-quality content, so it's important to have a solid content strategy that gives your visitors value and leads to sales.
That's where AffiliNinja comes in. This powerful WordPress plugin for affiliate marketing makes it easy to make engaging, high-quality pages that get people to buy. It has an easy-to-use interface that lets you make conversion-optimized pages quickly without spending hours on technical details.
Whether you're a blogger, marketer, or small business owner, AffiliNinja is the perfect tool to take your affiliate marketing to the next level.
Let's dive in and see how this plugin can help you achieve your goals.
AffiliNinja: What Is It?
AffiliNinja is a game-changer for affiliate marketers using WordPress. This powerful plugin helps you create professional, high-converting affiliate pages with ease.
Gone are the days of struggling with pre-made templates and spending hours editing and coding. With AffiliNinja, you can use customizable template blocks to create unique, engaging reviews that stand out from the competition.
Whether you're promoting digital products, physical goods, or services, AffiliNinja makes it easy to create pages that convert.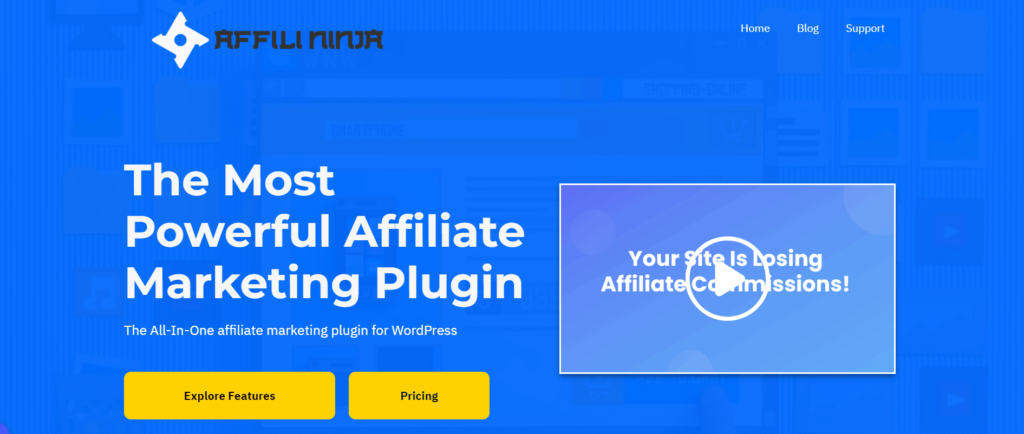 Features
AffiliNinja is packed with features that help you create high-converting affiliate reviews.
Here are a few key features that will take your design and content quality to the next level:
• Highlighting Top Products
With AffiliNinja, it's easy to create boxes that show off the top products in your niche. These boxes can have a short description of the product and a link to your affiliate program. This makes it easy for your audience to find the best products quickly.
• Creating Product Boxes
Product boxes are a great way to highlight a product's best features before diving into a more in-depth explanation. The boxes facilitate quick skimming and make your page more professional for readers.
• Creating Comparison Tables
Comparison tables make it easier for your audience to see how the featured products are different and figure out which one is best for them.
With AffiliNinja, you can use done-for-you (DFY) templates to efficiently summarize the relevant information.
• Ratings
AffiliNinja allows you to add star ratings for functionality, price, and features. This feature gives your review more credibility and makes people more likely to click on the links, which leads to more sales.
• Laying out the Pros and Cons
AffiliNinja also comes with templates that you can use to list the pros and cons of each product review at the end. Like the product boxes, this section helps sum up the review of the product and gives your affiliate site a more professional look.
These features may seem small, but they can make a big difference in the overall look and feel of your site. Most importantly, they prompt people to engage with the links, resulting in more sales.
Our Related Services
Sign up for our newsletter to receive SEO tips, discounts and freebies.
How to Use AffiliNinja: A Step-by-Step Guide
One of the best things about AffiliNinja is its ease of use. Even if you have no experience with affiliate marketing tools, you'll be comfortable using AffiliNinja in no time.
Here's a step-by-step guide on how to get started:
Install the plugin: First, download and install AffiliNinja on your WordPress site. It's a simple process, and you can do it through the WordPress plugin repository.
Integrate with WordPress: After installation, you'll need to integrate AffiliNinja with your WordPress admin. This process is straightforward and only takes a few minutes.
Choose a template: Once AffiliNinja is set up, you can start creating pages. You can choose from a variety of done-for-you templates tailored to different products and niches.
Add your details: Once you've chosen a template, you can add your details, such as product information, images, and affiliate links. AffiliNinja will integrate these into the final product, giving you a professional-looking page with just a few clicks.
Publish and promote: Once you're done, you can publish your page and start promoting it to your audience. With AffiliNinja's high-converting pages, you'll be able to generate more sales and earn higher affiliate commissions.
Why Use AffiliNinja
AffiliNinja is convenient, but does it add anything to your website? Yes, it does.
AffiliNinja helps you engage more visitors and reduce the ultimate bounce rate. These visitors use your links to make purchases, thus increasing your revenue.
Other benefits include:
1. Pre-made Templates
AffiliNinja offers a wide variety of pre-made templates, with 25 options at your disposal. Whether you're looking to feature products, make comparisons, highlight pros and cons, or something else, you can find a template that fits your needs.
Even if you don't find the perfect template at first glance, you can be confident that one of the other 24 options will work for you. These templates are designed to make it easy for you to create effective affiliate pages, saving you time and effort.
2. Customizable
If you're not entirely satisfied with the premade templates AffiliNinja offers, don't worry. The plugin allows you to customize and save the templates for future use. This customization feature is particularly helpful since you can match the boxes to the theme of your website.
With the current version of AffiliNinja, you can change the font, links, color, border, padding, spacing, and more. This allows you to seamlessly integrate the plugin's add-ons into your website without revamping the entire site.
3. Mobile-Friendly
AffiliNinja is designed to be device-agnostic, which means it seamlessly adapts to different devices. For example, if you create a product comparison box for the desktop version of your site, it will still look great on the mobile version. This responsive design helps you reach more people and makes it easy for people to use your site on any device.
With AffiliNinja, your visitors will have a smooth experience on all devices, which will make them more interested and more likely to buy something.
You can also reach more visitors and earn more revenue without creating separate pages for different devices. Overall, it's an easy and effective way to optimize your affiliate marketing efforts.
4. Easy to Use
You don't have to be a coding expert or affiliate marketing pro to use AffiliNinja. The plugin's interface is intuitive and straightforward, allowing you to get things done quickly and efficiently.
5. Works With Multiple Affiliate Programs
AffiliNinja is not limited to just one affiliate program; it works seamlessly with multiple programs. This means you can promote products from a wide range of platforms, whether from Amazon, Nordstrom, or several others.
Pros
Easy-to-Use
25+ pre-made templates
Works with multiple affiliate programs
Customizable product boxes
Responsive design
Works with all devices
Cons
Pricing
You need a license to use AffiliNinja, but the prices are set to be affordable and easy to pay, and there are several annual payment plans to choose from.
• Single Site Plan
This plan is perfect for those who only have one website, as it grants you access to all the features and support. Luckily, the package only costs $47 a year.
• 5-Site Plan
For those who operate multiple websites, this plan allows you to integrate the plugin and use it on five different sites. It's a cost-effective option, as it only costs $77, saving you up to $158.
• 20-Site Plan
This plan is ideal for affiliate marketing pros who operate up to 20 websites. The package costs $147 per year, saving you $793 compared to purchasing a license for each site separately.
These plans offer flexibility in pricing and usage, making AffiliNinja accessible to a wide range of users, from individual marketers to enterprise-level businesses.
Our Related Services
Conclusion
With its user-friendly interface, pre-made templates, and responsive design, AffiliNinja is a powerful tool that can help you take your affiliate marketing efforts to the next level.
Don't miss out on this opportunity to improve your website and earn more revenue. You can get your AffiliNinja license here.