Nowadays, when so few people work manual labor jobs, fitness products and services are perhaps needed more than ever. Conversely, people still idolize certain figures and aspire to have their bodies. As a result, you can make a lot of money in the fitness niche.
Sadly, the potential for profits also brings along stiff competition. Digital marketers are usually quick to recognize a growing market, and it's evident that the fitness field has a lot to offer. However, it's not all bad; this market is widespread, offering various products and services. As a result, finding a suitable niche, while complicated, is not impossible.
Finding the right sub-niche is essential to success in any industry, especially fitness. However, it's not the only thing you can and should do. As a result, we made this list of the eight best fitness websites to offer some inspiration for your own foray into the field. Each of our chosen fitness niche websites has a unique formula for success in its respective field. Once you recognize their tricks to boost traffic and conversion rates, you'll be off to a good start with your own fitness project. Let's get to the point and see what these websites can teach you.
Our Related Services
Sign up for our newsletter to receive SEO tips, discounts and freebies.
1. Barbell Medicine
Barbell Medicine is a website that focuses on resistance training, and it's one of the most successful ones at that. When we say resistance training, we mean that this site has weight lifting, CrossFit, and general strength training as its main fields of expertise. While the website provides coaching and sells its unique brand of supplements, it also offers a lot of free info. Let's see what makes Barbell Medicine such a great source of strength training knowledge.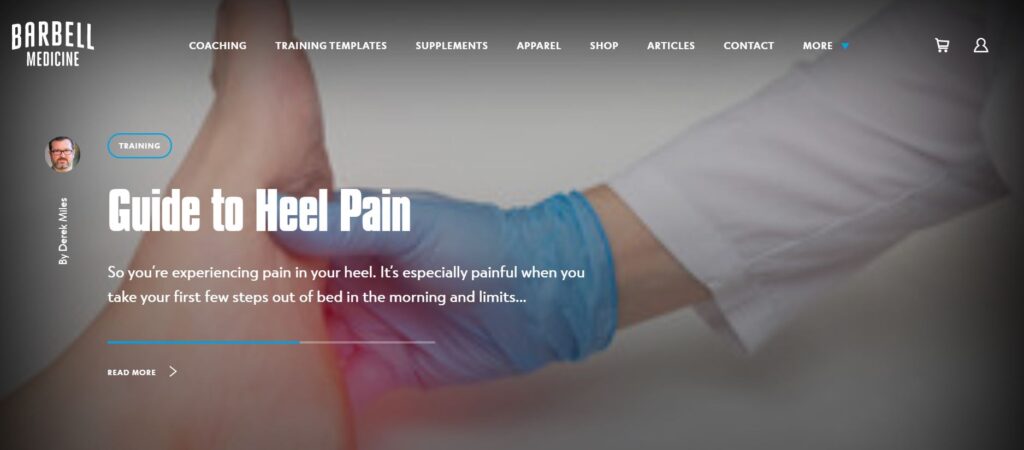 What's Unique About Barbell Medicine's Website?
First and foremost, Barbell Medicine focuses on a particular fitness field – strength training. Since fitness can mean different things to different people, it's best to focus on something more tangible. If you're planning on running a general fitness website, it will be much harder to come off as trustworthy. Fitness is an all-encompassing term, so it's best to focus on a specific part. Barbell Medicine understands this perfectly – it offers many fitness articles, products, and services, but all are connected to strength training.
While we are on credibility, we must say that it's essential in this niche. Fitness talk is technical and often uses terms and concepts from the field of medicine. Therefore, professionals must know what they're talking about. Barbell Medicine is an excellent example of how to achieve this – its team is made up of doctors and sports scientists. In addition, each member is an avid strength athlete, which makes for the perfect combination of science and experience.
While getting a medical degree is a bit far-fetched, there are other steps you can take to ensure your fitness niche website comes off as trustworthy. Try to look up research and studies before making your mind up on topics you'd like to discuss. Having concrete evidence to back up your claims goes a long way to building your readers' trust in your site.
Barbell Medicine has a specific approach to conversion optimization. Its many free articles offer detailed and solid information. However, it offers way more content for subscribed customers. For paying customers, it provides in-depth guides, training templates, research reviews, and even one-on-one coaching. That's a very clever way to reward visitors who spend money while offering free content that will attract traffic.
Lastly, Barbell Medicine boosts traffic by way of a newsletter. Signing up doesn't offer discounts or similar perks, but the free articles should be enough incentive to sign up.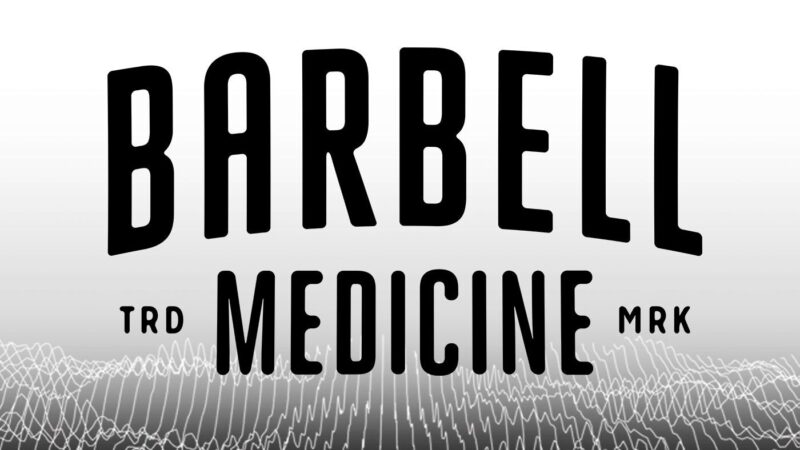 Barbell Medicine and Digital Marketing
Barbell Medicine doesn't offer an affiliate marketing program. However, it can offer the knowledge to build your own successful fitness niche website. You only need to look at how Barbell Medicine attracts traffic, and things will be much clearer.
The first thing Barbell Medicine can teach you is that you should stick to what you're best at. Running an all-encompassing fitness niche website is possible but very difficult. To do this and maintain readers' trust, you'd need a team of experts to produce quality content in each field. Choosing a specific topic is much simpler (and less expensive), whether it's strength training or something else.
The second takeaway is credibility. Barbell Medicine shows that you must know your stuff to climb to the top of the fitness niche. While beginners cannot hope to match Barbell Medicine's expertise, they can use verified information and solid evidence when making claims. It's the only way to keep a loyal following in the fitness niche.
What We Like About Barbell Medicine
Focused on a specific niche
Undoubtedly credible
Quality free and paid content
2. Rogue Fitness
Rogue Fitness is one of the top fitness equipment manufacturers in the US. It offers high-quality strength and cardio machines, weight plates, barbells, dumbbells, and everything in between. Besides that, Rogue Fitness also sells various training accessories, apparel, shoes, etc. You wouldn't be wrong to think that this company provides everything a fitness enthusiast might wish.
The quality products Rogue Fitness puts out are only part of the reason for its success as a fitness niche website. Let's see what some of the others are.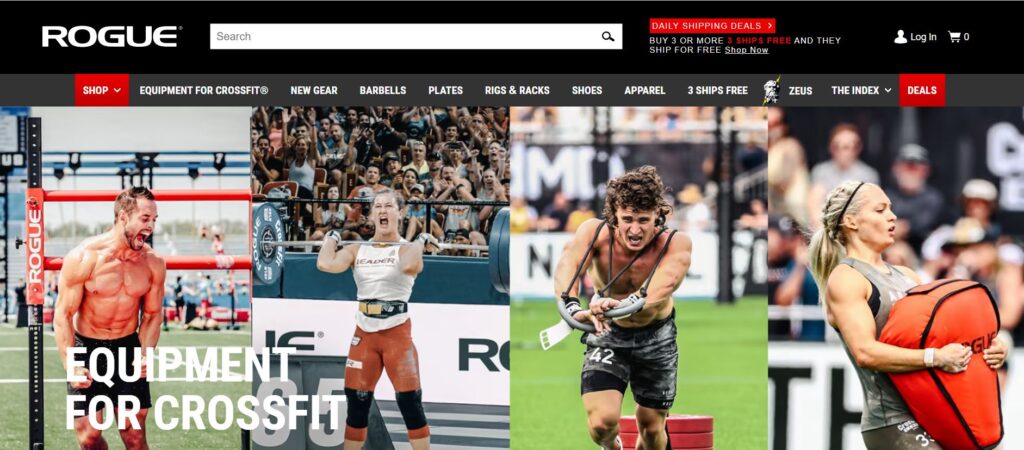 What's So Special About Rogue Fitness?
Rogue Fitness is one of, if not the largest fitness equipment retailer in the country. As a result, it can offer something most small stores can't – a one-stop-shop solution to all your fitness gear problems. Since Rogue Fitness provides every piece of workout gear you can think of, customers don't need to stray from its online shop to purchase all of their fitness equipment. That alone provides a healthy boost to traffic and conversion rates.
However, a wide range of products is far from enough for a fitness niche website to succeed. That's why Rogue Fitness offers impeccable quality on each one of its products. The company's strength training equipment is especially tough, and the international certificates it provides are proof of that. Therefore, we can safely say that the quality Rogue Fitness provides attracts many visitors. Because of this, many would-be passersby can't resist their products' allure.
The Rogue Fitness Zeus program is a unique service this website provides. It's a customization service at its core, offering to put your personal touch on any piece of equipment you can imagine. As a result, you can even create your own versions of already available machines. Let's say that your home gym has limited space – Rogue Fitness will happily build a smaller footprint rack to your specs.
The most eye-catching thing about the Zeus program is that it provides a 3D visualization of your gym. As a result, customers can design their gear and see how it would look inside their gym. It's not only a helpful feature, but it's also great fun. Many visitors fantasize about their perfect home gym, and we're sure this 3D modeling option brings Rogue Fitness a lot of traffic. Likewise, seeing your desired piece of gear inside your dream gym does wonders to boost conversion rates.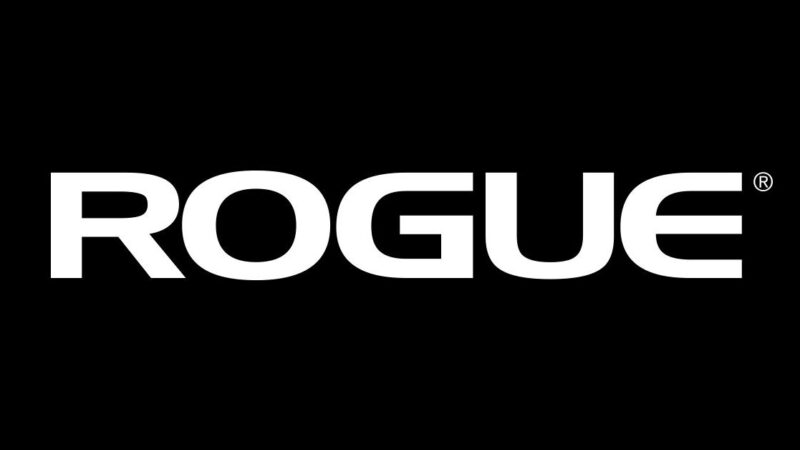 Digital Marketing With Rogue Fitness
Rogue Fitness' website can teach you a lot about digital marketing. It shows that quality and variety attract traffic and sales. However, the company's Zeus program is what's really unique about its website. Try to incorporate something similar into your own fitness niche website. It doesn't need to be as detailed as a 3D modeling tool, but adding a one-of-a-kind tool can positively affect incoming traffic. For example – it can be a calorie calculator, weight measurement converter, or something similar.
Rogue Fitness also offers an affiliate program. Joining Rogue Fitness as a partner is an excellent opportunity to learn some marketing tricks the company uses while making money. As a Rogue Fitness partner, you'll get a 5% cut for each product you help sell. It's a fantastic offer considering that a single piece of fitness equipment can cost thousands of dollars.
What We Like About Rogue Fitness
Maintains a spotless reputation
Offers a wide range of fitness products
Fun and valuable 3D home gym modeling service
Profitable affiliate program
3. Grip Genie
Grip Genie is a brand that focuses exclusively on an attractive fitness niche market segment – grip training. Owned by social media personality Jon Call, or Jujimufu, Grip Genie provides all of the grip training tools you can imagine – and some you can't. So, what's so special about its website? Let's go through the details.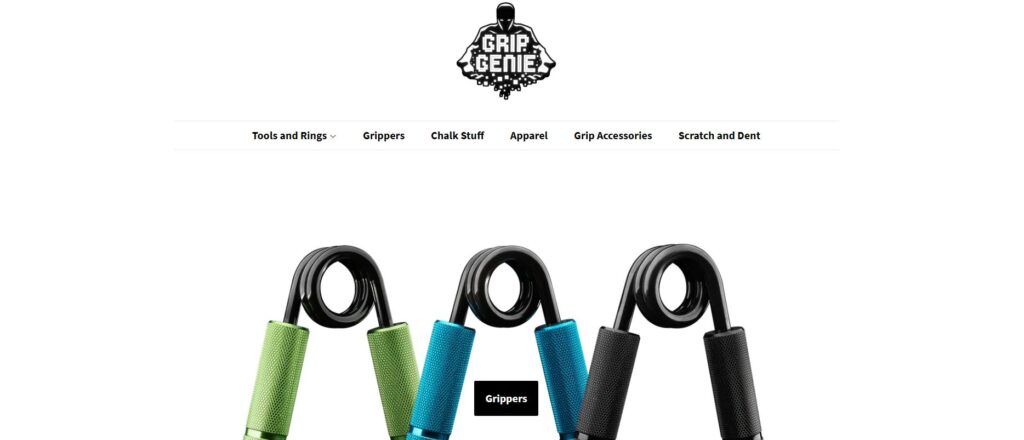 The Specifics of Grip Genie's Website
Grip Genie is a fitness niche website that works within a particular field of exercise. As its name suggests, it's all about grip training. It's a famous strength training sub-genre, but the market for accessories is not yet flooded with products. As a result, finding quality grip gear is an even bigger problem. Therefore Grip Genie kills two birds with one stone, offering a great choice of quality products.
Similar to other hobbyists, fitness enthusiasts love gadgets. However, the problem with exercise gear is that it's usually very bulky. Grip Genie has found a way around that – it provides compact, portable tools you can take anywhere. In other words, the company recognized a gap in the market and filled it. That's a critical takeaway for your fitness niche website: try to promote something that people don't yet realize they need.
Perhaps the most specific thing about Grip Genie is its owner and founder. While an interesting person himself, what's even more attractive to us is how he combines his social media presence with his website. For context, Jujimufu – Grip Genie's owner, is an accomplished fitness professional with a passion for comedy. As a result, he's garnered a massive following on social media. Nowadays, he uses his popularity to send Grip Genie an enormous amount of traffic. Likewise, his unique style of marketing helps with conversion optimization.
Grip Genie uses its scratch & dent section as an additional marketing tactic. This part of the website offers grip strength tools with slight defects, such as the titular scratches and dents or some paint chips. If you don't care how your fitness gear looks – and many don't, this allows you to save. Naturally, scratch & dent items are still fully functional.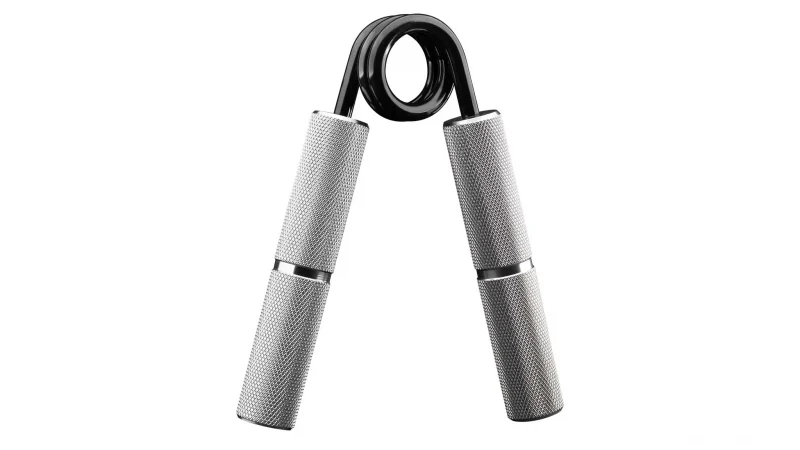 Grip Genie and Digital Marketing
Grip Genie doesn't have an affiliate program yet. However, it can offer you something much more valuable – the knowledge to become a fantastic digital marketer. You only need to see how Jujimufu handles Grip Genie's presence as a fitness niche website.
The first and most obvious trick is to use your social media following to push traffic and sales. Jujimufu is an expert at this; when he promotes something, customers stand in line to buy it. Naturally, for this strategy to work, you must be at least a little popular on the internet. Therefore, find your niche and try to impact social networks. Then, should you choose to go into marketing, you'll have a much easier time.
The other lesson that Grip Genie can teach is to start small and choose a niche wisely. Promoting costly gym equipment can be tricky, and building it is even more challenging. However, it's an entirely different story with affordable products. As for the niche, see that you choose a market without much competition. It always pays to be among the first retailers in any field.
What We Like About Grip Genie
Targets a specific niche market
Expert use of social media
Scratch & dent discounts
4. NordicTrack
NordicTrack is one of the top exercise equipment brands in the world. It makes some of the best treadmills, rowers, ellipticals, and exercise bikes.
Cardio machines are a very profitable fitness niche market. Many people like to lead an active life but aren't fond of weight training. Additionally, cardio machines don't take up a lot of space, making them the perfect choice for a small home gym.
Now that we know why the cardio niche is so popular, let's see what NordicTrack does to increase traffic and sales numbers further.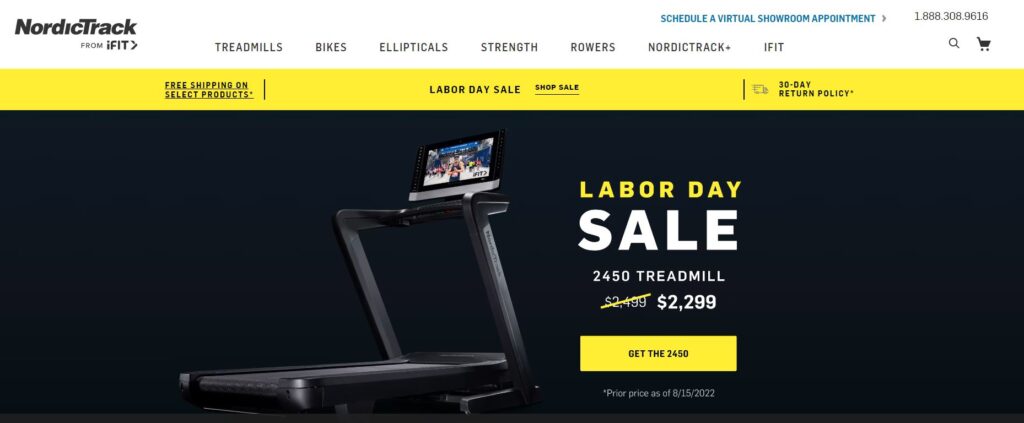 What Does NordicTrack Do Differently?
NordicTrack's cardio machines are very innovative. Their top-of-the-line iFit-connected range includes an interactive coaching option. These machines include a touchscreen which you can use to do a session with a personal trainer. If you don't have one, don't worry; NordicTrack has a team of experts at your disposal. If you're after a more casual experience, you can watch your favorite TV show while you do your workout.
One of the main selling points of NordicTrack's machines is that they're very durable and should last a long time. The company ensures this by making all its machines readily serviceable while providing all the necessary spare parts. As you already know, exercise equipment is not cheap, and cardio machines can be incredibly costly. Therefore, NordicTrack manages to grab a larger market share by providing its products with long service life.
Since quality cardio machines are so pricey, one way to bump traffic and sales is to offer customers a way to manage costs. That's why NordicTrack promotes frequent deals and special offers. Additionally, the company will even throw in free shipping if you spend enough cash.
Financing is another trick NordicTrack uses to optimize its website's conversion rates. As a result, potential customers can enjoy interest-free payment plans starting at around $50 per month. If a customer is on the fence about buying one of NordicTrack's machines, the financing opportunity will likely push them over the edge.
Lastly, the company's 30-day return policy offers customers worry-free shopping. Knowing that a change of heart is possible will nudge visitors into buying NordicTrack's machines.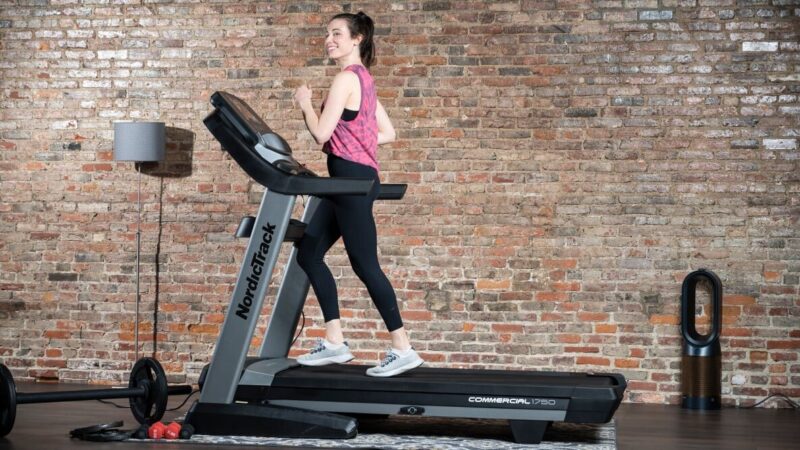 NordicTrack and Digital Marketing
Studying NordicTrack's website will reveal a lot of tricks you can use as a digital marketer. First and foremost, this fitness niche website teaches us that customers like to manage costs. That's as true in the fitness niche as anywhere else; however – fitness equipment tends to be pretty costly. Therefore, emphasize deals and special offers when promoting high-priced fitness equipment.
Since people spend a lot of money on cardio machines, they expect them to last a long time. That's another aspect you can focus on when promoting such products. A lengthy warranty and a sturdy build can help you sell cardio machines, and NordicTrack knows this very well.
If you want to learn more marketing tactics from NordicTrack, you might want to join its affiliate program. However, remember that it's currently only available in select markets.
What We Like About NordicTrack
Offers lots of cost-management options
Innovative, interactive cardio machines
Long service life
5. MyProtein
Supplements are one of the most popular sub-niches inside the fitness market. Many fitness enthusiasts use them, as do athletes of all kinds. Most importantly, there is no "one and done" with dietary supplementation. Instead, you need to take them regularly to get the intended effects. Therefore, it's evident that this niche market can be very profitable for brands.
MyProtein is a relative newcomer in sports supplements, hitting the market in 2004. Even though it faced tough competition, this company managed to rise to the top of the food chain. Initially, it offered an affordable alternative, but recently, it's evolved into something bigger. Let's check out MyProtein's website and see what we can learn.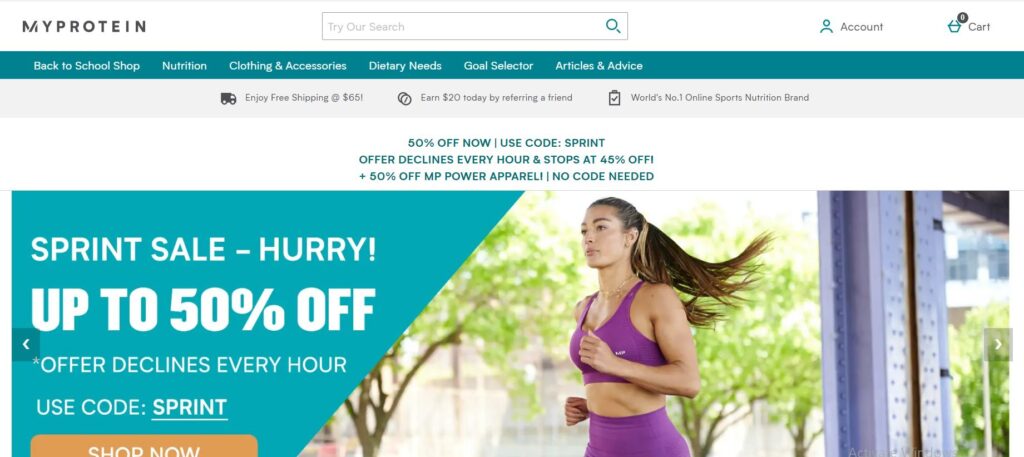 Dissecting MyProtein's Website
From the first moment you enter MyProtein's website, you'll see that it's not like other fitness niche websites. That goes double for supplement shops – they usually go for an aggressive aesthetic, with solid colors and bold, sometimes dishonest claims about their products. Naturally, most supplement stores are riddled with pictures of half-naked bodybuilders. However, with MyProtein, it's the opposite.
MyProtein's website, as well as its branding style in general, is very subdued and minimalistic. That's not by accident but rather by design. The subtle branding allows MyProtein to reach a different kind of audience, not only the usual, hardcore bodybuilding crowd. While there is nothing wrong with that group, focusing purely on bodybuilders means losing out on other customer demographics. MyProtein is well aware of this, which is why it uses a broad marketing approach.
The other thing about MyProtein's branding style is that it's simple but instantly recognizable. As a result, it fits nicely into the minimalist aesthetic that's so popular today, yet it's unlikely that customers will mistake MyProtein for anything else.
Lastly, MyProtein uses its branding style to offer cheaper products, attracting more customers. Nondescript packaging and a laid-back branding style help the company cut costs and transfer the savings to the customer.
You might think that MyProtein is a budget supplement brand, but that couldn't be further from the truth. It offers top-quality products of all kinds – not just protein powders. With MyProtein, you'll also get the best in creatine powders, fatty acids, vitamins, minerals, and other health foods. Additionally, the company recently started a line of quality fitness apparel.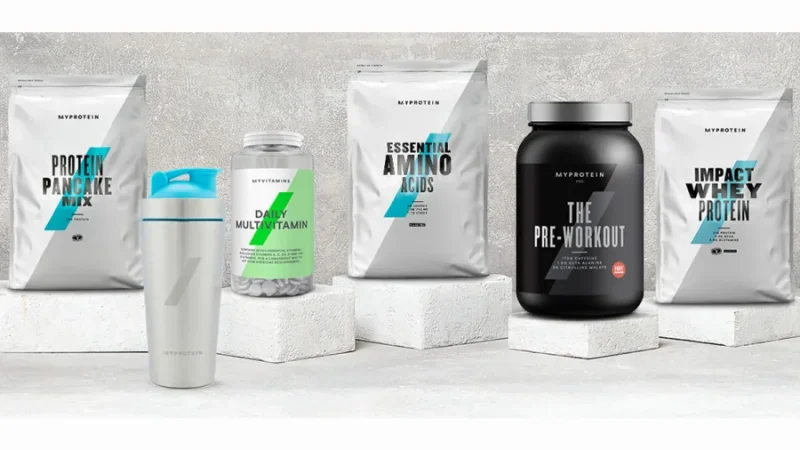 MyProtein and Digital Marketing
Affiliates are a staple of MyProtein's marketing style. If you join the company's program, you'll get 8% of each sale that happens through your fitness niche website. To help you promote its products, MyProtein also offers 30-day cookies and exclusive promotions.
MyProtein's products shouldn't be hard to promote, as they offer many benefits. The company's branding style will also help attract customers from all walks of life. There is a lesson to be learned here: try to style your fitness niche website so it appeals to a broad audience. That way, you won't miss out on any traffic and will have an easier time closing sales.
What We Like About MyProtein
Subtle branding
Wide customer base
Top Quality
Cheaper than rival brands
Commission: 8%
Cookie window: 30 days
Website: MyProtein
6. Garage Gym Reviews
Home gyms are becoming incredibly popular. They've always had a loyal following, but lately, their popularity has skyrocketed. The ongoing pandemic might have something to do with that since it made commercial gyms not feel as attractive as before. In any case, the home gym community is vast, and naturally – so is the home gym market.
In the past, the choice for home gym gear was very limited. Customers were often forced to choose between flimsy all-in-one machines and bulky and expensive commercial equipment. However, the market quickly developed, and as a result, many brands now focus their efforts on home gyms instead of commercial ones. So much so that nowadays, many websites discuss the topic. Garage Gym Reviews is one such fitness niche website – let's see how it climbed to the top and stayed there.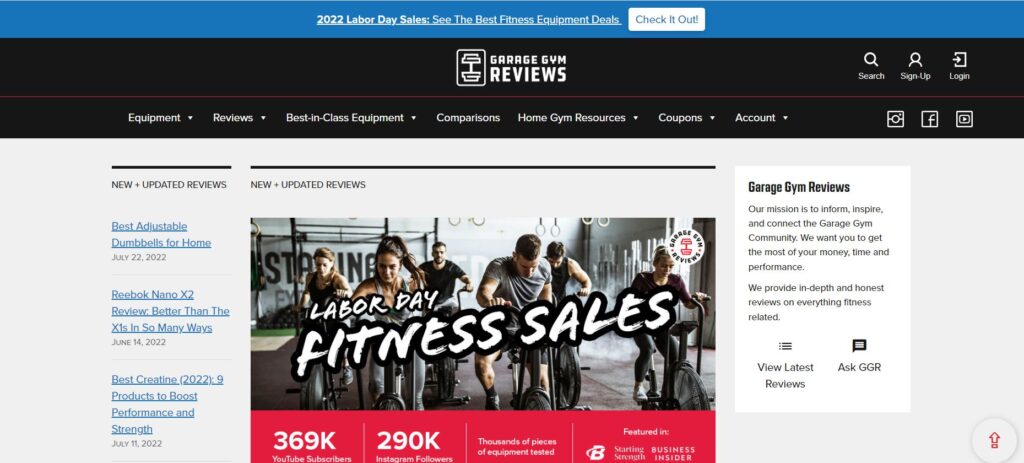 The Low-Down on the Garage Gym Reviews Website
As we said, Garage Gym Reviews operates inside a specific fitness niche: home gym gear. As a result, it offers the most detailed reviews of exercise equipment on the web.
Garage Gym Reviews is a very neatly organized website. Its reviews are split into categories, making specific products easy to find. Additionally, there are about a dozen "best in class" articles if you don't know where to start. Garage Gym Reviews will quickly put you on the right track even if you're a total home gym beginner. Most importantly, when you start reading the reviews, you sense that they're honest and unbiased. It's one of the most essential qualities a review website should possess, and Garage Gym Reviews is excellent at it.
Even though home gym equipment might sound like a closed market, it's incredibly profitable. The reason is that home gym owners like to spend a lot of money on their hobby. Likewise, the products aren't cheap either – even a basic weight training set will likely cost you more than $1000. Serious lifters looking for high-end gear will gladly pay ten times that, making this niche very profitable.
This website reviews every kind of home gym product you can imagine. Garage Gym Reviews focuses mainly on strength training gear such as barbells, benches, and squat racks. However, it doesn't shy away from cardio machines either, testing treadmills, rowers, and more. Knowing that we can safely say that Garage Gym Reviews has a firm grip on the home gym niche market.
Lastly, we have to mention the DIY aspect when talking about home gyms. To build a home gym, you need to be at least a little handy with tools. Garage Gym Reviews realizes this, which is why it provides helpful DIY articles.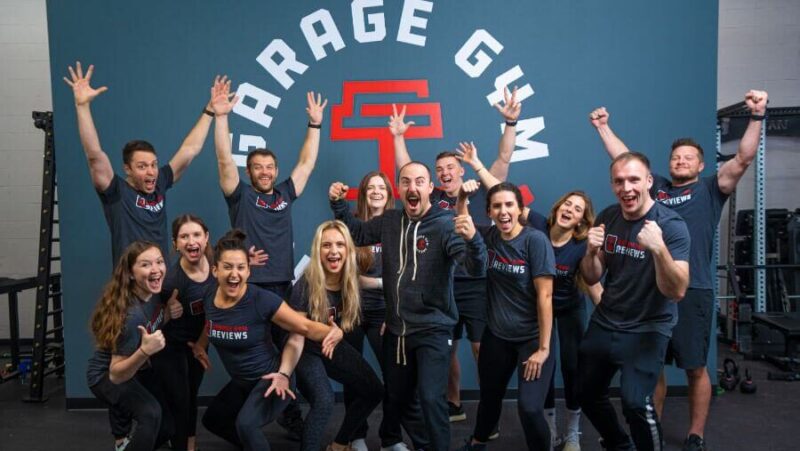 Digital Marketing With Garage Gym Reviews
Garage Gym Reviews is a prime example of a fitness affiliate website. If you want to know how digital fitness marketing is done, look no further.
Detailed and honest reviews set this website apart from other fitness niche websites. Garage Gym Reviews doesn't receive payouts to sugarcoat bad home gym gear. Instead, it reviews the market's most popular offerings and lets the readers decide whether they're good enough for them. As a result, Garage Gym Reviews doesn't shy away from reprimanding bad products, even if they're popular among customers.
If your fitness niche website is based on reviews, try to be as honest as Garage Gym Reviews. While false advertising might make you some quick cash, it doesn't promise a bright future. On the other hand, honesty and integrity will surely bring success.
Fitness and DIY are closely tied together, especially when you add home gyms into the mix. That's why Garage Gym Reviews increases traffic by offering DIY home gym advice. Try to do the same with your own fitness niche website – it will boost your traffic count, which you can then use to close more sales.
What We Like About Garage Gym Reviews
A particular and very profitable fitness niche
Honest, trustworthy reviews
DIY advice offers a significant boost to traffic
7. Gorilla Mind
Supplements are one of the most popular fitness niche markets. They can offer brands and marketers a steady source of income since people use them regularly. However, it's a crowded market, so companies must find a way to stand out. It's the same for digital marketers – you need to promote unique products to do well. Gorilla Mind has managed to do just that, as it offers a specific selection of unique products on the market. Let's see what makes its website so special compared to the rest.

Gorilla Mind's Website – The Details
Gorilla Mind offers sports supplements, but they're not the usual kind. Instead, the brand focuses mainly on esoteric yet functional supplements you can't find anywhere else. Furthermore, it provides unique blends of ingredients proven to work as intended to offer you the best bang for your buck.
Gorilla Mind carefully follows the latest research on general health and wellness. For that reason, it can always stay ahead of the curve when it comes to novelty products. Popular supplements such as turkesterone, ecdysterone, and many others were first brought to the market by this brand. Likewise, Gorilla Mind practically invented stimulant-free, nootropic pre-workout blends, and they're still some of the brand's top-selling products.
Gorilla Mind's science-based approach comes from its founder, known only as Derek from More Plates More Dates. Derek has been one of the most popular sources of knowledge on health, fitness, general well-being, and self-improvement for the last couple of years. His blog, moreplatesmoredates.com, touches on all kinds of topics, such as nutrition, training, hormone manipulation, age reversal, and more. Naturally, every claim is backed by extensive scientific research, making it popular and trustworthy.
Like Grip Genie, Gorilla Mind uses its founder's popularity to drive traffic to its website and optimize conversion figures. Since Derek has a loyal following, it's easy for him to direct a vast amount of traffic to Gorilla Mind. Likewise, these visitors are inclined to trust the product claims and view marketing tactics with less suspicion, making them more likely to buy. It's a clever way to carve out your own niche and use it to fuel sales.
The shop also uses some more common conversion optimization methods, such as first-timer discounts. While not as attractive as other tactics, they still boost sales.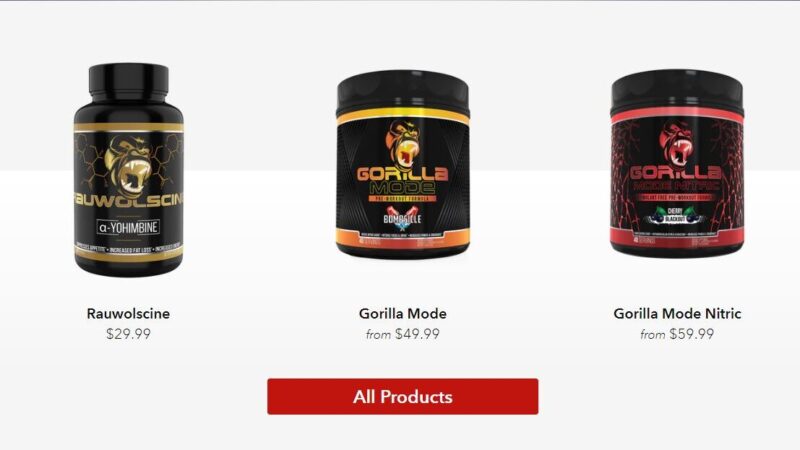 GorillaMind and Digital Marketing
GorillaMind provides its own affiliate program, and should you join it, you'll get a 20% cut from each sale. That's a lot compared to the average 5% in the supplement niche. As a bonus, GorillaMind's supplements already sell very well, making them easy to promote.
While GorillaMind offers you a marketing opportunity, its founder can show you how to do it best. As a matter of fact, the whole company is built on the concept. The steps should be clear by now: provide trustworthy information, create a loyal audience, and finally – market your product. GorillaMind is simply the last step of this process.
There is no doubt that GorillaMind can teach you a lot about digital marketing. You only need to examine its website closely – the details are all there.
What We Like About GorillaMind
Carves out its own niche
Science-backed products
An ingenious use of social media presence
8. Huberman Lab
Finding trustworthy fitness and wellness advice on the web can sometimes be tricky. The fitness industry is full of dogmas, leading many influencers to promote false information. However, there are some trustworthy sources on the internet, and Huberman Lab is one of them. Let's see what this fitness niche website does to succeed.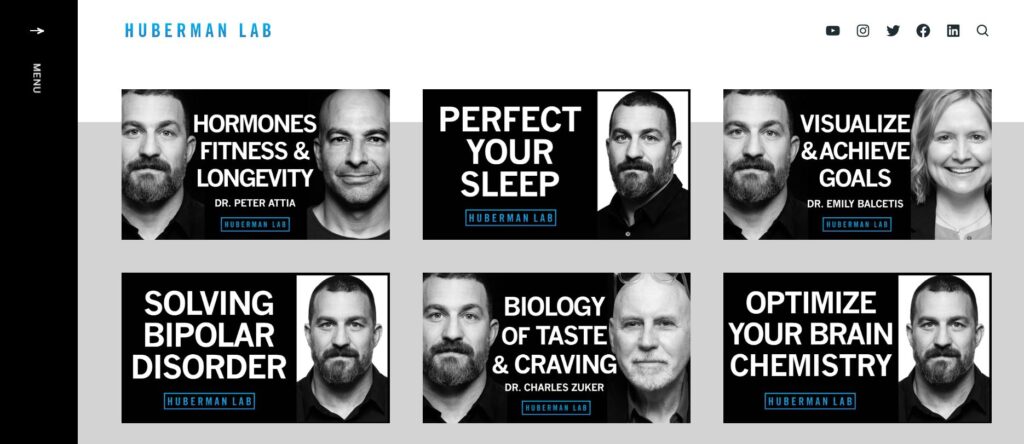 Examining Huberman Lab's Website
Huberman Lab is a fitness niche website run by founder Andrew Huberman, an accomplished neuroscientist currently tenured at Stanford University. It provides proven, fact-checked info on various health and wellness topics. Additionally, it often features other accomplished scientists specializing in multiple research fields.
Huberman Lab presents its information in several ways. A podcast is the preferred method, allowing the visitor to watch or listen to the episodes at home, in the car, or anywhere else. However, the website also provides a weekly newsletter, offering valuable knowledge in a text format. Of course, the newsletter collects your email address in exchange for the info. It's a standard way to boost a website's traffic.
The most notable highlight of Huberman Lab is, of course, its founder. Since Andrew Huberman is such a respected scientist, his advice carries a lot of weight. Additionally, the topics Huberman Lab discusses are complicated, which means not just anyone can offer sound advice. Fortunately, Andrew Huberman is well versed in the way our bodies work.
For particular topics, Huberman Lab often invites guests to participate in the discussion. Therefore, you can be sure you're getting the best advice the scientific community can provide. Regarding the topics, they range from general health and well-being to specific tips and tricks on how to improve fitness. Notably, the podcasts always contain advice you can quickly put to use without needing special tools.
Lastly, it's essential to know that the Huberman Lab podcasts are enjoyable and easy to listen to. The language, while scientific, is not hard to understand for the average listener. Naturally, Huberman and his guests are very eloquent, making for an even more pleasurable experience.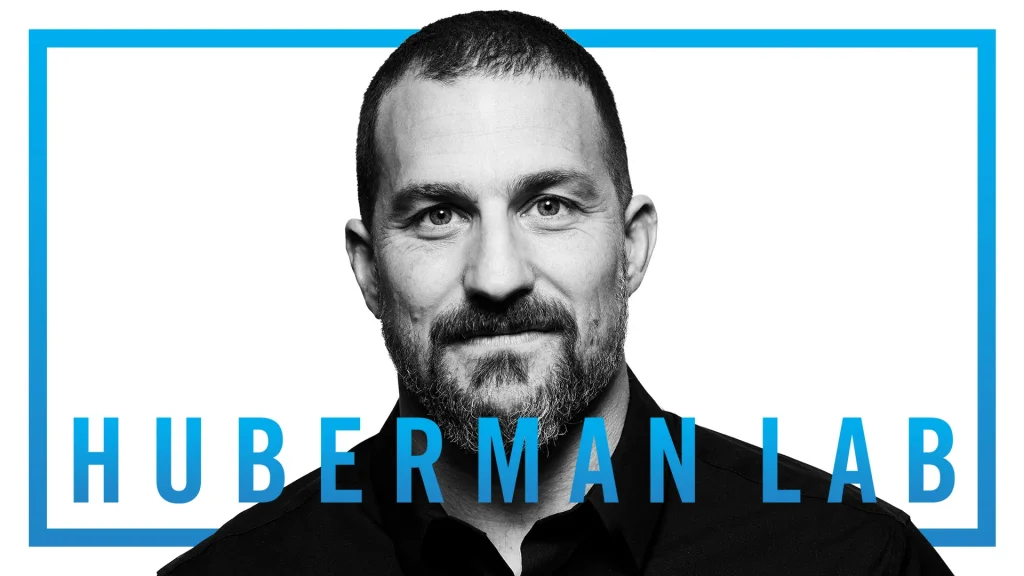 Huberman Lab and Digital Marketing
Huberman Lab is not in the business of selling products, at least not yet. For now, it only provides access to quality information on how the human body works. It does advertise some products and services, but it's only a tiny part of each podcast episode.
However, the fact that Huberman Lab doesn't offer an affiliate program doesn't mean it can't teach you a thing or two about digital marketing. After all, it didn't become such a popular fitness niche website by accident.
The most important takeaway from Huberman Lab's website should be to provide quality, science-based info. While very few will ever reach the academic stature of Andrew Huberman, that doesn't mean you can't fact-check the advice you're putting out. Providing trustworthy advice should be number one on your list of priorities. Otherwise, it's only a matter of time before your website starts going downhill.
The next tip has to do with podcasts. If that's your preferred method of communicating with your audience, there is one thing you must keep an eye on. Namely, no one will listen to podcasts that sound bad. Therefore, try to speak well, and even consider taking some public speaking lessons. Naturally, you'll also need good recording equipment. Nobody likes to listen to bad audio, no matter how good the information is.
What We Like About Huberman Lab
Knowledgeable and reputable speakers
Podcasts are very pleasing to hear
Advice you can apply immediately
Our Related Services
Sign up for our newsletter to receive SEO tips, discounts and freebies.
Conclusion
The fitness market is well developed, offering various products and services. While that might seem attractive for an affiliate marketer, it also means a lot of competition. As a result, success requires that your fitness niche website stand apart from the rest.
Reviewing the best fitness websites, we uncovered many strategies to help you make a name for yourself in this niche. Therefore, to make it in this niche, you must choose a specific set of products and services to promote. Likewise, it pays to have the right audience, so make that a priority.
As with any other niche, the basic rules of honesty and transparency still apply. When promoting products, try to choose something you truly believe in, rather than products that just offer good commission rates.
As a final tip, work towards building an online presence suited to your chosen fitness niche. If you'd like to promote strength training gear, it would help if you actually lift weights. Same with cardio machines – if you can't climb a flight of stairs without getting worked up, no one will believe a word you say. Simply put, you need to practice what you preach. As a result, it's always good to build a loyal following before you set out to do digital marketing.
While the best fitness niche websites can provide ideas on how to succeed, it's important to take inspiration from their tactics without copying their style. Originality is one of the more important aspects of digital marketing. If you're a copycat, you'll never carve out your own niche, and that's where true success lies.