Technology is one of the most common topics for niche websites and blogs. The field constantly evolves providing new information to write about. The tech market is also very active, making it one of the top choices for affiliate marketing.
However, since the tech market is viral, rival websites are plentiful. Many marketers start with the idea that gadgets are easy to promote, only to find that everyone's already doing it. That's why it's crucial to tackle the problem strategically. The best way to do that is to lay out a game plan before you even think about starting a tech niche website. That way, you'll have a chance to carve out your own place inside the niche.
Making your tech niche website stand out from the crowd is not always easy. It can be tough when there is a lot of competition – chances are most easy hacks have already been beaten to death. However, there are still ways to make a positive impression; you just have to find them.
Dissecting the best tech websites can reveal many tips and tricks to succeed in this niche. Therefore, our review of the top 8 tech sites will help you make a place for your own niche website. So, without further delay, let's see how these websites work.
Our Related Services
Sign up for our newsletter to receive SEO tips, discounts and freebies.
1. Tech Radar
Tech review sites are a dime a dozen. Nowadays, smartphones and other smart appliances are so popular that nearly every tech niche website reviews them. However, some are more successful at it than others, and Tech Radar is a perfect example of the latter. This website manages to keep a loyal audience amidst tough competition. Let's see what it does to outperform its rivals.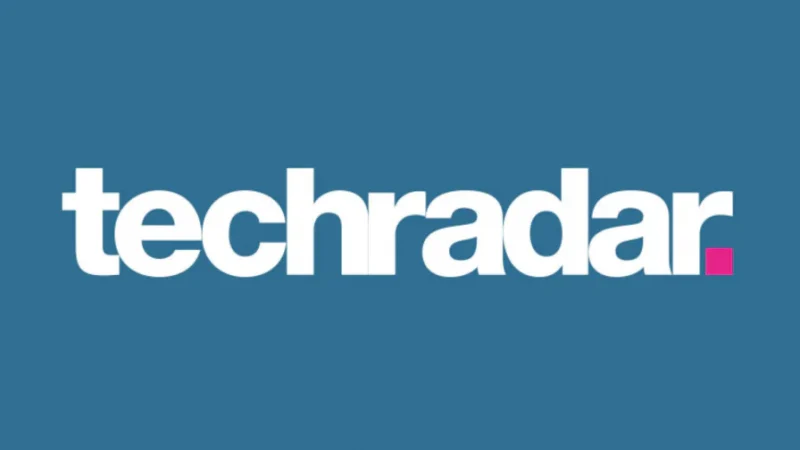 The Nuances of Tech Radar's Website
Review sites are probably the most common type of tech niche website. As a result, Tech Radar has to work hard to stay relevant, and that's precisely what it does.
Tech Radar reviews various kinds of devices. Notably, this website discusses smartphones, TVs, computer components, etc. The fact that Tech Radar can offer an extensive list of reviews is part of the reason it's so successful. Naturally, the reviews are honest and trustworthy – a prerequisite for success as a tech niche website.
While reviews are the staple of most tech niche websites, they're not enough to put them on the map. On the contrary – any site that hopes to succeed must go above and beyond. Tech Radar does this by offering a "best of" category, filled with lists on various tech topics. The standard roundups, such as best smartphones, TVs, etc., form the basis, but there are other interesting lists as well. The one about the best father's day gifts stands out – it's not only fun but also practical. Naturally, since technology advances so fast, these roundups are all dated.
How-tos are another crowd-pleaser, and Tech Radar offers many. Visitors can enjoy guides on watching sports on the web, being better at video games, and so on. Everyone needs guidance at some point, making them one of the easiest ways to get traffic for your website.
Lastly, Tech Radar's website can help visitors find the best deals on various products. It's a handy feature, and the website updates it very often with the best deals available at any moment. Since everyone likes to save if they can, this section brings Tech Radar a lot of traffic. On the other hand, the low prices entice visitors to buy the products – more of that in a bit.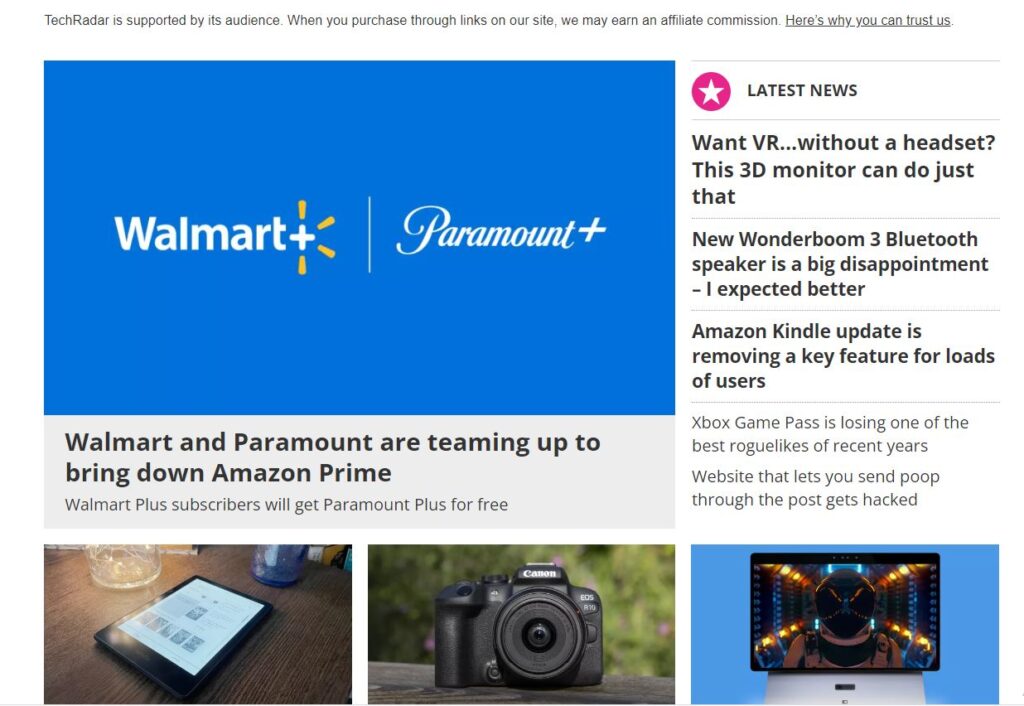 Tech Radar and Affiliate Marketing
Tech Radar can teach you a lot about becoming a successful tech marketer. In fact, part of the revenue this website generates comes from promoting products as an affiliate.
As we said, one of the highlights of Tech Radar is that it offers reviews on various products. That's a great way to attract an audience and keep it. However, the tricky part is getting the products to review. Therefore, if you're using this approach, try to secure channels to get the latest gadgets sent in for reviews. If that proves too tricky, you might want to focus on a specific type of product.
Luckily, there are things you can do that don't require money or connections. Tutorials and DIY guides are perfect examples of content anyone can produce. To write a comprehensive guide, you only need research and patience. In return, your website will get a lot of traffic, as tech guides are a necessity for many.
Bargain hunting is another thing you can easily do. Always having the latest deals will make sure traffic is at its highest, and low prices will take care of conversion rates. Before you know it, you're doing affiliate marketing.
What We Like About Tech Radar
An extensive list of reviews
"How To" guides
Deal locators
2. Igor's Lab
As we said, review-type sites are prevalent in the tech niche, and Igor's Lab is one of them. It's a German website, and while it does offer an English version, the translation is sometimes not that great. However, even in those cases, the essence of the matter is not difficult to understand. In any case, Igor's Lab's quality reviews more than compensate for such shortcomings. After all, everybody knows you can't beat German engineering.
Igor's Lab is not your typical site dedicated to helping the average customer. Quite the contrary – it's a tech niche website dedicated to PC enthusiasts. That's a particular niche, and it requires a careful approach. Let's see what that means.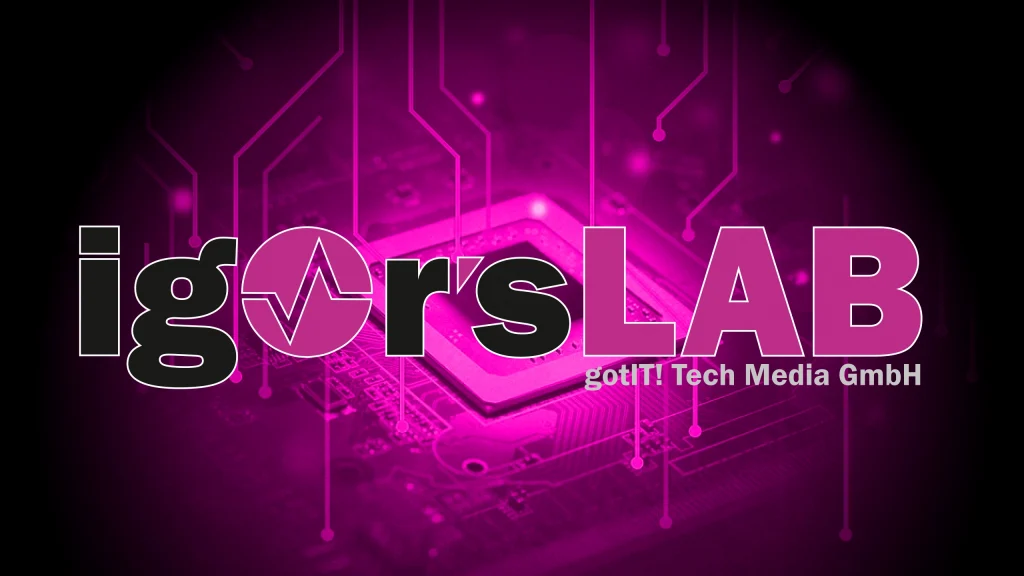 Igor's Lab Explained
There are many types of review websites in the tech niche. Most of them discuss technology in general and focus much of their attention on ready-to-use appliances. Therefore, TVs, smart devices, and pre-built PCs are common among these sites. However, Igor's Lab is very different.
The motto of Igor's Lab is "real tests for real enthusiasts," which tells you everything you need to know. This tech niche website won't tell you about the best mid-range smartphone or TV. Instead, it's geared towards PC enthusiasts who obsess over the tiniest details of their machines. Therefore, expect a different kind of review, both in the subject and style.
The main difference, of course, is that most of the time, Igor's Lab reviews PC components. Things like graphics cards, processors, and memory sticks are regularly subject to rigorous testing down to absurd details. Remember – we're talking about PC enthusiasts looking for more than just a comparison of operating frequency. As a result, Igor's Lab compares power draw, voltage range, overclocking capacity, etc. Naturally, real-world speed testing is a staple of these reviews.
In addition to the main PC components, Igor's Lab tests uncommon ones, such as PC cooling niche products. In fact, the site's reviews of cases, power supply units, and cooling systems are some of its most popular ones. While the average consumer wouldn't bat an eye at these, enthusiasts consider them essential to their PCs. Igor's Lab reviews performance metrics like over airflow, heat dissipation, and stable power delivery which bring massive amounts of meaningful traffic from readers who want to know them.
Igor's Lab also provides a free BIOS modification tool for the bravest of visitors. This precise tool is made for the most hardcore enthusiasts and allows for the soft-modding of certain PC components.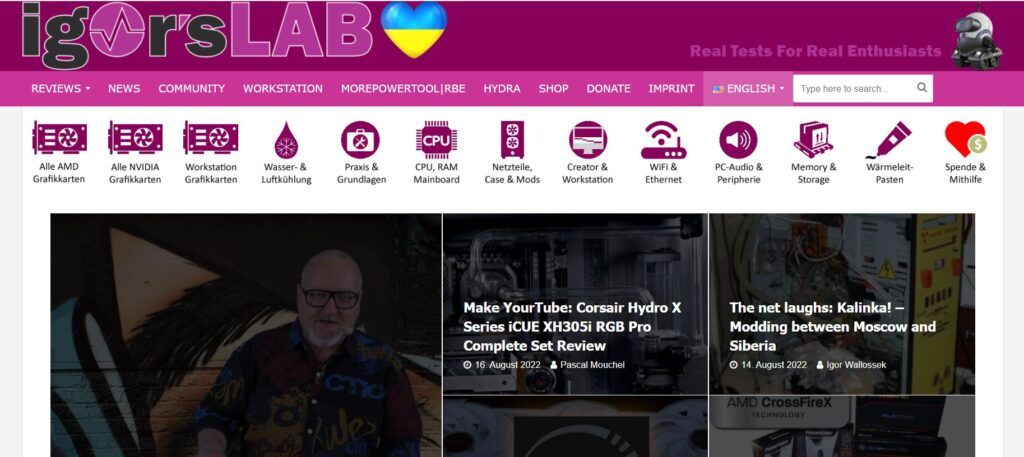 Igor's Lab and Affiliate Marketing
Igor's lab is a review site, so it doesn't offer an affiliate program. Actually, it works more as an affiliate site – it generates revenue by promoting products through links in articles or ads on the page. As a result, this tech niche website has a lot to teach you about digital marketing.
Igor's Lab is an excellent example of a specialized niche website. Unlike the more common general review sites, it focuses on a specific part of the tech niche. In this case, it's the PC enthusiast crowd.
As a general rule, the more specific the niche, the smaller the audience. However, there is an upside: if you choose a particular niche, you are far more likely to garner a loyal following. Specific niches are not as popular, which leaves the potential audience with little choice. Do a good job, and they'll flock to your tech niche website.
To succeed in a niche like this, you must offer in-depth info. Listing the specs might be enough for a website tailored to the general population, but not here. In that sense, Igor's Lab does an excellent job. Therefore, if you're looking to do affiliate marketing in one of tech's sub-niches, you'll need to dissect your products. Igor's Lab is not called a lab for nothing.
What We Like About Igor's Lab
Targets a particular audience
Incredible depth of information
Tests every kind of PC hardware
3. What Hi-Fi
When most people hear the word tech, they immediately think of gadgets, smartphones, and computers. However, there are more sides to the tech niche, and audio gear is one of those sides.
Hi-Fi equipment has been a famous niche market for a long time. Music is an everyday part of our lives; naturally, everyone wants to experience it as best they can. That's where quality audio gear comes in – speakers, amplifiers, sources, etc. However, choosing the correct setup can be very challenging. You'll need knowledge, good ears, and a penchant for details. Or – you could just consult a trusted review site.
What Hi-Fi is one of the world's most renowned names in audio reviews and testing. It's been around since 1976, way before the internet became part of our everyday lives. Nowadays, it still manages to stay at the top of the audio world. Let's discuss how it's able to do that.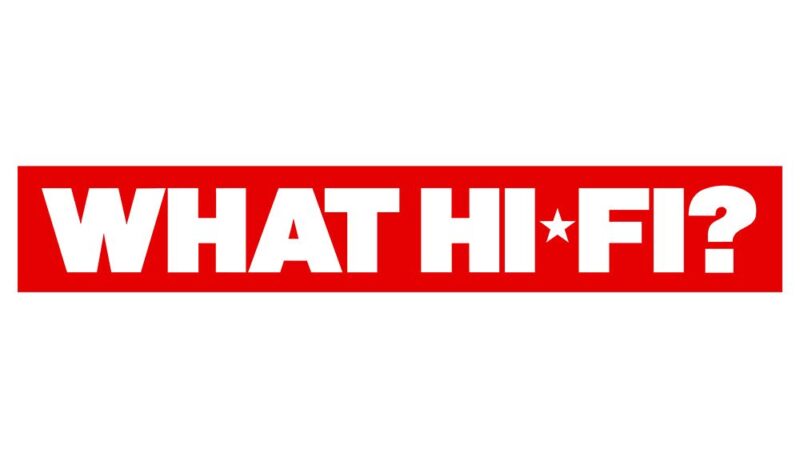 The Details of What Hi-Fi's Website
From the first moment you start browsing What Hi-Fi, you immediately notice the enormous amount of content. This tech niche website offers news, how-to articles, reviews, roundups, and more. Lately, it even started reviewing TVs to provide a complete source of multimedia info.
The main thing that sets What Hi-Fi apart from other tech niche websites is the market it focuses on. The audio equipment market is widespread but very specific, as are its customers. As a result, success in the audio niche requires a calculated approach. Honest and trustworthy reviews go a long way, but there is more to it.
One of the most important things about audio testing is that product specs usually don't mean much. What Hi-Fi understands that, which is why it often doesn't even include them in reviews. Instead, the listening experience is what's most important. That goes for speakers and other components – amplifiers, turntables, cd-players, etc. The fact that What Hi-Fi listens to each piece of audio gear it reviews has earned it a loyal following.
To make it easier for newcomers, What Hi-Fi gives yearly awards to products the team finds most impressive. As a result, first-time visitors can quickly navigate to the "best of" section, where they will find neatly organized audio gear categories. This section will provide the year's best products, with links to their respective reviews. It's a win-win situation: visitors get valuable information, while What Hi-Fi gets increased traffic and conversion rates. There are also sections for the best buys in audio and the best deals available at any moment.
Lastly, this tech niche website provides valuable guides. They can teach you what songs to test your sound system with, how to position your speakers, etc.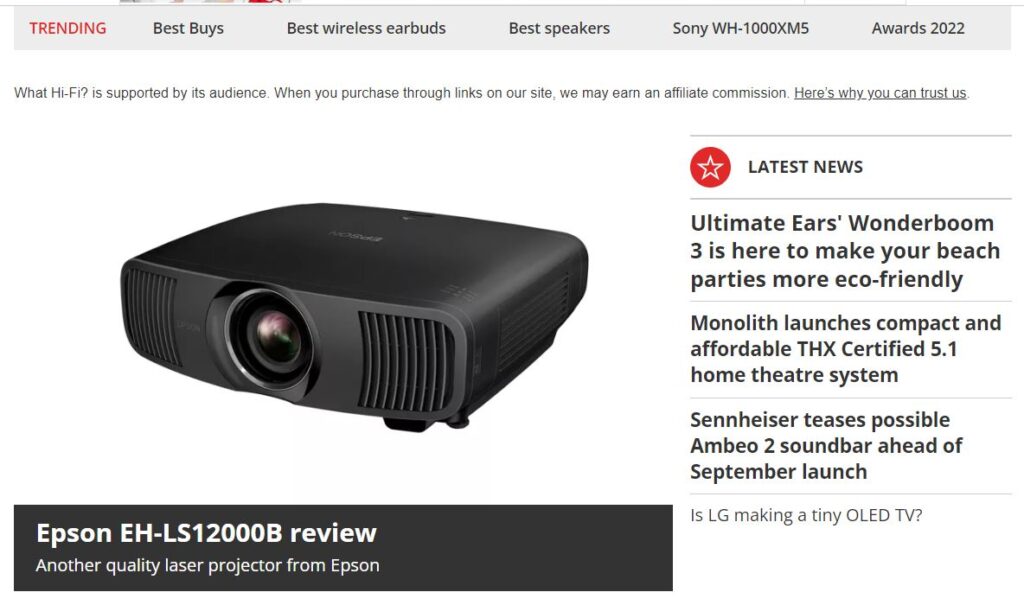 What Hi-Fi and Affiliate Marketing
Like many other popular sites of this niche, What Hi-Fi is, in part, a tech affiliate website. It posts links to each product it reviews, earning a commission if any sales go through. And you can bet they do since What Hi-Fi is one of the most popular websites in the audio gear niche.
To be as successful as What Hi-Fi, you'll have to start small and work hard. You could begin with speakers and amplifiers immediately, but they can be costly and difficult to ship. If you insist on personally listening to every product you review – as you should, things will get expensive. However, you can work around that.
Headphones and accessories are a much more accessible way to start an audio review website. They're easily portable, meaning shipping won't be a problem. While some are costly, headphones are still much more affordable than other audio components.
What Hi-Fi's award system is another thing that can help you succeed as an audio affiliate marketer. While you won't have many products to rank at the beginning, the reviews will quickly pile up. That's precisely when you need to take advantage of a ranking system. It will help readers to browse through your reviews easily. That, in turn, will increase traffic to your website and optimize conversion rates.
Lastly, "how to" guides are always a good idea, and the audio niche provides a lot of topics to discuss. Impedance, component matching, and room acoustics are some of the most searched terms related to this niche. Additionally, the hi-fi niche offers numerous DIY possibilities. Explain those in detail, and your traffic will quickly multiply.
What We Like About What Hi-Fi
Specific tech niche
Real-world reviews
Product award system
4. GoPro
Recently, stand-alone video cameras have become all but obsolete. Every smartphone has one, and they're usually capable of recording high-quality video, often even in high definition. As a result, most tech companies have discontinued their once-popular consumer-grade camcorders.
As you probably know, GoPro is part of this declining market, yet it still manages to stay incredibly popular. So, how does GoPro do it? Let's find out by examining the company's website.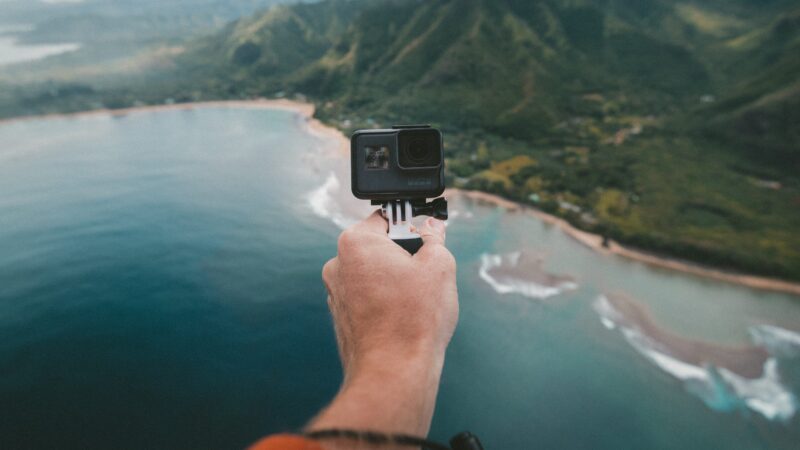 GoPro's Website in Detail
GoPro is an excellent example of a company carving out its own niche in the tech market. As we said, the digital video camera market was already in steep decline when GoPro first unveiled its products. As a result, GoPro had to take drastic measures to succeed in its chosen niche.
GoPro sells cameras – however, they're unlike any other camera available. Marketed as action cameras, GoPro's models can accompany you on your adventures, whatever they may be. Therefore, they're waterproof, weatherproof, and impact-resistant and offer various lens options. Likewise, you can buy various mounts to attach your GoPro camera to your bike, car, helmet, surfboard, etc.
While this might sound like an ad for GoPro, it's not. We're simply trying to explain how the brand stands out among the competition. That's one of the most vital qualities a brand can have, especially in a dying market such as this. GoPro's unique qualities make it instantly recognizable and reignite the demand for video cameras as a near-obsolete gadget.
GoPro's website offers additional perks to increase traffic and optimize conversion rates. Its subscription offer is exciting – it costs $49.99 annually and has numerous benefits. Most notably, subscribers get the chance to replace their broken camera up to twice per year, no questions asked. That's an ingenious offer: GoPro's customers often break or lose their cameras, especially those into extreme sports. With the subscription, they'll always have a spare waiting. This kind of subscription brings tons of traffic to GoPro's website and also does wonders for conversion rates.
Additionally, subscribers get 50% off all purchases from GoPro's website. If it sounds like an offer you can't refuse, don't be surprised – many customers feel the same way. That's why subscriptions bring GoPro a lot of traffic.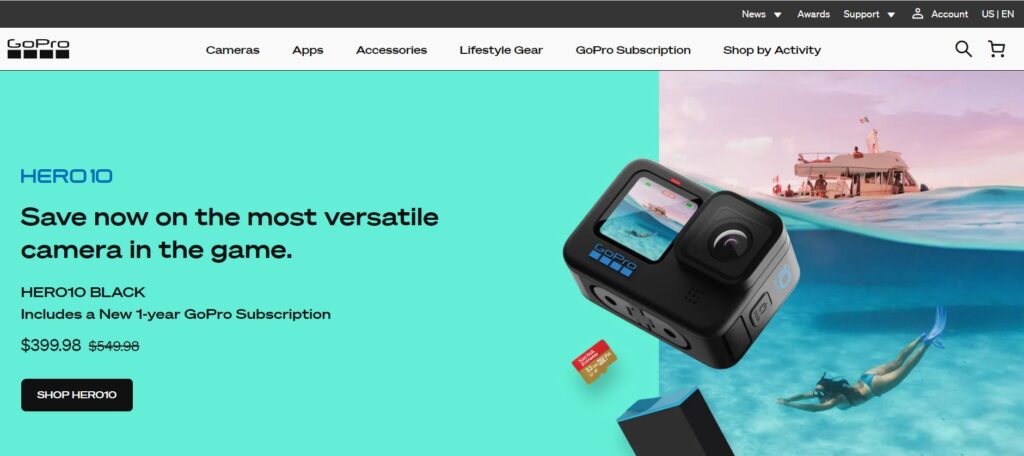 GoPro and Affiliate Marketing
While its unique approach is enough to get a loyal customer base, GoPro also has an affiliate program. If you join GoPro's program, you'll get a modest 3% commission on each sale you help close. While that doesn't sound that great initially, consider how popular GoPro cameras are. When you take that into account, the profit potential is obvious.
As far as promoting GoPro's gadgets, it's relatively simple. Your target customers are likely already aware that they need an action camera, and the current market doesn't give them much choice. On the other hand, the lack of competition is good news for GoPro. It's also well deserved since it was the first company to develop the concept of an action camera.
Apart from offering you an affiliate spot, GoPro's internet presence can also teach you how to take your digital marketing game to the next level. Being innovative is the first important lesson GoPro can provide. In fact, innovation is the main reason behind GoPro's success. Try to do the same when setting up your own tech niche website. You don't need to go to the same lengths as GoPro, but providing something unique will help you increase traffic and conversion rates.
Secondly, try to make money-saving deals, special offers, and subscriptions a part of your tech niche website. The easiest way to do that is through a good affiliate program. That way, you'll increase your website's traffic while also making some money.
What We Like About GoPro
One-of-a-kind product lineup
Carves out its own niche market
Excellent subscription option
5. Tom's Hardware
PC component reviews are an ever-popular topic for tech affiliate websites. Since hardware generations change constantly, the review niche provides an endless supply of products to test. As a result, it's among the simplest ways to turn a profit in the tech niche. However, it's also riddled with tough competition.
Tom's Hardware is one of the first-ever websites to provide trusted reviews for PC hardware enthusiasts. Established in 1996, it's ancient by tech-world standards. Still, it soldiers on to this day, providing quality content for hardware hobbyists. Let's see how it kept on going for so long.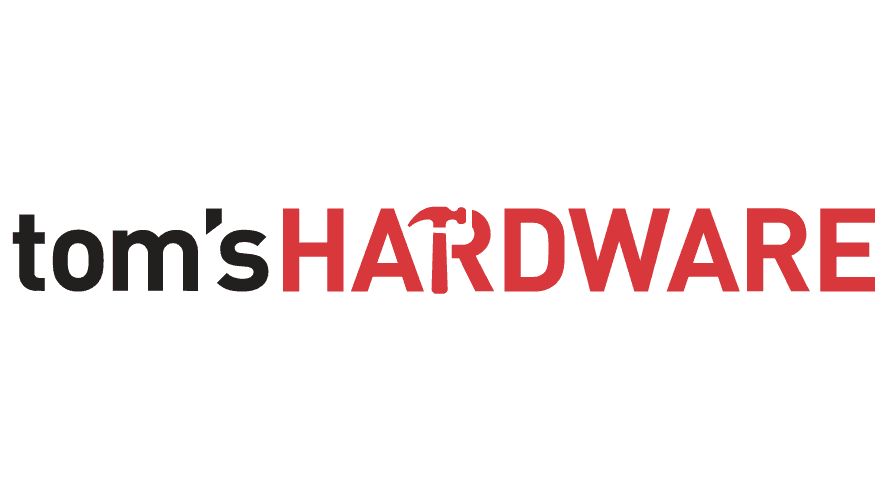 A Close Look at Tom's Hardware Website
Tom's Hardware has a similar layout to other hardware review websites. Its tests are neatly categorized, making it easy for visitors to find what they're looking for quickly. The website's star rating helps organize things even further. As you'd expect, the best products get a five-star rating, while the worst get only one star.
Tom's Hardware also includes a Best Picks section, providing a quick look into the most successful products of any category. Notably, the website offers guides on the best CPUs and GPUs, but also more specific components, like gaming monitors. In any case, the information these roundups provide is valuable, which in turn helps the website increase its traffic count.
Even though Tom's Hardware is an older website, it has always been up to date on the latest technology trends. Currently, one of those trends is the Raspberry Pi micro PC – a single board DIY computer that provides endless possibilities. Tom's Hardware has a section dedicated solely to articles on how to build and use a Raspberry Pi. As a result, visitors can learn how to set up their first board, which model to choose, and how to use it. The articles are informative and well written – check them out to get some inspiration for your website's content.
Since Tom's Hardware is an affiliate website at its core, it's no surprise that it includes a coupon section. This section allows readers to save on hardware components and other tech products. The savings can be incredible, sometimes bringing the retail price down by hundreds of dollars. On the other hand, Tom's Hardware gets a commission each time a visitor uses a coupon. As a result, everyone's a bit happier than before.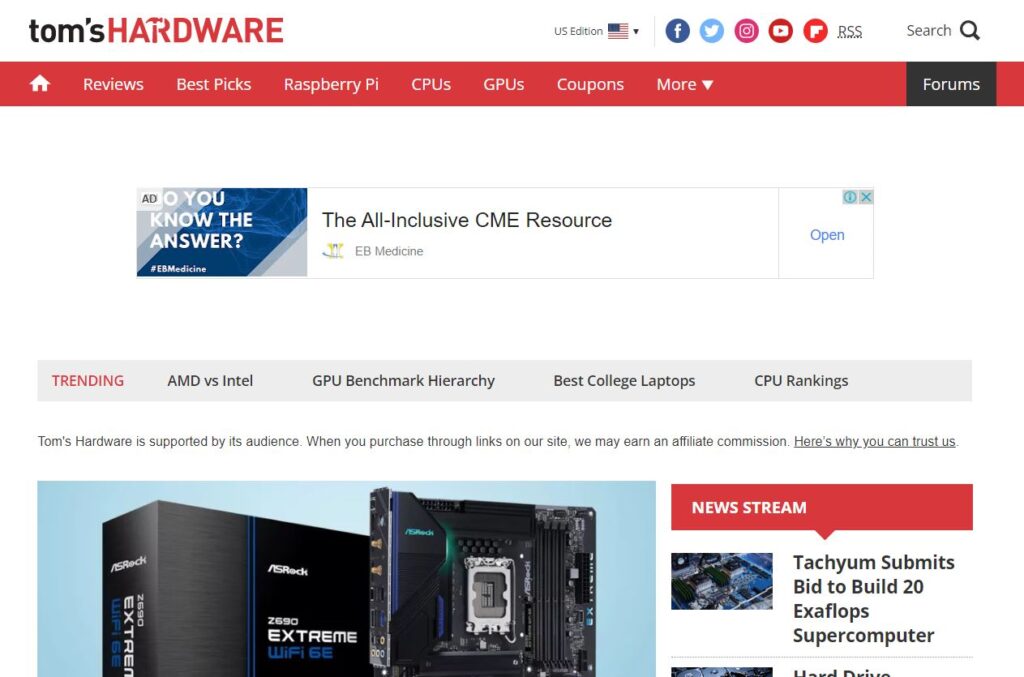 Tom's Hardware and Affiliate Marketing
As mentioned briefly, Tom's Hardware is a tech affiliate website. While the hardware reviews it provides are honest, they mainly exist to promote products. Like most affiliate sites, Tom's Hardware is very upfront about this, often announcing that it gets a commission from sales.
The fact that Tom's Hardware makes a living promoting hardware might make you doubt its honesty. However, you shouldn't be worried, as all reviews are trustworthy and backed up by complex data. In fact, that's the only way an affiliate website can stay relevant for so many years. Dishonest websites usually don't survive for very long.
If you're looking for inspiration on how to handle your own tech niche website, Tom's Hardware can provide a lot of ideas. Try to match this website's honesty and transparency in testing, and you'll start to see results instantly. It might not get you a quick profit, but it's the only way to long-term success.
Adding something unique to your website will optimize traffic and conversion rates. Tom's Hardware's Raspberry Pi section is an excellent example of that. Of course, you shouldn't copy it outright, but we're sure it'll help you develop your own ideas. Whatever you do, try to make it interesting and helpful.
Lastly, promoting deals and special offers is one of the simplest ways to get meaningful traffic to your website. Specifically, Tom's Hardware uses coupons, but the principle is the same – the reader gets lower prices while the affiliate receives a commission. In the end – everyone's a winner.
What We Like About Tom's Hardware
Honest reviews
Consistently follows the latest trends
Money-saving coupons
6. Gizmodo
Not all tech niche websites focus their efforts exclusively on hardware reviews. Some of them use a broader approach, discussing technological advancements in a more conversational manner. Gizmodo provides a mix of both, which is why it's such a popular place for tech enthusiasts to congregate. Let's see what Gizmodo can teach us about running a popular tech niche website.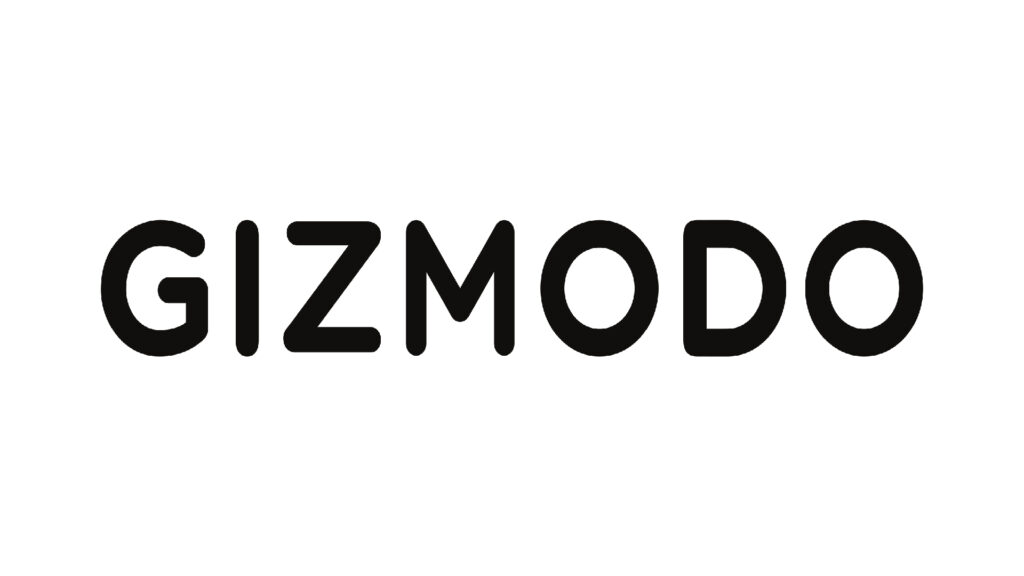 Gizmodo's Website Explained
Even though its name makes you think otherwise, Gizmodo is not just a tech review website. Instead, it's more of an online lifestyle magazine for tech freaks. Therefore, it discusses all kinds of tech niche topics, from gadgets to electric cars, sometimes even going as far as space travel. The multitude of tech and science topics make Gizmodo a very fun, not to mention an educational, place to be. Naturally, that's how Gizmodo gets a lot of its traffic.
Since Gizmodo aims to be a haven for tech freaks, it offers entertainment recommendations for its target audience. Sci-Fi has the most appeal for techies, and Gizmodo offers visitors many lists of movies and TV shows they should watch. It's a similar story with video games.
When it comes to reviews, Gizmodo mainly keeps to consumer-grade products. Therefore, don't expect to find in-depth reviews of graphics cards, complete with overclocking potential. Instead, things like smartphones, computer mice, and keyboards will be more common. However, to keep things from being boring, Gizmodo will do fun reviews, such as the one on the best retro game consoles. Everything is on a lighter note than hardcore PC hardware review sites, but that's not necessarily a bad thing. On the contrary – it simply attracts a slightly different demographic.
Tutorials are a mainstay of any tech niche website, and things are no different at Gizmodo either. However, following the website's general theme, Gizmodo's tutorials are more casual than its rivals. Most of them are helpful and easy enough that anyone can follow them. Think stuff like blocking ads, protecting yourself from cyber attacks, and the like. Offering such valuable tips to the uninitiated allows Gizmodo to reach a wider audience, optimizing traffic and conversion rates.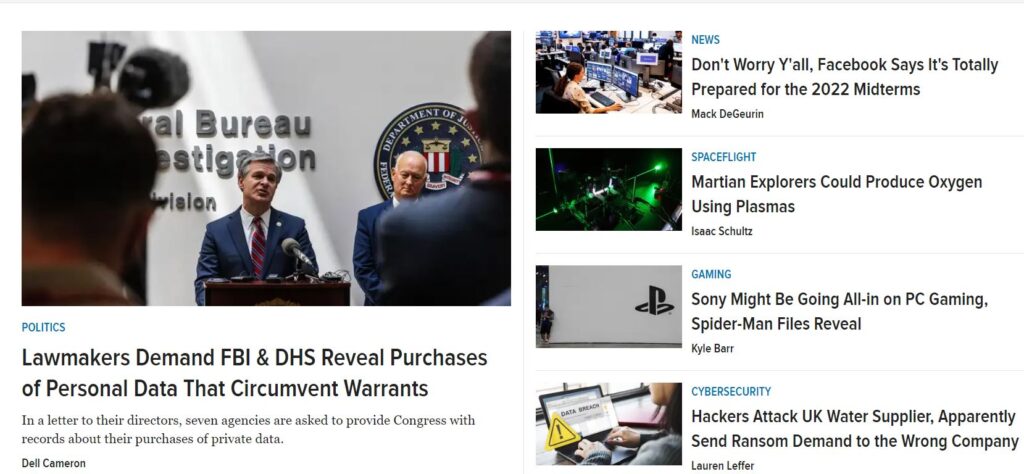 Gizmodo and Affiliate Marketing
While it's true that Gizmodo uses affiliate links in some of its reviews, it's not a pure tech affiliate website. That's because reviews are only one of this site's many types of content. However, providing varied content brings a lot of traffic to Gizmodo's site, making affiliate marketing more profitable.
When planning your own venture into affiliate marketing, know that your website doesn't need to be fully dedicated to marketing. It's even better if it isn't; otherwise, it might feel sterile. Including quality content will bring visitors to your website, which is an essential aspect of affiliate marketing. Therefore, we'd go so far as to say that quality traffic beats vigorous affiliate linking every time.
Gizmodo discusses so many different topics that it will surely inspire your own foray into the tech niche. Try to find a balance between general, informational articles and ones containing affiliate links. Succeeding in both is your best path to a profitable niche website.
What We Like About Gizmodo
Tech lifestyle articles
Tutorials accessible to a broad audience
Laid-back reviews
7. CNET
Not all tech niche sites are meant for enthusiasts. Instead, some go for a wide audience or regular people wanting to get in touch with technology. It's a different approach, but it still provides many opportunities.
CNET is one such website, and it's also one of the oldest tech sites in existence. Since 1994 it's been providing the community with computer advice while gradually expanding into other areas. Today it's one of the most popular sites discussing technology. Let's find out why.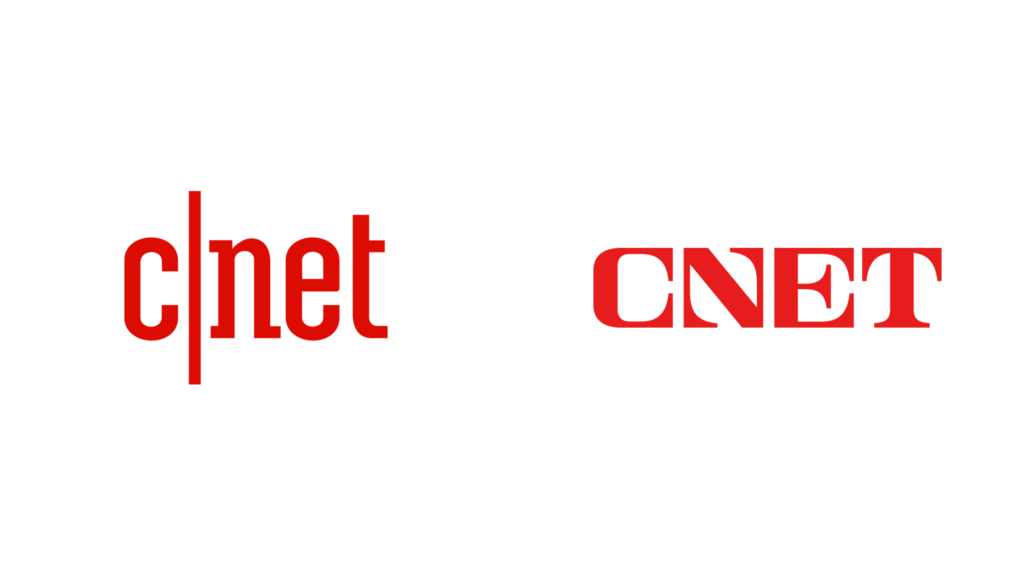 CNET's Website Layout
CNET is one of the most popular, if not the most popular, tech lifestyle website on the internet. It started almost 30 years ago with the aim of discussing PC hardware. CNET followed as the tech world began to develop, providing advice on cars, smartphones, health and wellness, science, etc. Nowadays, it's truly a one-stop shop for the modern tech-oriented person.
Since CNET doesn't focus on a specific tech niche market, it appeals to a broader audience than its competitors. As we already said, a wider audience also means more challenging competition, which is the case with the tech niche. As a result, dull and generic websites quickly die out. However, this is not the case with CNET – it's very much alive, and it's all due to how it manages its content.
CNET provides articles on various tech-lifestyle topics, not focusing on anything in particular. It chooses only the most exciting tech news, products, and discussions to stand out. In that sense, it's more like a lifestyle website than anything else, providing carefully curated content while not overwhelming the reader with unnecessary info. To manage this approach, CNET's team includes specialists in various fields: cars, gadgets, journalism, finance, wellness, etc.
CNET's main job is to promote products as a tech affiliate website. It does that in one of the most efficient ways – by offering readers money-saving possibilities. The website has an entire section dedicated to it, and it doesn't just focus on gadgets and computers. Instead, it provides buying guides and deals on various home appliances.
A unique aspect of CNET's web presence is its shopping extension. It's a browser add-on that helps you find the best deals on any product you can imagine. It takes the whole affiliate marketing thing to a new level.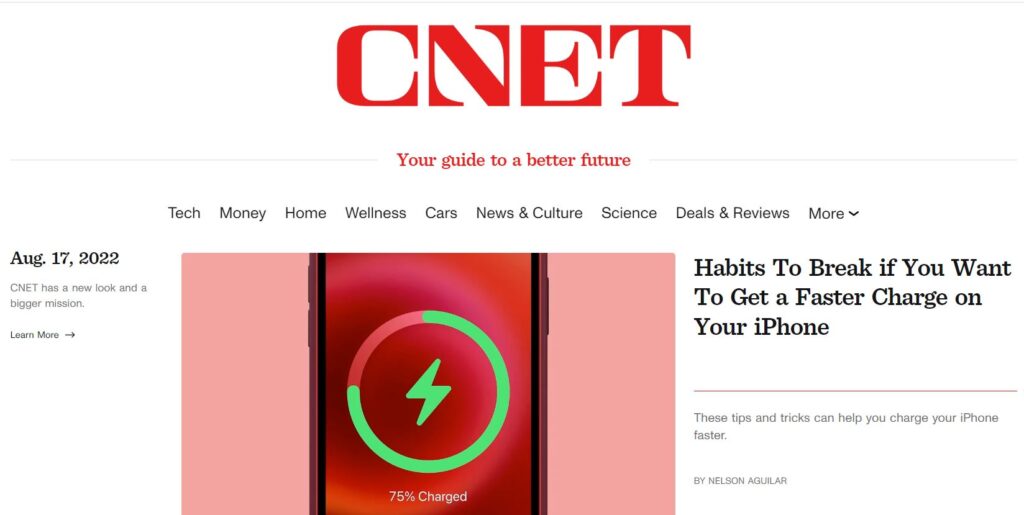 CNET and Affiliate Marketing
As you can probably tell, part of CNET's income comes from promoting products through affiliate links. The company is quite skilled at marketing and can provide the information you need to achieve something similar.
First of all, look at what CNET does to increase traffic. Its articles are fun, helpful, and thought-provoking. Try to emulate that with your own website, and don't get too caught up in promoting products. While it's true that promotions are what get you your profit, you need to have an audience first. Build a following as loyal as CNET's, and your affiliate links will see a lot more traffic and sales.
Secondly, take a look at CNET's deals section. It's one of the best of its kind: it's organized and intuitive, allowing readers to find what they need quickly. Remember, no one likes to spend a lot, so deals are one of the best ways to promote any product.
To help visitors manage costs in general, CNET's deals segment even offers financial advice. Therefore, it can help its audience choose the best credit card, manage stock options, etc.
CNET's shopping extension is the icing on the cake. It provides an effortless way for readers to find the best price on anything they need, not just the items CNET promotes on its site. It might be the future of affiliate marketing, as it allows the marketer to promote an astounding number of products.
While a custom deal-finding app is out of the reach of most websites, it can give you an idea of the importance of bargain hunting. If you don't have the resources for such an app, find another way to offer savings to your readers. It's one of the best ways to optimize conversion rates.
What We Like About CNET
Touches on various topics
Financial advice from a tech perspective
Amazing shopping browser extension
Our Related Services
Sign up for our newsletter to receive SEO tips, discounts and freebies.
Conclusion
The tech niche market is a tough one. There is indeed no shortage of products to promote, and prices are high. However, the competition can halt your tech niche website's success. Many recognize the possibilities the tech market offers and are willing to fight hard for their piece of the pie.
Having a unique online presence is beneficial in most niche markets. With the tech market, though, it's vital. If you don't have anything special to offer, you'll be smothered by rivals in no time. Therefore, attracting and keeping a loyal following should be the first thing on your mind.
One of the goals of our article was to show how the most popular tech niche websites approach this issue. Some focus on a particular niche, and others offer quality information on all things tech. There are, of course, those that even carve out their own niche market. It's evident that there are many ways to stand out from the crowd, and it's you who must choose a strategy.
We hope our article gave you some ideas on how to handle the ever-present competition in the tech niche market. By looking at today's best tech niche websites, it's obvious what you need to do to succeed.