Coffee connoisseur? Looking to monetize your passion? If you answered yes, then this article is for you.
We want to show you how you can cash in passively through the best coffee affiliate programs. These platforms house the best products and, at the same time, have jaw-dropping offers. You are in luck if you already have an active coffee-niched website or a sizable social media following. You can begin right away.
Today, coffee is one of the most consumed beverages, as there has been a significant increase in the demand for the drink worldwide. As it stands, about 65% of the US population consumes coffee every day. According to the same source, about 30% of humans globally drink the beverage daily. These figures are an indication that the coffee market is pretty vast. Therefore, if you play your game right, you could earn a lot of money through any of the coffee affiliate programs.
The ever-growing demand for coffee has led to the emergence of several companies in this specialty. By implication, finding the best ones can be a challenging task. Therefore, we've listed down the most excellent ones after hours of dedicated research. The criteria for drafting this list included competitive commission structure, promotional deals, discounts, product range, and customer feedback. 
Best Gourmet Coffee Affiliate Programs
Hawaii Company Coffee – Overall Best
Gourmesso – Best Alternative to Nespresso and Keurig Pods
Volcanica Coffee – Most Diverse Coffee Types
Coffee.org – Best Specialty Coffee and Teas
Peet's Coffee – Best Side Offers
1st In Coffee – Best Coffee Machines and Longest Cookie Duration
Kimera Koffee – Highest Commissions
1. Hawaii Coffee Company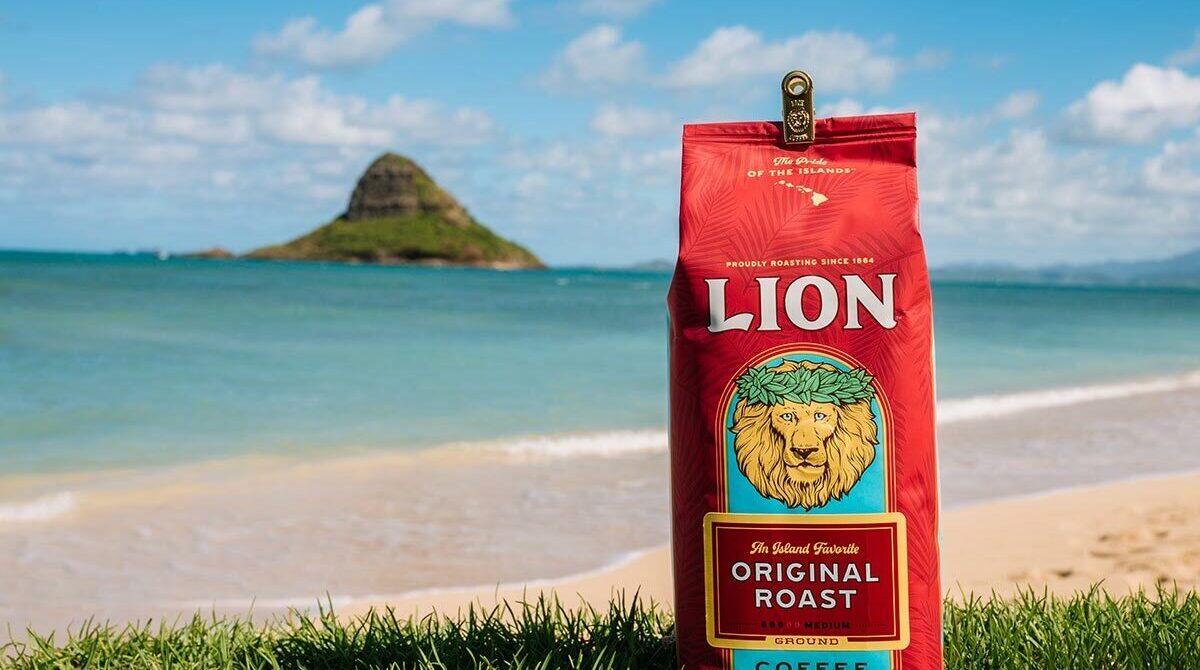 Situated on the island of Oahu in Hawaii, United States, Hawaii Coffee Company is home to the finest coffee and tea brands. The company utilizes Arabica beans and prides itself on its years-long experience. That's the secret behind all its coffee masterpieces, from the oldest LION coffee to the more recent Royal Hawaiian Coffee. The company has also partnered with one of the founders of Hawaiian cuisine, Chef Alan Wong. In the highly competitive coffee industry, Hawaii Coffee Company stands tall as the world's largest Kona coffee roaster.
Since thousands of Americans drink coffee daily, Hawaii Coffee roasts smooth, rich coffee to meet this huge demand. Interestingly, this ensures generous profits for the company and affiliates alike. Aside from coffee, the company also explores alternative sources of income. It has established an entire business services department for the purpose.
Furthermore, the company has an interactive website with a range of benefits to convert mere traffic into actual customers. These benefits include a 10% discount on a customer's first order and a 30-day return policy. Also, the company charges a $5 shipping fee on all orders above $29 to any US address. Find more details here.
Hawaii's affiliate program is an easy way to benefit from the thriving coffee industry without making coffee yourself. What's more, it's completely free and open to all nationalities. The program, which ShareASale manages, offers a suite of tools that aid marketing. Clicking the affiliate program link opens a signup portal asking for your basic details. In fact, joining the program is a swift process that you can complete in only five steps.

Products to Promote
LION Coffee
Originally founded in 1864 in Ohio, LION coffee is Hawaii's most popular coffee. It comes in multiple flavors with different roasts and blends. Additionally, the product contains Kona cherry extracts, an epitome of antioxidants.
Royal Kona Coffee
This coffee brand expertly roasts 100% Kona Coffee beans harvested in Hawaii. With 50 years of expertise, Royal Kona delivers the rich, flavourful taste of Hawaii's nature. Besides the 100% Kona Coffee, you'll also find some other amazing options. These include the Classic Roasts, Decaf, and other flavored subtypes.
Hawaiian Islands Teas
Since 1995, this brand has produced the world's most flavourful tea. It packs the herbs of tropical fruits into flavored teas that have higher antioxidants concentration. Its natural ingredients ensure the tea bags stay fresh even after prolonged storage. They come in many variants, such as Black Tea, Green Tea, and Herbal Tea.
Royal Hawaiian Coffees
In partnership with Chef Alan Wong, Hawaii Coffee Company introduced the Royal Hawaiian Coffee. Unlike others, this coffee brand also brings in the unique flavor of other growing regions in Hawaii. Made into three variants, the Royal helps you explore the flavorful tastes of Aloha.
---
Our Related Services
---
2. Gourmesso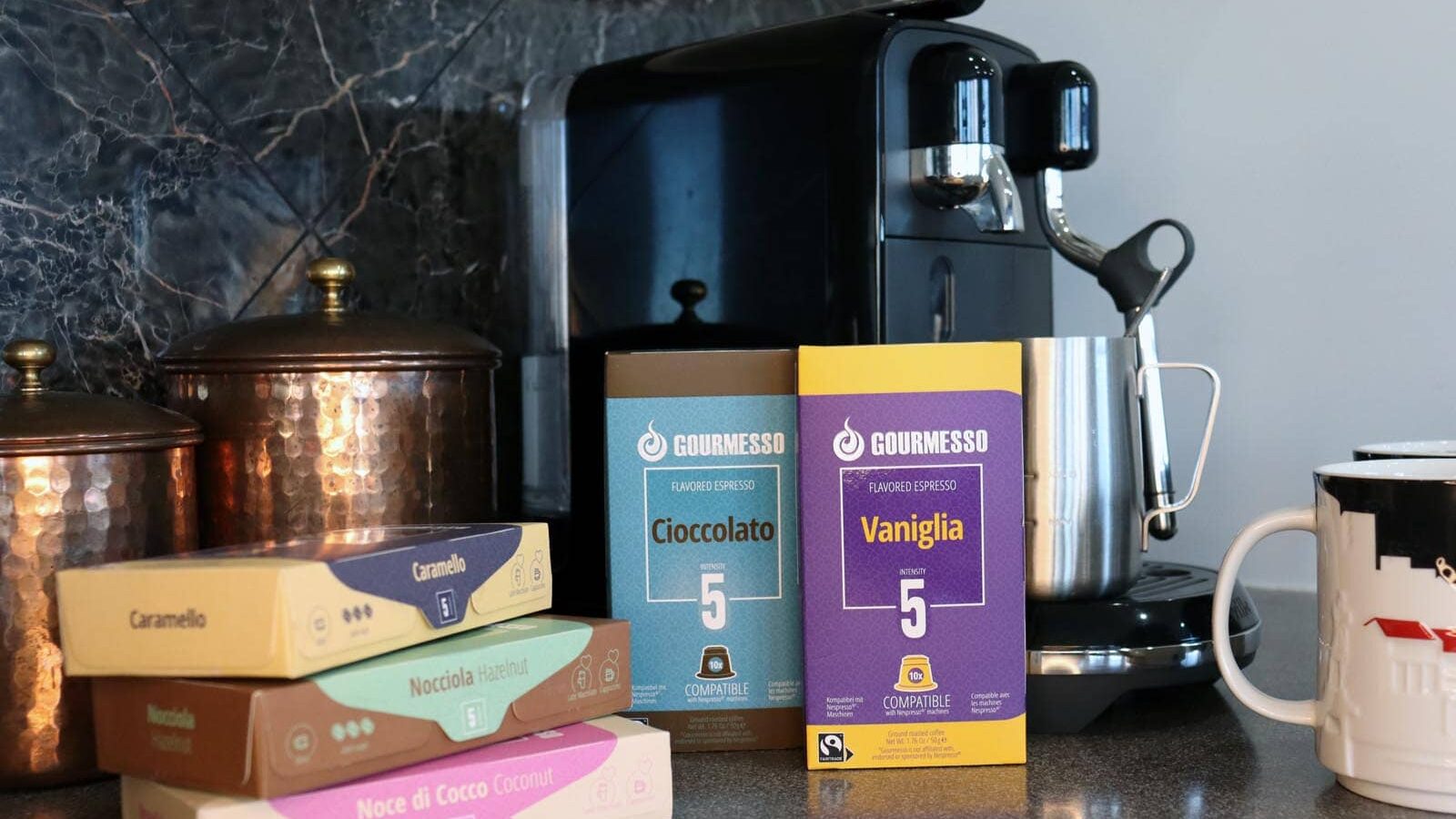 Though it started in Berlin, Germany, Gourmesso expanded to the US markets in 2014. Currently, its headquarters is in Miami, Florida. The brand's mission is to offer affordable and compatible coffee capsules for Nespresso and Keurig machines.
While Gourmesso may not be the ideal brand for coffee specialists, shoppers get to save about 40% with this alternative. Therefore, if you have an audience of Nespresso lovers, this affiliate program is for you. Interestingly, Gourmesso has an average basket size of $58. Hence, you get to earn decent cash promoting this brand.
Buying from Gourmesso is an express process. Thankfully, customers do not have to create an account before they can check out. However, the company runs a Loyalty Program for its account holders. Under this program, it rewards users for certain tasks such as buying an item and referring friends. For example, customers earn "loyalty beans" by just following Gourmesso's social media pages (Instagram or Facebook).
Additionally, as buyers shop, they unlock membership statuses that come with various incentives. Silver and Gold members enjoy 5% and 10% discounts forever after reaching a threshold. It's usually $150 and $500 overall spending mark, respectively.
To become an affiliate, you can join through ShareASale or Commission Junction. The signup process through either link takes roughly ten minutes. However, you'll have to wait for approval to join the program.
Once approved, you get access to all necessary information and materials. In other words, all product details, text links, logos, email formats, and banner designs become available to you. Gourmesso practically provides every resource to simplify your job as a partner. Also, Gourmesso has an ever-present customer care personnel to answer your questions.
Commission: 15% and 10% on all qualifying sales from new and existing customers, respectively
Cookie window: 45 days
Affiliate program: Gourmesso
Products to Promote
Nespresso Coffee Capsules
Currently, Gourmesso touts 25 different flavors of their Nespresso capsule alternative. The selling point of these capsules is that customers save up to 45% on their purchases compared to the actual prices of Nespresso capsules. To fully understand the comparisons by taste, you may need to look into each flavor on your own here.
Keurig Compostable Coffee Pods (Glorybrew)
Gourmesso offers five tasty blends of Keurig pods. The available flavors are Sir Hazelnut, Lady Vanilla, The Duke, The Knight, and The Noble. All items in this category are BPI-certified and have three roast levels: medium, dark, and extra dark.
Teas
Gourmesso also has a section for tea lovers. The area features alternatives to Nespresso tea pods. It ranges from black, green, fruit, and mint. Also, there is the Chai Tea Latte that gives off the aromaticity of anise, cardamom, cinnamon, and ginger.
Accessories
This section mainly includes pod dispensers, cleaning kits, and descalers. Indeed, there are limited items for promotion in this section, but that's for now. Gourmesso makes it clear that it is working on in-house designs of trays, mugs, glasses, dispensers, etc.
---
3. Volcanica Coffee
Volcanica Coffee is a Costa Rican family-owned business based in Suwanee, Georgia. The company specializes in an exotic type of coffee called gourmet. Gourmet coffees are different from the normal ones. The primary reason is the beans it is made from – Arabica; they have a far superior smell and taste.
As the name suggests, it is not surprising that Volcanica Coffee collects its ingredients exclusively from the world's volcanic regions. Needless to say, the company's mission is to provide the finest quality of coffees. In fact, it has improved the overall coffee consumption experience.
The brand has an inventory of over 150 variants of this beverage, including decaf, estate, flavored, dark, and light roasts. Secondly, the website is pretty easy to navigate. Shoppers can easily shop based on category, certification, and region. In fact, customers who buy in bulk can avail of discounts through the wholesale program.
With an average ticket size of $75, affiliates enjoy a high earning potential on this platform. Joining the program is also pretty straightforward and open to everyone who meets the requirements. Just so you know, Volcanica does not manage the affiliate program itself. Instead, it has ShareASale, a top affiliate marketing solution provider, do the job.
Commission: 10% – 15% on all verified sales
Cookie window: 30 days
Affiliate program: Volcanica Coffee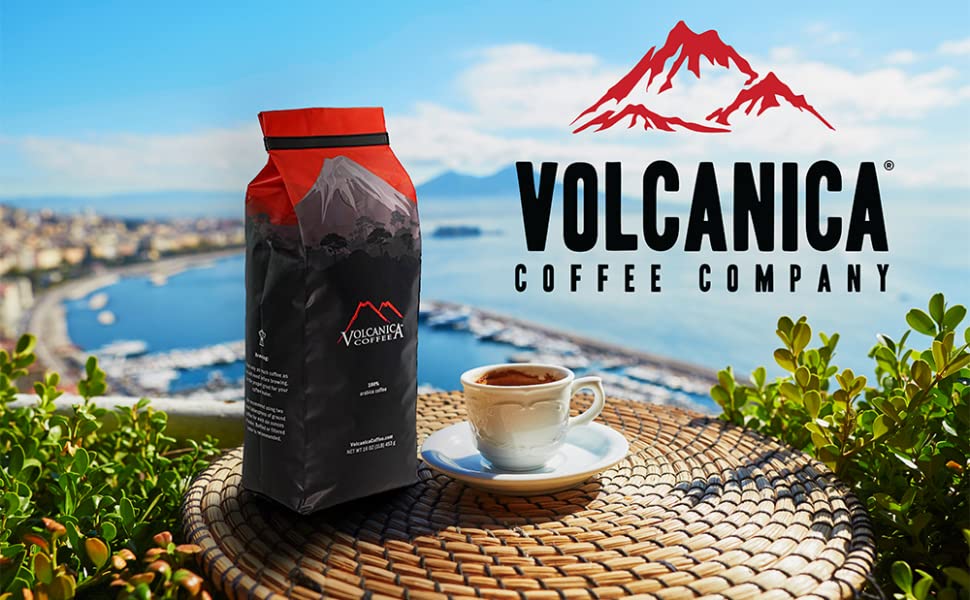 Products to Promote
Hawaiian Kona Coffee
The Hawaiian Kona Extra Fancy Coffee is one of the most sought-after variants. Needless to say, it is a best-seller on this platform. Grown on the fertile grounds of Kona, this coffee variant is 100% natural, unlike several in the market.
Ethiopian Yirgacheffe Coffee
This is a single-origin coffee from the fine southern plains of Ethiopia. It is arguably one of the best variants in the country. We say this primarily because of its pleasant aroma and acidity. The Ethiopian Yirgacheffe has a fruity and winy undertone like many African coffees. It makes a perfect option for those looking to have a light drink.
Kenya AA
Kenyan AA is another top-tier and best-selling product on Volcanica Coffee. This is another excellent option for customers who desire sweet coffee. Unlike the Hawaiian Kona Coffee and Ethiopian Coffee with lighter roasting, the Kenyan AA comes a bit darker. However, it has a soothing feel and gives off a fruity aftertaste like the others.
Gift Boxes
Volcanica Coffee has a gift section for special occasions such as Father's Day. Moreso, customers can shop for love-themed gift boxes for loved ones. The free shipping policy on orders above $60 also applies here.
Accessories
These include air brewers, coffee canisters, e-gift cards, electric kettles, French presses, gift bags, and mugs.
---
4. Coffee.org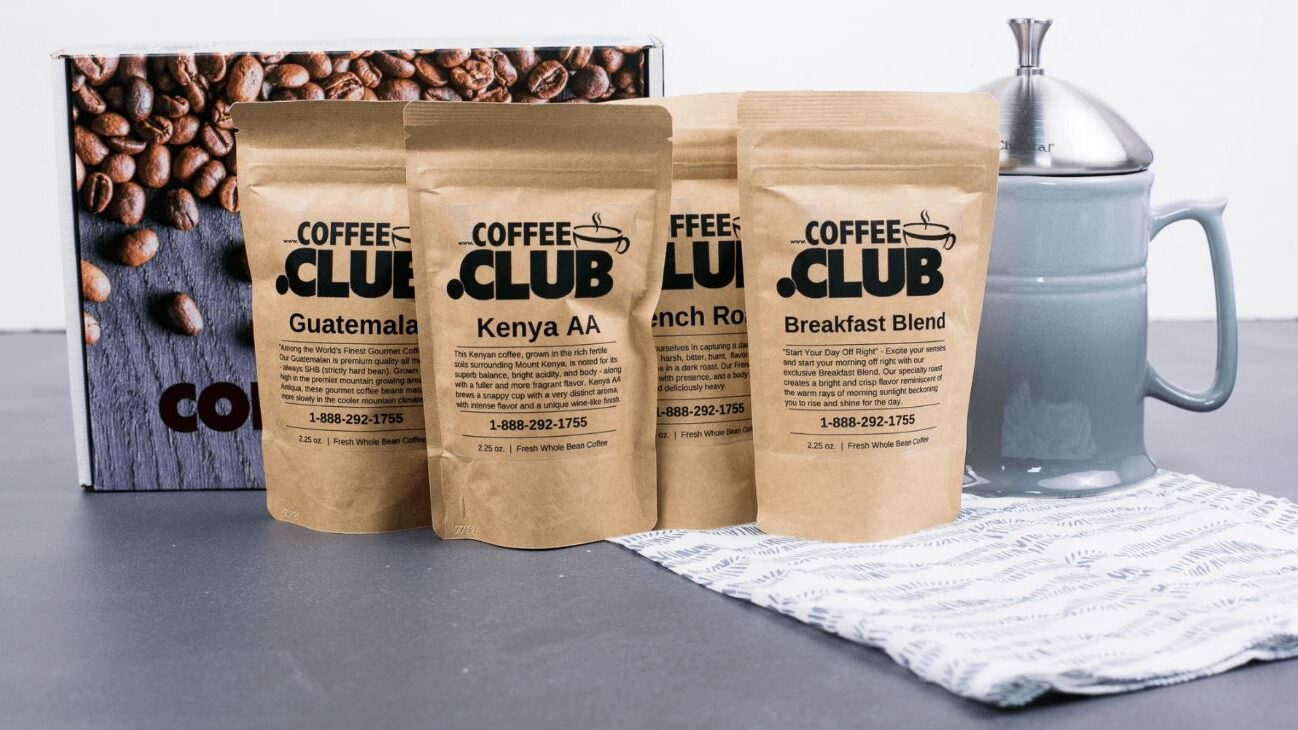 The McClure family opened up Coffee.org's doors 23 years ago in Arkansas. If you are looking for an online coffee store with a vast range of coffees, then this brand is for you. It has five product categories: Tea, Snacks & Cakes, Parts & Equipment, Condiments & Supplies, and Coffee.
The coffee store features products from associate brands. These include All-Day Gourmet, Coffee Club, Coffee USA, Native American Coffee, etc. Besides coffee, Coffee.org enlists a selection of black, flavored, green, herbal, and other forms of teas. It is safe to say that the available items are suitable for any audience of coffee and tea lovers.
We love Coffee.org because of the inherent flexibility of the company. First off, the company has a team of highly-responsive customer care representatives. They respond almost immediately to questions regarding anything. Emphasis on "anything," business-related or not. Their customer service is none like we have seen in a while.
Secondly, the affiliate program is free and open to various content creators. Unlike many other sites that require a website or blog, social media influencers can also be a part of this program. Coffee.org accommodates influencers from YouTube, Facebook, Twitter, Instagram, and what have you.
Coffee.org recruits GoAffPro to manage its affiliate program. GoAffPro specializes in creating affiliate marketing solutions. The platform also has a unique reward program to compensate shoppers, making it easy for affiliates to attract their readers. Customers earn spendable in-store credits (points) and coupons for every qualifying task.
For example, users earn 300 points for signing up and 1 point per $1 on subsequent purchases. Also, when customers refer their friends, they earn coupons worth $8 each. Furthermore, Coffee.org offers loyal customers birthday rewards.
Commission: 10% on successful sales
Cookie window: 7 days
Affiliate program: Coffee.org
Products to Promote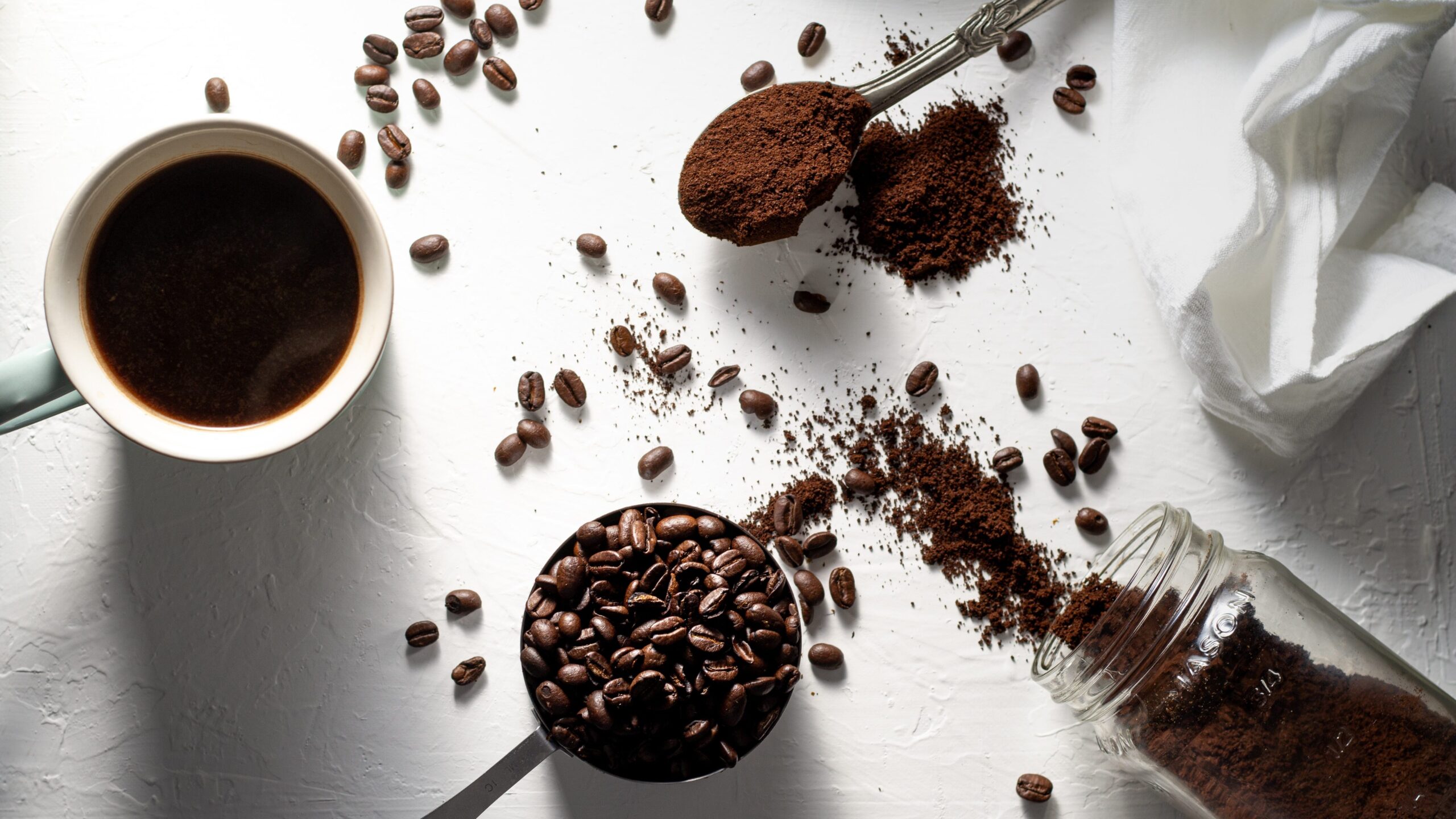 Coffees
As mentioned earlier, the coffee section consists of products from associate brands like Coffee USA, Coffee Club, Native American Coffee, All-Day Gourmet, etc. The catalog also contains items from Folgers, Maxwell House, Miss Ellie's Coffee, and others. The best-selling products include Espresso Italiano, Folgers Cappuccino, Ethiopian Yirgacheffe, and Coffee USA's Classic American Coffee.
Tea
The tea inventory houses over 40 types of teas from Paradise, Lipton, and Bigelow. The overall best-seller is Paradise Flavored Iced Tea. It also features specialty beverages like Peach Apricot, Green Yerba Mate, Egyptian Chamomile, Chocolate Mint, Bourbon Street Vanilla, and more.
Creamers and Condiments
This segment is for canisters, creamers, mugs, sugar, and cleaning supplies for coffee makers and espresso machines. Also, you will find numerous accessories such as filters, heater kits, water pitchers, and more from Bunn-O-Matic under this section.
Snacks and Cakes
While it is unusual to find snacks featured in a coffee store, it is Coffee.org's mission to spice up consumers' coffee experience. Hence, you will find delicious cake and snack boxes up for sale. The available ones are the Banana Walnut Coffee Cake, Blueberry Coffee Cake, Granny Smith Apple Coffee Cake, Pumpkin Spice Coffee Cake, and many others.
Parts and Equipment
Here is a wide selection of low to high-end coffee-related appliances, parts, and tools for home and business use. The list of machines includes coffee brewers and espresso makers by Bunn-O-Matic. Other sub-segment also feature Chemex pour-overs and coffee cleaners.
---
5. Peet's Coffee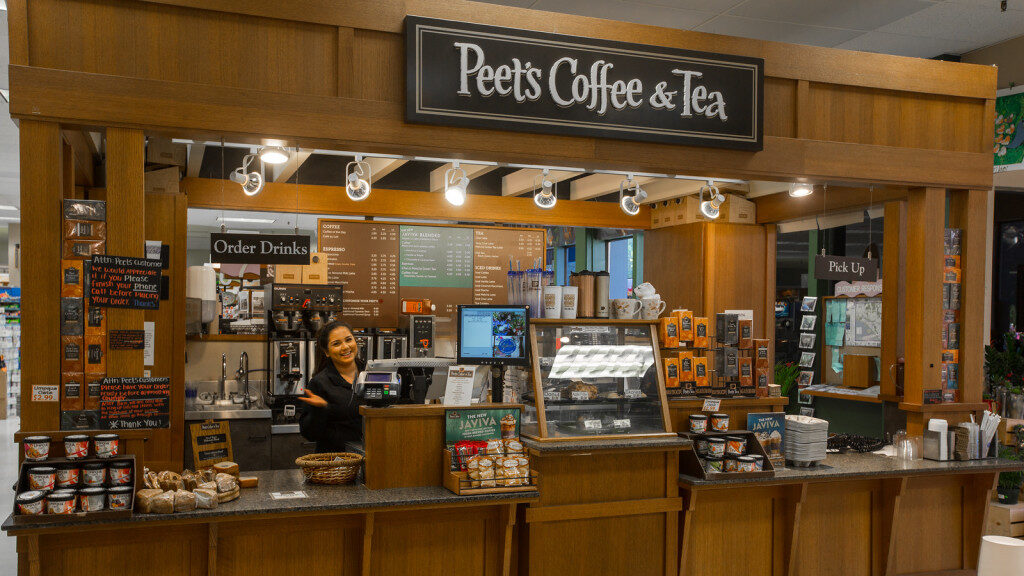 Peet's Coffee was started in 1966 by Alfred Peet in Berkeley, California. The company set out with a mission to bridge the gap between a roaster and consumers such that they can get a feel of freshly-roasted beans. Speaking of that, the company enlists passionate baristas who roast coffee beans by hand. The experts follow the process meticulously, ensuring one-of-its-kind coffees. Because the fresher the coffee, the better the taste, beans are only roasted based on requests.
Several other factors make Peet's affiliate program one to opt for, but we will dwell mainly on attractive services. First, Peet's Coffee runs a subscription program that allows recurring deliveries. That is to say; customers do not always have to place orders manually to get the product. People who subscribe to this program have access to a 30% discount on their first orders.
Additionally, they enjoy a 5% and 10% discount on orders summing up to $30 and $50, respectively. What's more, all subscription orders are eligible for free shipping. Your audience will be more than thrilled to jump on these offerings.
With a long history of delivering the freshest coffees, Peet's Coffee is one of the most popular among enthusiasts. Emphases on "aficionados" because Peet's may not be the best for casual coffee consumers. However, if you have an audience of coffee connoisseurs, we strongly recommend Peet's Coffee. You can get started here.
Commission: Up to 8% on successful sales
Cookie window: 30 days
Affiliate program: Peet's Coffee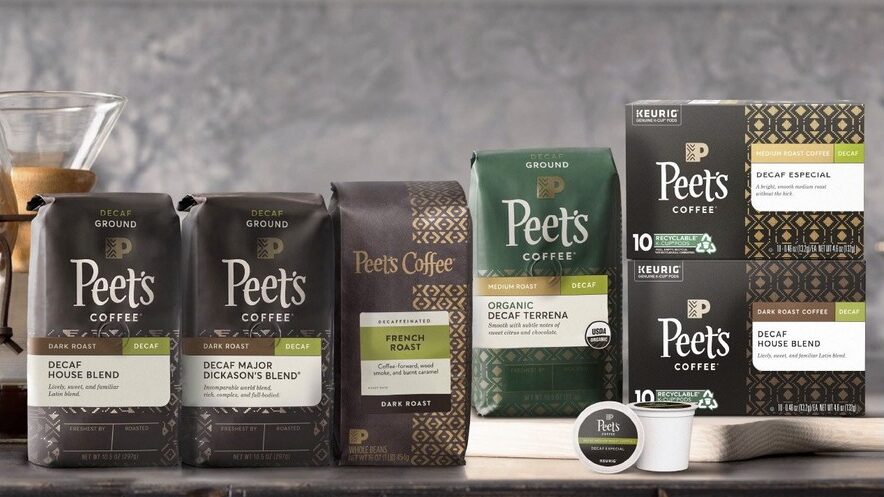 Products to Promote
Coffees
A wide range of coffee variants are available on the Peet's Coffee website. They follow classification by brewing method, roast level, caffeine content, flavor, and region. The best-selling ones are Arabian Mocha Java, Cafe Domingo, Espresso Forte, Major Dickason's Blend, Ristretto Espresso Capsules, and many more.
Teas
Besides being a famous coffee brand, following the acquisition of Mighty Leaf Tea in 2014, Peet's Coffee now features teas in its inventory. Mighty Leaf Tea is also long-known for producing specialty teas as far back as the 1990s. Tea types ranging from black, green, herbal, matcha, oolong, and white are available on the website.
---
6. 1st in Coffee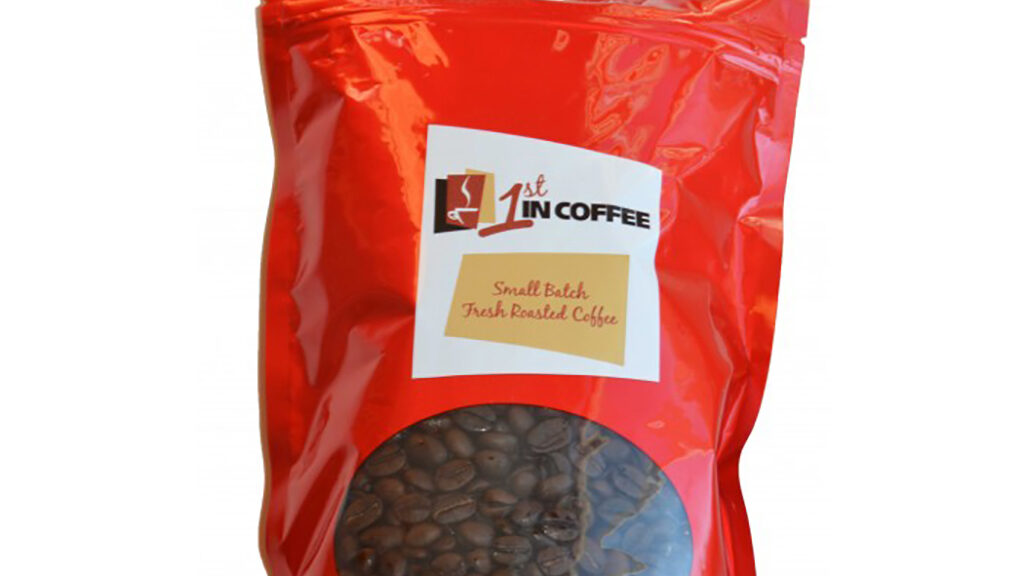 1st in Coffee arrived on the scene as far back as 2002. The online store provides top-quality coffee and coffee-related equipment from some of the best brands. Partnering brands include Baratza, Compak, Delonghi, La Pavoni, Jura, and Nespresso.
We recommend this brand for several characteristics that set it apart from others. First off, the company has an interesting policy; they call it the Lowest Price Policy. This policy guarantees that all the products available in the store carry the standard market price or even lower. In fact, if a product a customer wishes to buy sells at a lesser price on another platform, he can get in touch, and 1st in Coffee will beat that offer. Also, all orders summing up to $50 or more are eligible for free shipping. However, 1st in Coffee does not ship internationally or to specific US places. Find the details here.
We are quite impressed by the extensive library of articles in the website's blog section. Their Coffee Information corner touches on a wide range of topics that are important for many users. These topics include how to use grinders, make espresso, and even buying guides. These materials are very helpful to affiliates for content creation. Speaking of content, you must first be a member of the program before you can earn cash.
Firstly, navigate to the affiliates' web page to begin the process. (Find the link below). Click the link just beneath the "Become An Affiliate" header. Subsequently, you will be redirected to the ShareASale website to register an account or directly log in. Follow the steps accordingly.
Commission: 7% on all verified sales
Cookie window: 90 days
Affiliate program: 1st in Coffee
Products to Promote
Coffee
1st In Coffee's catalog features products from Caffe Vergnano, Illy, Kimbo, Lavazza, and other top coffee brands. You will find capsules, ground, pods, and whole coffee beans in the store collection.
Espresso Machines and Coffee Makers
The online shop also sells a variety of espresso and coffee machines for home and business use. Thus, customers can easily shop for affordable and high-end products from the store. Interestingly, they can also find refurbished ones that cost far less than the new ones.
Accessories
1st in Coffee provides all sorts of coffee supplies, even for specialty drinks. These consist of cups, filters, glacette, grinders, milk frother, tamper, etc.
---
7. Kimera Koffee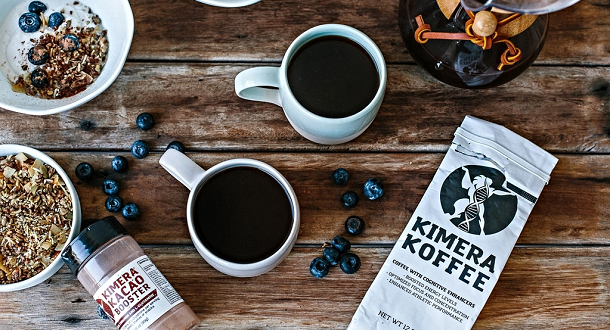 Kimera Koffee is a brand created by three friends: Frankie, Theo, and Numbers. Sprouting from the heart of the Dominican Republic, the mission is to better people's lives. To achieve this, they built Kimera Koffee, marrying the benefits of coffee and vitamins (nootropics).
Safe to say, Kimera is not just another coffee shop; it's a much healthier choice. Along with a delicious taste, its drinks help enhance users' brain function and athletic performance. More specifically, consumers experience relaxation, protection against heart disease, improvement in memory retention, and stress reduction. The constituents that ensure these include L-Theanine, taurine, Alpha GPC, etc. Simply put, more than being just coffee, the product helps sustain overall body health.
Besides creating content around the health benefits of Kimera, don't forget to talk about user bonuses. Shoppers can enjoy 15% off purchases through the GovX ID Military Discount. This provision is available to active and retired military personnel and immediate family members. It also extends to teachers, government employees, firefighters, doctors, and nurses. People who fall in any category can unlock bonuses each time they purchase through GovX ID.
Additionally, customers can sign up for the Legends Lounge's Subscribe and Save. The plan allows for periodic automatic shipments, meaning users do not have to place an order each time manually. Moreover, they enjoy 10% discounts till the subscription is canceled. As an affiliate, you will earn commission continuously if a lead subscribes to Legends Lounge using your affiliate link.
Kimera Koffee manages its affiliate program in-house, making the procedure simpler. All you need to do is visit the program page, input your details directly, and submit. Besides inputting your basic information and website URL, you must also provide your Instagram account.
Commission: 20% on all verified sales
Cookie window: 60 days
Affiliate program: Kimera Koffee
Products to Promote
Coffee
The coffee section is the most extensive category of available products on the website. As it stands, there are nine items in the coffee collection altogether in the ground and capsule form. The best-selling ground variants include the Original, Dark, Amber, and Focus Blend Organic Grounds. On the other hand, the capsules are the Focus and Original Single Serve Pods.
Creamer
The available items under creamers are Kimera Samurai Creamer, Dragon Creamer, and Butterfly Creamer. The Samurai version is a dairy and chemical-free creamer. It is made with coconut cream, collagen peptides, and raw cacao. This keto-friendly option reduces appetite for food, enhances cardiovascular health, and facilitates tissue repair.
The Kimera Dragon Creamer is a vegan-friendly combination of creamy coconut powder and beetroot. It works excellently in boosting the function of the immune system. Beetroot also helps to eliminate inflammatory tendencies and improve digestive health.
Kimera Butterfly Creamer is another vegan-friendly option. It is made from butterfly pea and cashew cream. This helps replenish skin collagen and boost cerebral function.
Drinkware
This simply refers to the beverageware people pour and drink from. This includes mugs, jugs, cups, etc. Find them here.
---
Factors to Consider Before Signing up
Your Niche, Your Audience, and a Company's Products
We have shown you our list; now, it is up to you to decide. However, do not choose based on impulse. We suggest you go for one that matches your interests and that of your audience. For example, stick to Gourmesso if you love Nespresso or have an audience asking questions in that light. This way, your growth potential heightens. Also, if you have a large audience outside the US, go for Volcanica Coffee or others that ship internationally.
Content Management and Marketing
This borders on identifying content opportunities and how sustainable they are in the long run. Opt for appropriate gourmet coffee affiliate programs to promote and do not be swayed by only attractive compensation. All the companies in this roundup provide affiliates with a great deal of help, such as regular newsletters. In fact, a brand like Gourmesso provides virtually every detail you would need. These details include product information, banners, email templates, and ads.
We cannot overemphasize the need to do your homework before signing up for any affiliate program. Online reviews and customer feedback accurately indicate earning potential. Once you can ascertain the market's vastness and that customers always return to buy more, you are in a good boat.
Finally, proceed to sign up once you have identified the best option for you. However, ensure you understand all the terms and conditions. It would be pretty helpful.
Also, pay attention to the commission structure and cookie life. We recommend 1st in Coffee and Kimera Koffee if you want one with a long cookie lifespan. Their commission rates are also considerable.
Final Thoughts
Indeed, the coffee niche is one for passionate and enthusiastic beverage lovers. Joining one of the top coffee affiliate programs is a fantastic way to make money off that passion. That said, you now have a list of seven of the best coffee affiliate programs with high commissions covering virtually all coffee niches. The companies in this roundup have scopes touching on espresso machines, specialty beverages, Nespresso compatible capsules, etc. Mind you, only go for one that matches your interests and conditions you can live by.
Our Related Services