The following was written by one of our clients. We're not revealing the URL in order to preserve the client's privacy.
Hi guys, I thought I should share my experience with a niche site I started 15 months ago, which reached an L6M average of $4000 a month.
Timeline & Execution
I started this site in August 2020 and spent far too much time and energy on trying to make the site look nice with logos and graphics etc.
I then bought the Rehub theme as my friend had used it and I liked the layout. I chose to use Elementor for simplicity and flexibility (not knowing how slow it was).
I chose a fairly broad outdoors niche and created a fresh domain with no links – picked a good domain name in my view, partial match, with a relevant keyword in it.
I already had experience in the niche and access to a lot of products via friends, family and business contacts.
I then started writing content myself – 80% reviews/best type articles, and 20% informational.
I also created around 100 different social accounts but concentrated on Facebook, Twitter and Youtube.
I did two redirects of non-relevant sites I bought off Fiverr for around £20 each, which had DR 90 backlinks from sites like the BBC. Redirected each to specific pages on my sites. This seems to have caused an instant rankings boost by around Nov 2020. I repeated this again in Feb 2021.
I was writing all content myself at this point, still looking for a decent content agency to use.
Related Services
Sign up for our newsletter to receive SEO tips, discounts and freebies.
I bought a few links from Authority Builders. I also started writing to website owners myself and got a few guest post links that way, some very cheap.
I did a few YouTube videos in Oct 2020 – this was part product reviews, which I then linked to the website from. This seems to have helped establish authority in the niche (EAT if you wanna call it that), and there was an apparent rankings boost.
I also did multiple links per month from a guy on Fiverr for around £60 per link from DA 40 to 60 sites. To my surprise, this also did wonders for the rankings.This was from Feb 2021.
I also solved my content creation problem, and added 2 x 50k word buckets of content over the year with Web Asset Builders. Some of these pages are ranking on position 1 with no backlinks pointing to them.
Traffic skyrocketed in March 2021, with affiliate commission rising to a peak of £5000 (~$6700) in August.
This is a seasonal niche, but rankings have lasted throughout Nov/Dec 2021 even though I've done no additional link building.
Monetization is split almost equally between Amazon UK and another affiliate program. I also added Ezoic in October, and did $950 in November with them, with little to no effect on other earnings. This is helping me maintain the site's earnings while it's off season.
Results
Google Analytics
Search Console
Amazon:
Second Affiliate Program:
Overall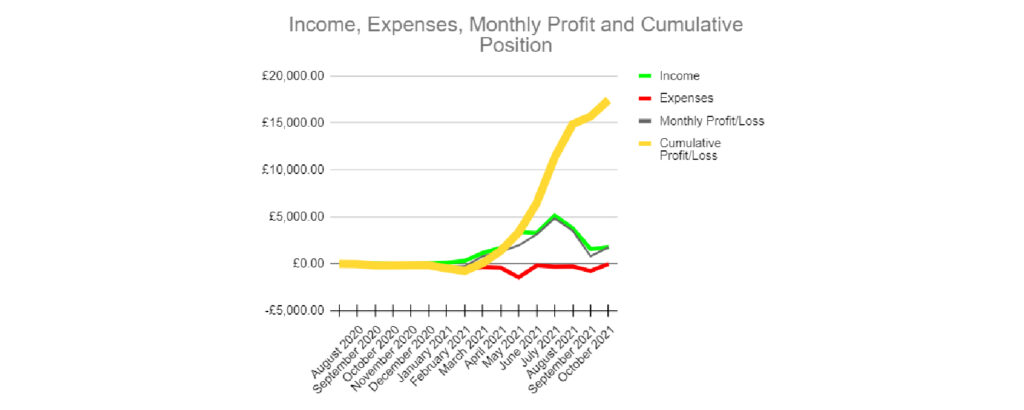 Future Plans
Hoping for big traffic in 2022! The season is coming up and with all the new content we've been doing, I expect much higher returns next year. Not quite sure if I'll be doing a lot more link building as I'd like to minimize risks there, and as the website seems to already be considered an authority in the niche according to Google.
May 2022 update (by WAB staff)
Although we don't have an exact update on earnings, this website continues to grow and has grown by approximately 50% since the time this case study was written, which was December 2021.
Here's an updated Ahrefs screenshot: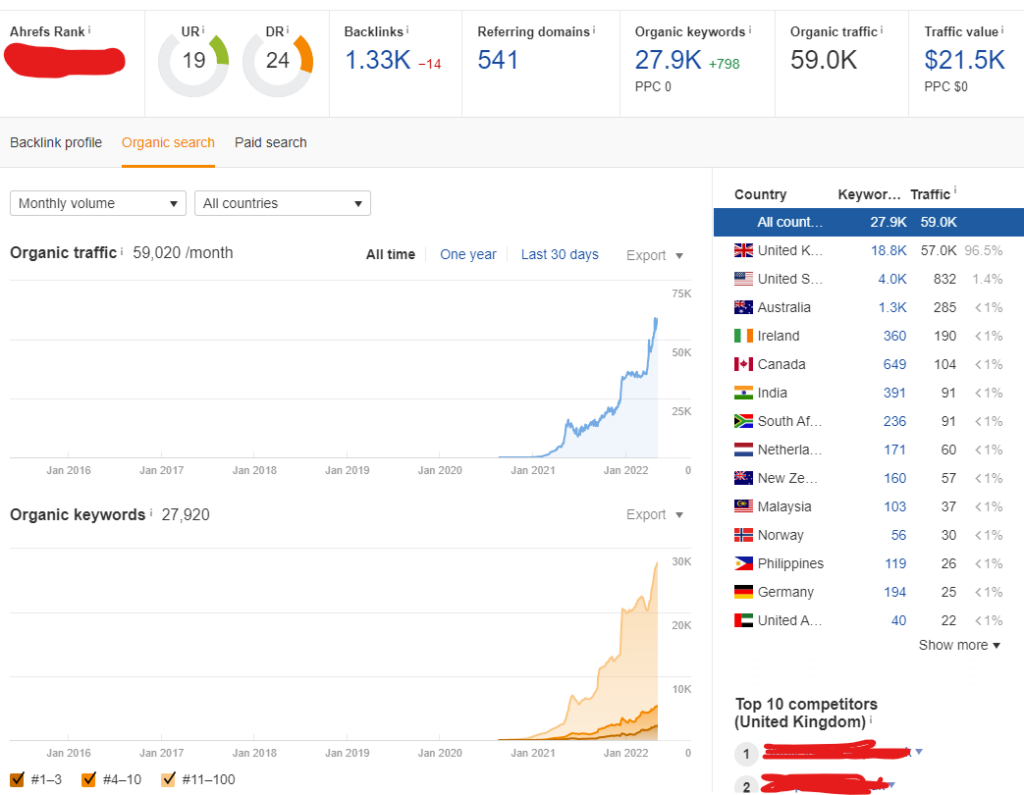 Sign up for our newsletter to receive SEO tips, discounts and freebies.
Related Services