Whether you are an interior designer, home contractor, or simply looking to renovate your home, you might find yourself scouring the internet for some good home improvement sites at one point or another. Home improvement websites are a great way to gather insights no matter what kind of a project you are working on. The best guidance, tips, tricks, and ideas are just a few clicks away, all thanks to the digital world.
Not only can you get the best guidance from home improvement sites, but also the latest trends and what will sell in the market. Regardless of the type of your project, having this information can never hurt. Instead, it can add more value to your work and save you money as well. Hence, be it for a client or your own house, we have the 14 best home improvement websites of 2022 for you. Let's dive in to find out more. 
Our Related Services
Sign up for our newsletter to receive SEO tips, discounts and freebies.
Best 14 Home Improvement Websites of 2022
1. Family Handyman
Family Handyman calls themself DIYers' best friends. They make home improvements 10x easier with their detailed guides on almost every topic related to the subject. Be it installing an appliance or finding resources for a project; Handyman has you covered.
Not only do people love their how-to manuals and tutorials, but they also appreciate their digital resources, including prints, plans, and instruction manuals. From curb appeal to spring cleaning, you can find almost every kind of project on this website. In case you cannot do so, contact their team, and they'll guide you even better.
Moreover, they publish a magazine that is the oldest and the largest DIY publication to date. It talks about repair tips, expert advice, storage solutions along with complete DIY projects. Since the magazine describes every step of the project in detail, you'll have almost zero trouble implementing them. The good news is that the magazine is currently available at a 71% discount which means a huge saving. Family Handyman is also a part of Taste of Homes, Reader's Digest, and Bird & Blooms.
The brand also has a very interactive and easy-to-navigate website that smooths the user experience. They have categorized their articles into different domains that include outdoors, home inspiration, garage and workshop, pest control technology, interiors, and whatnot.
If that's not enough, check out their life-saving videos. They thoroughly demonstrate each project in a video to help the audience better understand the idea.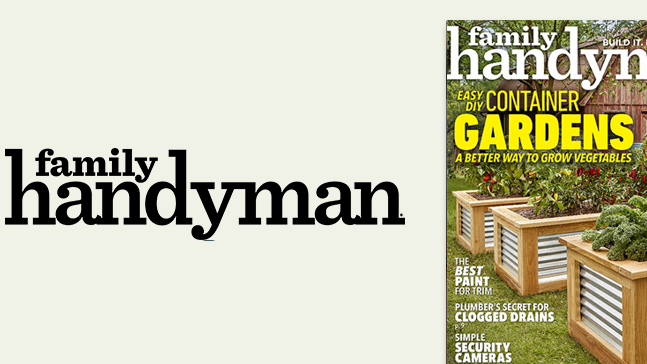 What We Loved About This Website
No matter what kind of project you are working on, if you ever need a detailed how-to guide, Family Handyman is the place to go. For this reason and more, they have been at the front in the race and gained a special place in the industry. Here are some more things that we love about this website.
Covers a variety of home improvement topics
Manuals on DIY skills and techniques
Separate guides on outdoor and indoor projects
Installation guides for home appliances and technology
Video tutorials
Project plans
Latest trends and style inspirations
2. Centsational Style
Centsational Style has all things DIY with Kate Riley educating you on smart home improvement, interior design, and creative DIY projects for your spaces. From making wall art to revamping your entire bedroom, here, you'll find everything you need to know. The website also offers exclusive tips and tricks regarding the project so you can optimize your time and effort even more.
Kates's projects have been featured on several platforms, including HGTV Magazine, Do It Yourself, This Old House, Apartment Therapy, Better Homes and Gardens, Cottages and Bungalows, and many more. Apart from this, Kate has also partnered up with several brands to bring her followers the best deals, discounts, and offers. Some of these collaborations include known brands like Ikea, The Home Depot, Lowe's, Pottery Barn, Wayfair, and many more. We like the idea that Kate shares her view of the products she promotes instead of just putting them out there for the readers to figure out themselves.
Visit Centsational Style now for amazing deals and discounts. 
The website also has a collaboration page that takes you behind the scenes and shows you some highlights of the collaboration. Kate also has an art company called Restless Art, where you will find exclusive home décor items like digital downloads, calendars, and prints. Every piece of art available in this section is extremely high quality and super attractive. The details covered in them make them quite captivating to the viewers. Moreover, it offers a collection of excellent home design ideas for your inspiration that you can tweak according to your preferences.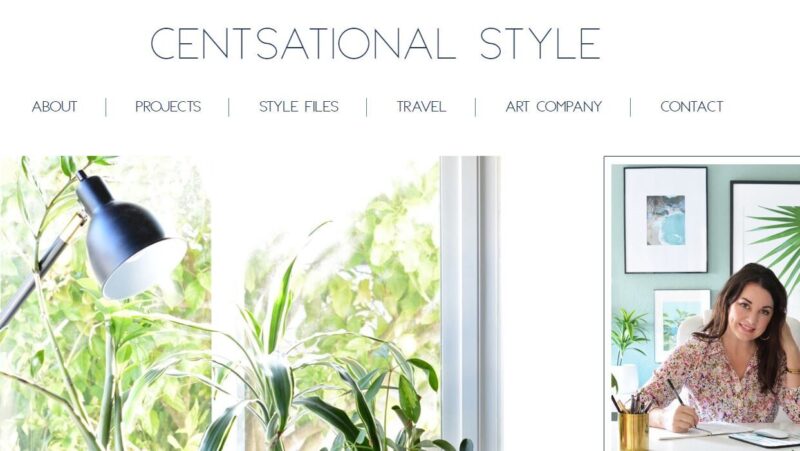 What We Loved About This Website
Centsational Style is the ultimate website for home décor, especially if you are into DIY. Here are some of the website's highlights that will surely make you bookmark the site for your future projects.
Easy to understand and in-depth project guides
Frequent collaborations with home décor, interior design, and home improvement brands
Interesting offers, deals, and discounts
Separate style guides and designing insights
Travel stories for entertainment
Art company for exclusive prints and other home décor products
User-friendly website
3. Fixr
Since 2008, Fixr has been helping thousands with their home renovations, remodeling, and repair projects. Therefore, if you are looking to estimate budget-friendly costs, hiring advice, or industry trends, Fixr is the go-to. Along with detailed guides on projects, they also provide expert-reviewed manuals and articles. Industry experts fact-check the content on the Fixr website, using the latest research, and ensure that the information is consistent and complete.
Apart from this, Fixr portrays complex data and numbers in a way that is easy for everyone to understand. This is especially helpful for people who don't belong to this industry or are just stepping in. You get all the relevant information by simply sifting through their articles.
Another thing that makes Fixr stand out is their unbiased opinion. If you go on their website, you won't see any ads. The reason is that Fixr doesn't collaborate or "sell" anything. It is a vendor-independent website that provides content thoroughly researched, well-written, and reviewed by industry experts. Every word you read here oozes experience, skill, and expertise. Even the industry experts turn to Fixr when they need help, especially with cost guides.
So, if you are looking for a cost guide or home improvement manual, pay Fixr a visit.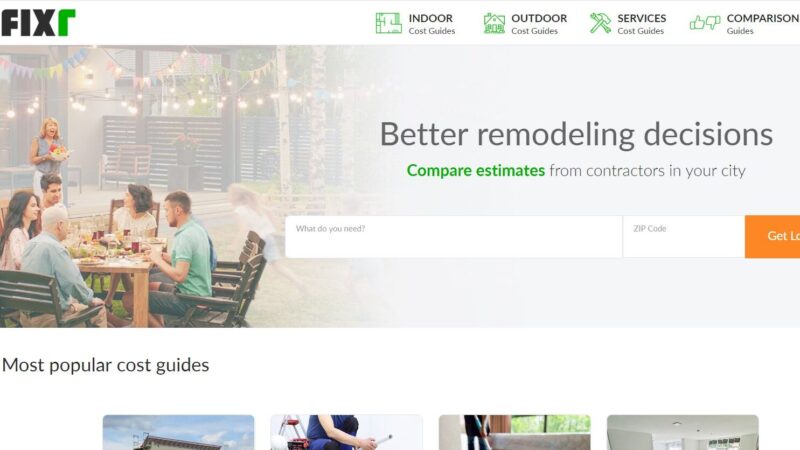 What We Loved About This Website
Fixr has been a huge help to many home builders, interior designers, and home remodelers, especially the newbies. They provide the most legitimate knowledge from credible sources that never goes wrong.
Content is written by cost researchers and writers
The articles and blogs are reviewed by industry experts
Unbiased content
Easy to understand data
In-depth FAQ section
Credible editorial process
User-friendly website
4. Bob Vila
Most people know Bob from a variety of TV shows, including This Old House, Restore America, and Bob Vila's Home Again, to name a few. Bob has dedicated more than thirty years to television, helping people upgrade and use their spaces best. Needless to say, they hold a special place in their users' hearts.
On Bob Vila, you will find everything you could want for remodeling, renovation, and tackling home projects. Whether looking for a detailed tutorial to build something, paint or maintain, this site has in-depth guides on every topic. Apart from this, you will also find useful articles that can help make your home improvement project easier. You can also subscribe to their newsletter to stay updated on home improvement tips, trends, and other insights on the topic.
Another highlight of this page is the 'Find Info' section. Here you will find every category, from basements to walls and ceilings and their related projects. So, no matter what problem you have on hand, Bob Vila has the solution to it. Simply write your query in the search bar, pick a category from the given options or scroll through the list of articles to find your answers.
Visit their "Get Ideas" section to browse through hundreds of project ideas and home solutions that you can then implement in your own space.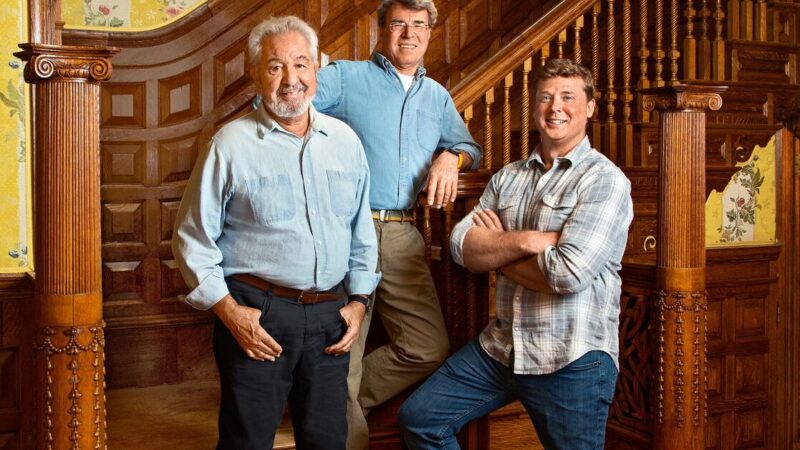 What We Loved About This Website
Bob Vila, undoubtedly, posts tried and tested content that is great and trustworthy advice for thousands. Here on this website, you will find tips and tricks that actually work and advice that can make your life easier.
In-depth tutorials on projects under all home-improvement categories
Blogs and articles giving tips and tricks regarding home-improvement projects
Project ideas for homes
Frequent deals and discounts from trusted brands
Home renovation, remodeling, and interior design TV shows
5. Bill Huey + Associates
If you are looking to remodel your space and need experts working on it, Bill Huey + Associates is the place to go. They are an architecture and remodeling firm offering everything from 3D rendering of your home to design development. They have been in the industry for more than twenty-two years now, and over this period, they have created an efficient process that doesn't empty your bank.
The brand has produced exceptional results in the residential as well as commercial sectors. Don't take our word on this; check out Bill Huey + Associates' portfolio to get a better look at their projects.
They also have a breakdown of their entire process on their website that can help you get a better idea of what you are getting into. Thus, if you are looking for professional help in remodeling any space, Bill Huey + Associates can prove to be an excellent choice.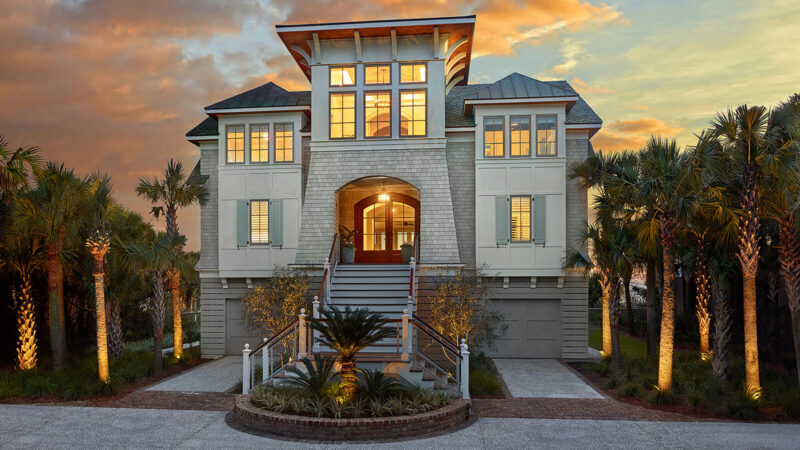 What We Loved About This Website
Bill Huey + Associates has earned a rightful place when it comes to architecture and remodeling. They have been in the industry for more than two decades and proved their position through their work. Here is an overview of what stood out to us.
Detailed process to gather client's needs
Delivers what's needed of them exactly
High-end style
A minimal and interactive website, giving a more user-friendly experience
Efficient working by the team to save time, money, and other resources
6. Houzz
When it comes to home remodeling and interior design, Houzz is the inspiration of many professionals. They are a go-to when it comes to gathering information and taking inspiration for home projects. Their picture stash is where you will find tons of related projects to get a better idea about yours.
Not just that, you can also find professionals and vendors for your home projects. Whether you are looking for a design professional or construction, if you like someone, you can hire them directly from the Houzz website and start your project.
The brand also offers affordable home improvement tools to help you with your project. Another great thing about Houzz shop is its range of furniture and products. They have almost every style available, categorized according to the department it belongs to. You can also take a look at their "before & after" to get a better idea about the execution of the process and the results.
Lastly, the discussion panel is another unique feature that its competitors lack. Houzz has an entire section on its website dedicated to discussing design dilemmas and finding solutions. Participate in their discussion now and get your mind cleared up.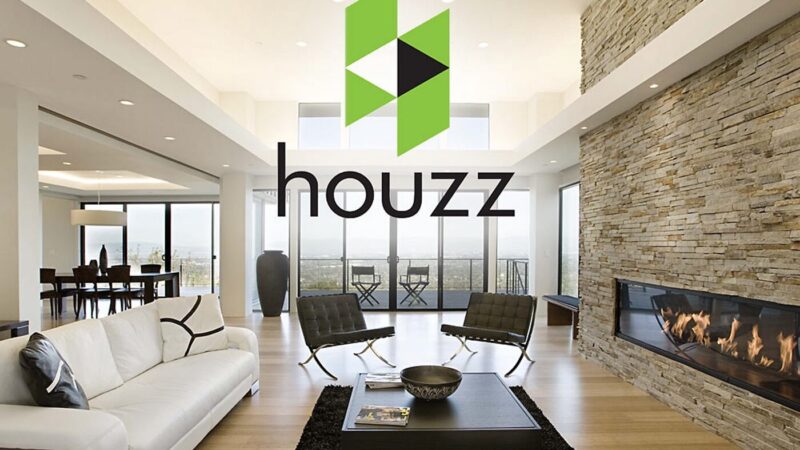 What We Loved About This Website
Houzz has been a fan favorite for a very long time, and for all the right reasons. We have listed some of the most prominent features that make Houzz a major win.
Thousands of pictures for inspiration
Easy filtering and navigation
Easy access to local contractors, vendors, and design and construction professionals
Wide variety of products to shop from
7. Dwell
If you already have the idea, sense, and the resources to remodel your next space but lack inspiration and style, Dwell would be your best friend. Here, you will find the best design advice that will make your space feel better and utilize it to its full potential. They are one of the few platforms that offer functional, humanistic, and forward-looking design advice all at once. Thankfully, they also give you the hidden insights, tips, and tricks to execute those design advice and implement them in your project.
They have been in the field for more than twenty years and have built quite a collection of projects during this time. You can find everything ranging from outdoor projects like cabins to luxury indoor projects. Plus, they also have home tours, before and after, latest tech innovations, roundups, and much more to make your home improvement processes easier, smoother, and forward-looking.
Visit the website, connect with a professional, and take a home tour right away. 
Besides, you can also shop from Dwell, where they offer a wide range of furniture, tools, décor, lighting, bed, bath, and more. You can also look through their guides if you are confused about a certain design aspect. Everything is well-documented according to its category.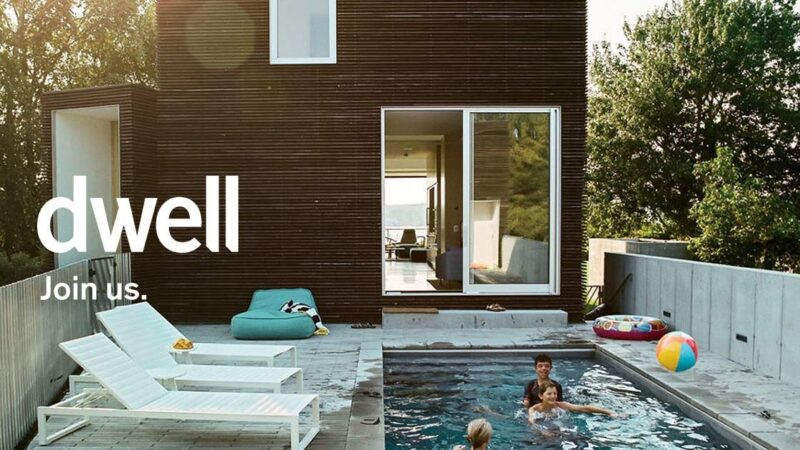 What We Loved About This Website
Dwell has helped thousands of designers and remodelers, both beginners and professionals, with their design needs. Some features that make them stand out from their competitors are listed below.
Versatile design advice
Provide functional design guides that are not just for the aesthetics
Collection of photos to help visualize the design better
Unique range of products to shop from
Educate users on the latest design trends through their online magazine
Home tours and videos for more design inspiration
8. This Old House
This Old House has been helping millions since 1979 with its expert home-improvement advice. Here you will find practically anything related to home remodeling and renovation projects. You can also access their video tutorials, featuring a variety of series on different topics. This includes tips and tricks, guides, live sessions, question and answer sessions, TV listings, and the show itself, This Old House.
The basics of their website are remodeling old homes and tackling the challenges faced during the process, but that is not all. It also offers thousands of how-to tutorials, guides, and information available for building a project from scratch. Not just that, you will also find a lot of useful information regarding the latest trends, design, and style elements.
Another great thing about This Old House is their shop. You can directly shop all kinds of home products from their website, and while you are at it, you might as well look at their guides and blogs to get a better insight about the products.
Apart from this, they also have a newsletter discussing what's trending and expert insights on styling. You can also benefit from their collaborations to win exciting discounts and deals, often found in their newsletter. They also have a podcast up and running, which again serves the purpose of giving first-hand design advice to the listeners.
Sign up for their newsletter for the latest trends, news, and ideas. 
Another thing that stood out was the mobile app that other home improvement platforms lack at this point. With a mobile app, you have everything just a few clicks away. This makes things extremely smooth and accessible for day-to-day use.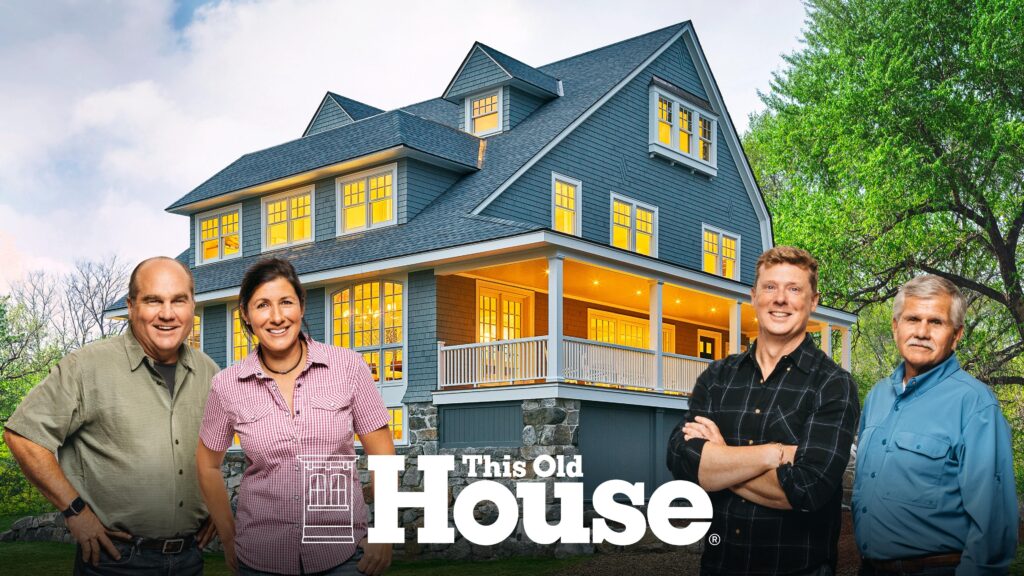 What We Loved About This Website
As the name suggests, This Old House mainly focuses on remodeling old homes. They have tackled thousands of projects and generated a treasure of useful information on their website to help their followers. The benefits don't end here; they have a lot more to offer.
In-depth guides on remodeling old homes
DIY projects with detailed guides
Podcast and magazine containing the latest design trends and insights
Categories of all previous projects for better understanding and inspiration
User-friendly application
9. CostHelper
Whether you are remodeling your very first home or have quite an experience in the field, the cost is something that may bother you regardless. Thankfully, websites like CostHelper are here to help you out with just that. The professionals at CostHelper help you figure out exactly how much you should be paying. This website also compares prices and helps you make a more cost-effective decision where necessary.
CostHelper, as the name suggests, is all about helping people make the best decisions when it comes to saving money on home improvement projects. They give complete information about how and where they can cut the cost for a certain project. Moreover, they have a very professional team that makes the content on their website credible and guaranteed to achieve users' goals.
One great thing that we have not seen a lot is the DIY alternative where possible. However, this site describes alternatives to almost everything you may need so to keep your project going without much of an additional cost. Explore some of their projects to better understand their work processes. 
CostHelper doesn't only provide cost reduction guides on home improvement projects but also on a wide range of other topics as well. This includes car repair, healthcare, personal finances, pets, and pet care, schools, training, sports and fitness, and small business, to name a few.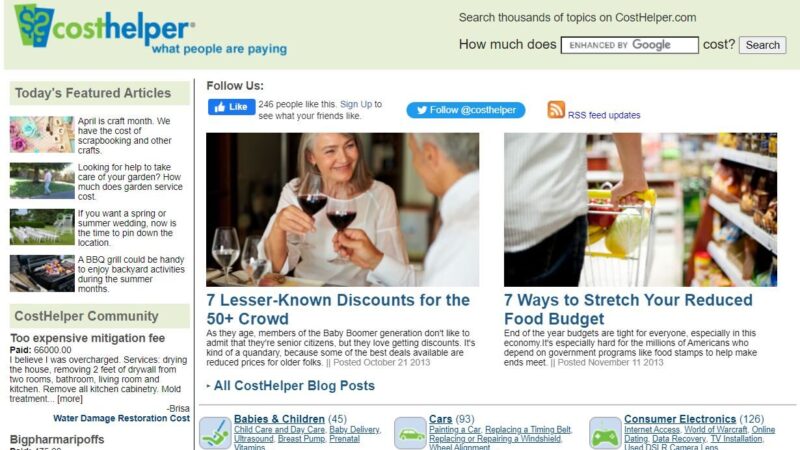 What We Loved About This Website
Who doesn't want to save money, especially when it comes to projects like home improvement where you are already investing a lot? To help people out with their home project costs, CostHelper offers credible, humanistic, and doable advice that can actually help you a lot. Here are a few more things that we love about CostHelper.
Helps cut costs by offering cheaper alternatives
Suggests DIY options where possible
Professional staff
Not limited to home improvement projects only
Helps compare prices before making a decision
Expert created content
10. Modernize
Modernize is one of the most comprehensive websites when it comes to home improvement. They walk you through each step in great detail and provide you with helpful resources that can help make the process smoother. Their cost calculator is one of the most loved tools on the website. It helps home renovators plan their budgets and make cuts where needed.
Professionals at Modernize are dedicated to helping homeowners make the best use of their place. They not only provide functional and forward-thinking advice but also help make cost-effective decisions along the way. Modernize has formulated a very thorough process where they are with their clients every step of the way. From planning to the execution of the project, they will make sure that things go smoothly and everything is in place.
Modernize has completed more than seven million projects and its clients seem to be very happy with them. They have a satisfied client record, and their contractors are also the industry's best. They only hire professionals who are known to get the job done.
The brand also has detailed guides and blogs on its website. Here, you will find everything from remodels to home warranty, home security, AC and heating, etc. Moreover, they also have interior guides such as cabinets, stair lifts, and flooring, to name a few. Similarly, they also have guides and articles for exteriors such as solar power, doors, sliders, gutters, and whatnot. Go through these guides to find all your answers at once.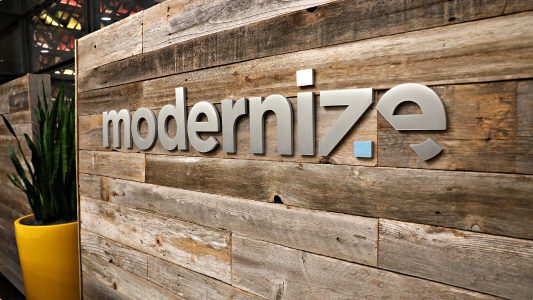 What We Loved About This Website
Modernize is one of the internet's most trusted and credible home-remodel websites. Their professionals are among the best ones on the market that stay with you throughout the process and ensure that it goes according to your vision.
Highly professional contractors
A thorough process to ensure you get what you want
Excellent performance history and client reviews
Detailed guides, blogs, and tutorials that are free to access
11. Architectural Digest
Architectural Digest is the go-to place for luxury design inspirations for commercial as well as personal spaces. They offer professional help and a plethora of interior and exterior design ideas to play with.
The website has detailed guides on all things home improvement. Whether you want a quick how-to on a certain matter or want design insights for your next project, Architectural Design has got it all. One of the most interesting features of this website is the celebrity style. In this section, you can explore your favorite celebrity's home style and implement it in your own space if it seems feasible to you.
Apart from this, they also have blogs and articles on lifestyle, which is also a great place to find smaller home improvement projects. They describe every detail from the beginning to the end, ensuring you do not face any blockers during the process.
Subscribe to their newsletter to keep up with the design trends and enjoy exclusive deals and discounts.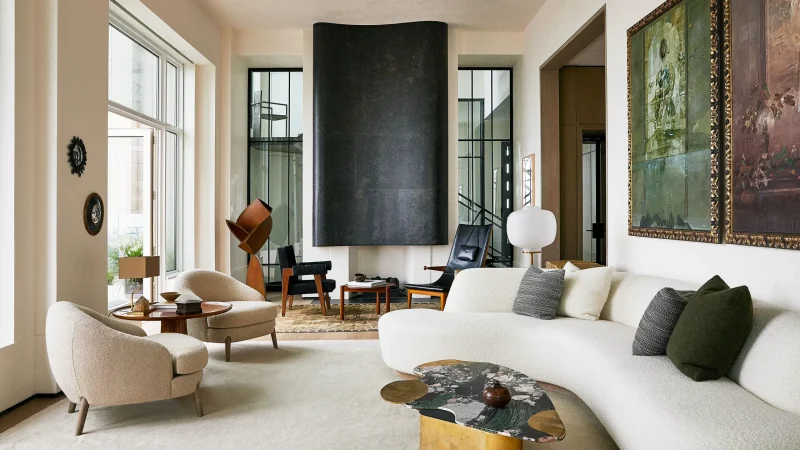 What We Loved About This Website
Architectural Digest has gained its rightful position in the field due to constantly providing the best architecture and design tips. Here are a few more reasons to love them.
Composed and comprehensive style guides
Covers all design categories; hence very versatile
Houses design and architecture from all across the globe
Exclusive discounts
Newsletter for all the latest design trends
12. House Logic
If you ever find yourself questioning your decisions while remodeling a house, turn to House Logic. The brand stays true to its name by trying to add logic to your choices that you might not be certain about. Its advice and recommendations are among the most trusted and followed in the industry.
Along with home improvement, they also offer guides on other related topics such as buying and selling property. Apart from this, you will also find insights on house hunting, negotiation tactics, and tips on moving into your new home.
Since the people at House Logic are well-experienced and skillful, they understand the issues you may encounter during your projects. Thanks to them for highlighting those issues beforehand and providing solutions to them. So, whether you are confused about painting or lighting or can't figure out a way around installing new floors, House Logic has got you covered.
Another great thing about this brand is that they have an entire section on their website dedicated to helping their followers save money. Here you will find DIY alternatives that you can consider instead of buying brand new products. They also have tips to save on utilities. To top it off, House Logic also has articles and guides on taxes, financing, and home insurance.
Lastly, House Logic also has a newsletter that can help you keep up with the latest articles, blogs, and guides they post. They also share financial tips for homeowners, among other information. So, sign up now and start benefiting from them right away.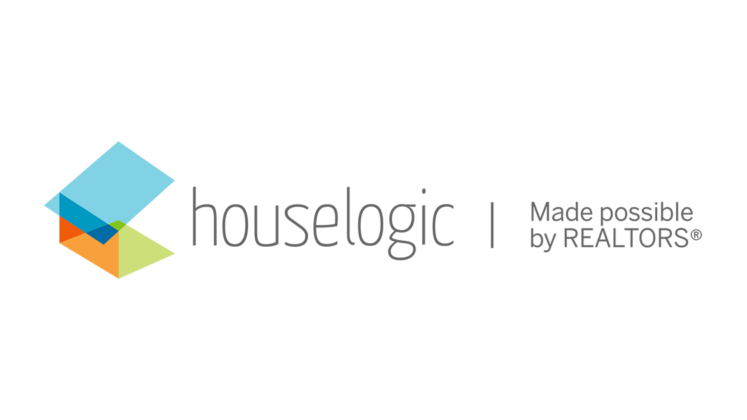 What We Loved About This Website
House Logic is an all-in-one stop for homeowners, especially first-timers. They take you through the entire process step by step and make sure that you are neither missing out on anything nor spending an unnecessary amount. Here is a list of a few features that stood out to us about Home Logic.
A detailed guide on every home improvement topic
Expert remodeling advice
Helpful tips on cleaning, decluttering and maintaining your home
Buy and sell section to help homeowners who are making a shift
Practical DIY ideas
Knowledge-based newsletters
13. HomeAdvisor
Whether you are looking for professionals to remodel your house or want to renovate on your own but on a budget, HomeAdvisor has got you covered. They offer everything anyone could possibly need to build, renovate or remodel a space.
The best thing about their website is how well the services are categorized. HomeAdvisor offers everything from remodels to energy-efficient solutions, tips on moving and storage, flooring, and air conditioning. Apart from this, they can also connect you to the professionals in the industry and get your project sorted out by the best ones.
Not just that, they also have detailed guides on everyday chores, along with major projects like plumbing and carpentry. HomeAdvisor is also huge on home decorations and designs. You can also find other useful stuff like home winterization, home security, metal work, pest control, recovery services, etc. Hence, be it expert advice or a specific service, HomeAdvisor has got it all.
Hiring a contractor through HomeAdvisor can be your best decision for your project. Their process is very simple yet comprehensive, and you get what you asked for in the end. It first starts with a project brief where you tell the HomeAdvisor what you are looking for. After answering a few important questions, they will match you with a suitable professional, depending on your project. They have over a hundred thousand service professionals in over five hundred categories. After both parties agree on some common ground, you get connected to the contractor and can begin the project discussion.
Looking to hire a contractor? Contact HomeAdvisor for the best ones in town.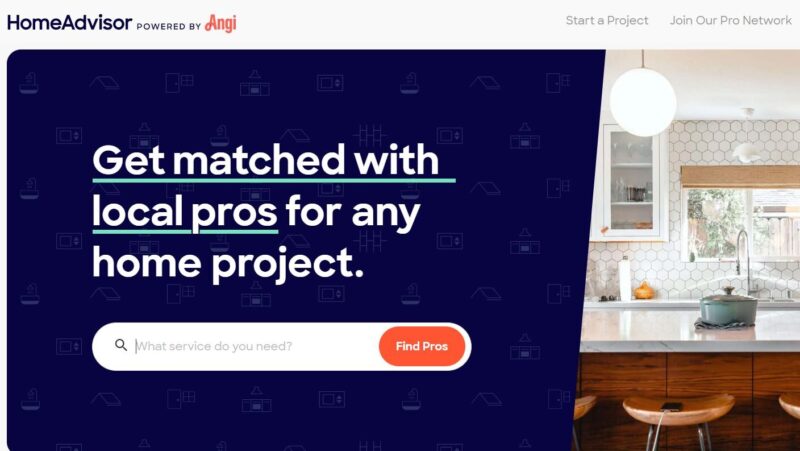 What We Loved About This Website
HomeAdvisor has helped millions of customers execute their ideas into beautiful living spaces. They provide excellent resources for property owners to level up their home styles. Fortunately, their guides are detailed enough for anyone, even a beginner, to get started with a particular project. Here is a list of what we love the most about HomeAdvisor.
More than a hundred thousand professionals
Affordable prices
Detailed guides for more than five hundred categories
Comprehensive yet efficient procedure to hire a contractor
Covers various maintenance-related topics
14. Decor8
Décor8 is the ultimate one-stop for interior design and home décor. The website has been run by Holly Becker since 2006. During all these years, Holly has guided her readers about the latest trends, keeping in mind the comfort of the style.
Décor8 is all about decorating homes and other spaces most functionally and comfortably possible. For this very reason, you will find all sorts of home décor categories to accommodate a variety of preferences. The goal is to create a space that can help improve the lifestyle while ensuring convenience. Another great thing about Decor8 is its courses. You can find almost every interior design course on their website. Thankfully, they have customized them to suit a wide audience.
Home tours are another great feature of this website. They help visualize how to implement the same idea in your space. Hence, you'll be looking around at different ideas and finding inspirations to customize your style in your own way.
Not just that, Decor8 is also big on handmade crafts, art, and DIY. So, if you are looking to cut back on costs but also want fancy home décor, you can visit their website for trendy yet practical DIY solutions.
For people who are just stepping into interior design, Decor8 guides are very comprehensive. They go in-depth and explain the underlying concept behind the action. This way, you can eventually build your design sense and become the pro you always dreamed of.
You can also subscribe to their newsletter, which offers useful tips on interiors, lifestyles, and small businesses. Interestingly, you will also get an audio file of the author on design discussions. There might also be other topics such as food and entertainment.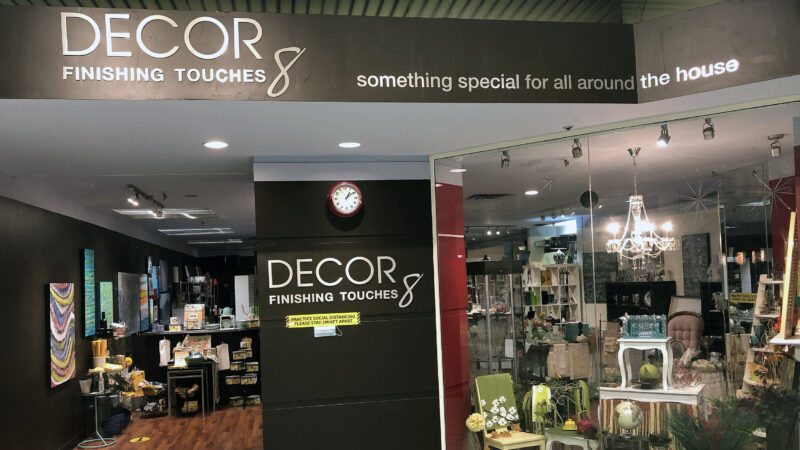 What We Loved About This Website
Whether you are new to interior designing or have some experience, having a place to learn new things or find inspiration is always a plus point. So, if you are looking for a place where you can find all that and more, Decor8 is your answer. We have summarized some features that stood out the most to us.
Focuses on comfort in its styles
Affordable courses related to interior design, DIY, art, and décor
Podcast
DIY and handmade décor ideas
Bi-weekly newsletter with an audio file
Food and entertainment are also covered
Our Related Services
Sign up for our newsletter to receive SEO tips, discounts and freebies.
Final Thoughts
Remodeling or renovating your space is a big step, especially if you are a first-timer. This doesn't mean that you should shy away from the task; instead, you should take help and consult professionals where you need them. To begin with, research what you want to implement and have a basic plan. Meanwhile, you must figure out the project's requirements, keeping functionality and comfort your top priority.
Analyzing the cost of the project is another important thing. Make sure you know the market well and compare costs at every point during the process. If you are short on budget, try making things on your own, such as home decoration. DIY projects can help save a lot of money and bring a personal touch to your space.
Needless to say, style and aesthetics are the essences of designing and need their due research. This may involve visiting websites for design inspirations, creating a mood board, and devising the execution plan. If you are new, we suggest reading guides and thoroughly understanding the major design theories that apply to your space.
Ultimately, it will help you create a space that is not only aesthetically pleasing but also practical and functional. For more help, visit the websites we have discussed above and connect with their professionals.